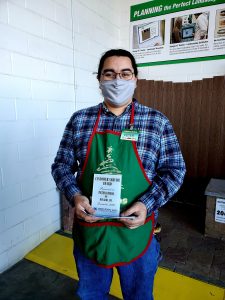 Jamestown  (Chamber)  Peter Vondal of Menards received the Dec Customer Service Award for outstanding customer service.
The Jamestown Chamber honors individuals who demonstrate a consistent commitment to delivering products or services that satisfy customers by exceeding their requirements or expectations.
His nominations said, "Peter is a cashier at Menards. I have received exceptional customer service from Peter many times. I will wait in a line for him even if there is another till open. Peter is always upbeat and extremely helpful. He makes my day every time I go through his line. If Peter is having a bad day, no one would ever know it. Peter definitely looks on the bright side."
Congratulations to Peter, who along with all the other monthly winners, will be recognized at the Chamber's celebration in January 2021.  Customer Service Award nomination forms are available at the Chamber office and on their website at www.jamestownchamber.com or call 701-252-4830.