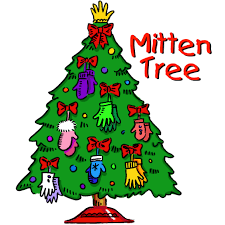 To help those who may not have those necessary warm items, the James River Valley Library System has placed a Mitten Tree in the Adult Section of the Alfred Dickey Library. The community is asking  to help us decorate the Mitten Tree by donating new or gently used hats, gloves, mittens, and scarves.
All donations will be given to the Salvation Army, who will then distribute these items to those in need. Last year JRVLS received an outstanding amount of donations from our generous community, and they thank all those who helped make the Mitten Tree a huge success! This year they look to make it an even bigger success, so please call Alfred Dickey Public Library to arrange the drop off of your donated items or place them in our book drop.
The program runs December 7, 2020 through January 6, 2021.
To learn more about the Mitten Tree, or to arrange the drop off of your donated items please contact the library at 701-252-2990 or adpl@daktel.com.