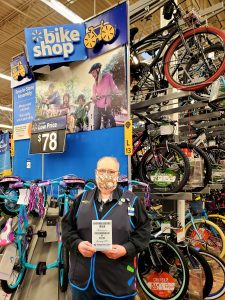 The Customer Service Award for January went to Ronald Headland of Walmart for his outstanding customer service.  The chamber honors individuals who demonstrate a consistent commitment to delivering products or services that satisfy customers by exceeding their requirements or expectations.
His nomination said, "Ron in the Bike Department at Walmart fixed my old Kent Del Rio bike for me. I could not find the right bolts in Hardware to fix it. Another employee sent me over to Ron in bikes. Ron went outside with me to look at my bike to see what it needed. He took it to find the right bolts and screws to fix it and fixed it for me. He does not know how much it meant to me that he went out of his way to fix this bike. It was my step­uncle's bike. My step-uncle passed away and my cousin entrusted it to me and my daughter a couple summers ago. It meant a lot that Ron helped to fix the bike. This bike gets us around town. Thank you so much."
Congratulations to Ronald. Customer Service Award nomination forms are available at the Chamber office and on their website at www.jamestownchamber.com or call 701-252-4830.