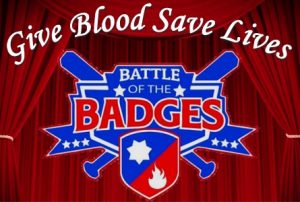 (Vitalant)   Vitalant Blood Services report that "Team Law," has officially won the 6th Annual Jamestown Battle of the Badges, over "Team Fire," with the Jamestown Police Department Challenging Jamestown Fire Department, to have the most votes, following community donations, last week.
The purpose was to raise awareness and blood donations during the three-day blood drive.
Vitalant's Donor Recruitment Representative Weldon Roberts says that out of 209 volunteers who signed up, 183 were able to donate with 19 giving blood for the first time. 30 volunteers donated Double Red Cells and 13 gave Convalescent Plasma on the automated machines.
Roberts says,  "We were able to collect a total of 209 products and exceed our promise to local hospitals."
"Team Fire actually had 105 votes and Team Law was correct with 102 votes. It was a very close battle this year and I am very happy with the results. I hope that we will be able to continue the Battle again next year and bring back the sponsors for t-shirts."
Roberts thanks Police Chief Scott Edinger and Fire Chief Jim Reuther as the co-coordinators,  of "Team Fire."  and "Team Law,"  as the sponsors, and the City of Jamestown for providing the Civic Center.
He also thanked volunteers :  Norma Howes, Yvonne Wegner, Elaine Soupir, Diane Witzig, Norm Trenda, Rick Ovind, and Shirley Fleith from Jamestown Volunteer Center for helping with the refreshments and Domino's for donating pizza Thursday and Friday.