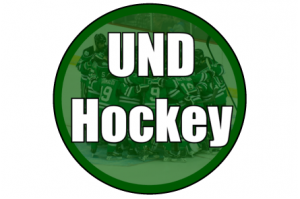 Grand Forks  (UND)—The National Collegiate Hockey Conference has announced several alterations to schedules for the next two week's games. Included in those are second-ranked North Dakota's next two series, as its scheduled Friday-Saturday tilts with Denver will move back two days and the ensuing home weekend with Colorado College will move back one day.
Due to a combination of positive COVID-19 tests, contact tracing and subsequent quarantining of individuals the past two weekends, all NCHC West division games were shifted. The Omaha at Colorado College games will now be played on Monday and Tuesday, Jan. 18-19. The other affected series is the Minnesota Duluth at Miami series, which has been postponed to Jan. 29-30.
Both UND at Denver games will start at 7:07 p.m. MT, with Sunday's game being picked up by MidcoSN and Monday's game now on CBS Sports Network.
The puck drop times for UND's home opener are 6:07 CT on both Saturday, Jan. 23 and Sunday, Jan. 24. Both games will be televised by MidcoSN.
UND Hockey tickets originally distributed for Friday, January 22 will now be valid for the rescheduled game on Sunday, January 24. Tickets originally issued for Saturday, January 23 will still be valid for that game.
The decision to postpone and reschedule these series is consistent with the National Collegiate Hockey Conference's COVID-19 protocols, developed by the Conference's Health & Safety Competitions Committee, as well as the Conference's Game Schedule Policy, developed by the NCHC's Athletic Council.