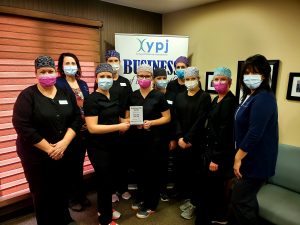 Jamestown  (Chamber)  Orn Family Dentistry is the Chamber January Business of the Month Award recipient for their outstanding customer service and continued commitment to the community.
The nomination stated, "Both Dr. Carrie Orn and Dr. Gardner are exceptional dentists. They are professional and knowledgeable, yet down-to-earth and always have what is best for the patient in mind. They have both provided dental care to me as well as my toddler-age children and I've always been so satisfied with their services. The hygienists and front office staff are amazing as well. Sarah is friendly so knowledgeable about the business side of things and Patty goes the extra mile. At the end of year, she called our insurance company and then made a point to call me and suggest spacing appointments out to save our family the most money we could. I am so appreciative of Orn Family Dentistry as a whole. The office is beautiful, clean, follows Covid-19 safety protocols, but yet has a warm, welcoming atmosphere. Highly, highly recommend!"
The Young Professionals of Jamestown honor businesses that provide superior customer service, exhibit community spirit and provide a positive economic impact to the community.  This award provides recognition throughout the month with a plaque and a recognition banner for the month. Monthly award winners will be considered for the Business of the Year to be awarded in January of 2021.  Business of the Month award nomination forms are available at the Chamber office and online at www.jamestownchamber.com .  Call 701-252-4830 for more information.