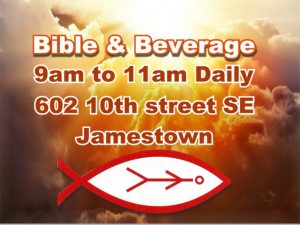 Jamestown  (CSi)  The Jamestown community is invited to join with those who have organized the daily Bible & Beverage,  "B&B" gathering in Southeast Jamestown.
On Tuesday's Wayne Byers Show on CSi Cable 2, Sharon Maulding of Jamestown said, that she and others have organized the gatherings held daily from 9-a.m. to 11-a.m., on 10th Street Southeast, east of Jetstream Car Wash, in the former Wright Property Management location.
She said the purpose of the gatherings is to share the Word of Jesus Christ,  reaching as many individuals that would like to visit, serving hot beverages.
Sharon, along with Diane Satrom and Sonjia Tracey explained that the gatherings are interdenominational, adding the local pastors have passed along the information of Bible & Beverage to their church members.