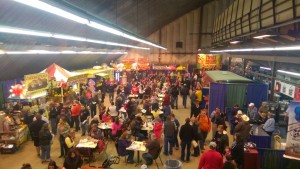 Valley City   (NDWS)  –  The 84th annual North Dakota Winter Show is set this year, March 10-14 in Valley City, with daytime activities, plus nightly arena events for all ages.
Click below to view the schedule of events.
2021 Schedule
This year's event starts with a tractor pull on Wed., March 10, with a possible truck pull the that evening.
Thursday, March 11, is Horse Day at the Winter Show, with the Ranch Rodeo that evening.
The PRCA rodeo is Fri., March 12 and 13.  Performances on the 12th at 7 pm and on Saturday, March 13 at 2 pm and 7 pm.
The queen pageant celebrates its 45th year and is one of the strongest rodeo queen pageants in the state. Title holders fo the NDWS show are required to run for the title of Miss Rodeo North Dakota. Out of the last 45 NDWS queens, nineteen have gone on to win the state title.
Daytime activities also planned, the Kritter Corral, the 45th annual Miss North Dakota Winter Show Queen pageant, along with vendors on hand.
There is no admission fee for daytime events.  Nightly events require a ticket purchase,  from $12 to $20.
The Winter Show will follow CDC, city and state COVID-19 guidelines.
The Winter Show closes on Sunday, March 14 with the second annual King of the Sale Ring auctioneer contest.
More information online at www.northdakotawintershow.com or call  the Winter Show Office, at 701-845-1401.