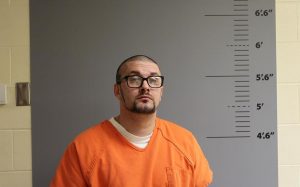 Jamestown  (JPD)  Jamestown Police Tuesday morning took into  custody a man who is facing terrorizing charges in connection with an incident Monday afternoon in Northeast Jamestown.
30 year old Kyle Wegleitner, was taken into custody around 2:56-a.m, Tuesday, following the Monday incident, between 3-p.m., and 4-p.m. involving an altercation in the 800 block of 7th Street Northeast, in Jamestown Monday afternoon.
The report says Wegleitner was speaking to an acquaintance when another male pushing a bicycle approached, that led to an altercation where a weapon was displayed.
Wegleitner is accused as well of displaying a weapon and purportedly making threats to the same individual later in the day.
Wegleitner is being held pending an initial appearance in Southeast District Court, following the lodging of formal charges, as the police investigation continues.