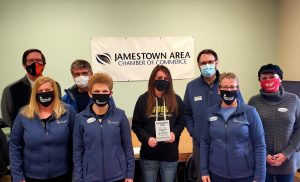 Jamestown  (Chamber) The Chamber presented the Customer Service Award for January to Danelle Roen for her outstanding customer service.  The Jamesstown chamber honors individuals who demonstrate a consistent commitment to delivering products or services that satisfy customers by exceeding their requirements or expectations.
Her nomination said, "My mom has hired Danelle on several occasions over the last few years and has always beamed at the professional job Danelle and her crew does. Earlier this year, Danelle volunteered her time in doing yard work for numerous citizens in the community, those citizens who needed a little pick me up or were in need of a little extra help. My mother has some health conditions and has been quarantined since March, so Danelle took care of her Spring yard clean up just because she could. To pick up those who could use a little extra sunshine in their day, is just plain award worthy."
Congratulations to Danelle. Customer Service Award nomination forms are available at the Chamber office and on their website at www.jamestownchamber.com or call 701-252-4830.