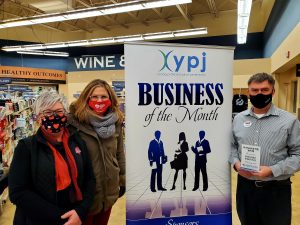 (Chamber)  The Chamber recognized Hugo's Family Market Place as the February Business of the Month Award recipient for their outstanding customer service and continued commitment to the community.
Our second lady of North Dakota was a special guest at the Business of the Month presentation on Giving Hearts Day, February 11th.  As an Associate Development Director for the Anne Carlsen Center in Bismarck ND representing the western region of the state; Sandra Sanford recognizes Hugo's Family Market Place as a strong supporter of the communities they serve.
Their nomination stated, "Hugo's has been a leader & early adopter of public health practices. I really appreciate what they've done from the start: masked up employees, plexiglass barriers, directional signs in aisles, hand sanitizer available, & special hours for the high-risk customers. When they decided to ask customers to mask up, before the rest of ND decided to get safe & get smart, Hugo's staffed employees in their entry to politely help customers mask up & routinely sanitize carts. I really appreciate Hugo's efforts & won't shop anyplace else."
The Young Professionals of Jamestown honor businesses that provide superior customer service, exhibit community spirit and provide a positive economic impact to the community.  This award provides recognition throughout the month with a plaque and a recognition banner for the month. Monthly award winners will be considered for the Business of the Year to be awarded in January of 2021.  Business of the Month award nomination forms are available at the Chamber office and online at www.jamestownchamber.com. Call 701-252-4830 for more information.