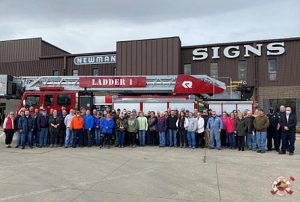 (JFD Facebook)  Jmst City Fire Chief, Jim Reuter thanks Newman Signs in Jamestown for a contribution of $5,000 toward the purchase of the new Ladder-1 vehicle.
Bismarck   The North Dakota House of Representatives has approved an amendment to provide the city of Jamestown with $333,333 in state funding to help cover the cost of the Jamestown City Fire Department  ladder vehicle.  House Bill 1012 now goes to the ND Senate for consideration.
While not mentioning Jamestown specifically, the language in the funding includes an emergency clause that will make the funds payable to the City of Jamestown  after the bill is signed by Gov. Doug Burgum.