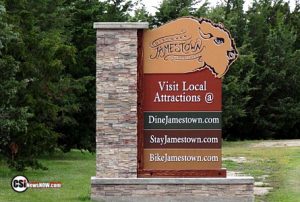 Jamestown  (CSi)  The Jamestown Tourism will be hearing requests from the City Promotion Capital Construction Fund, on Monday March 8, at 2-p.m.
On Tuesday's Wayne Byers Show on CSi Cable 2 Tourism Director, Searle Swedlund said the board will be hearing nine requests for projects.
Included is considering funding for the National Buffalo Museum's Buffalo Tour, and dollars to continue with improvements to Frontier Village. Additional mowing equipment funding requests will be heard.  He said painting projects are scheduled this summer, as part of the on-going maintenance work.   He added that additional signage is planned at Frontier Village as well.
Searle pointed out that with less funds expended in 2020 due to less events and activities due to the COVID-19 pandemic, there is an additional $65,000 available for project requests.
Over all the annual budget is $80,000 in that fund.  Funding requests are due on March 1 and October 1, each year.  The funding comes from the Hospitality Tax, distributed by the City of Jamestown.