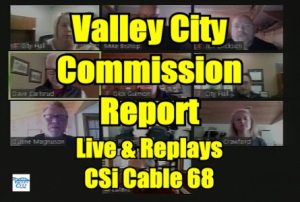 Valley City  (CSi)  The Valley City Commission met in Regular Session, virtually via the Zoom platform,  Tuesday evening. All members were present.
APPROVAL OF CONSENT AGENDA:
Approved  Monthly Reports from the Fire Chief, Building Inspector, Auditor, Municipal Judge and Public Works Accountant.
Approved Monthly Bills for the City and Public Works in the Amount of $1,555,294.84
Approved Electrician, Plumber and/or Mechanical Contractor License(s) for the following businesses:
John's Refrigeration& Electric, Inc.
Grotberg Electric Inc.
Grotberg Electric Inc. dba Triton Mechanical
Sheyenne Mechanical
Differding Electric LLC
PEC Solutions of the Dakotas LLC
RJ's Plumbing & Heating
Approved  Raffle Permit for the following:
Sheyenne Valley Area Career and Technology Center
Sheyenne Valley Friends of Animals
Public Comments  No one spoke.
ORDINANCE
Approved a second and final reading of Ordinance 1073, an Ordinance enacting new section of Valley City Municipal Code related to demonstrations and assemblies. City Attorney Martineck said there is no changes from the first reading, adding the Ordinance does not restrict  the right to demonstrate.  Police need to be notified of specific plans including to observe distancing requirements.
NEW BUSINESS
Approved the request for funding from the State Water Commission for Storage Building and site costs for a 2022 project.
Approved  a  Task Order for Construction Engineering for Streetscape Phase II. KLJ reported the order outlines NDDOT requirements, budget information, and location.
Commission Erickson voted in opposition.
Approved an agreement with Western Dakota Energy Association for oversize and overweight vehicle permits on Valley City streets. City Administrator Crawford said the schedule will be reviewed.
Approved a Special Alcohol Beverage Event Permit for VC Eagles Aerie 2192 at North Dakota Winter Show March 10-14, 2021.  Finance Director Richter said the information includes an outline of the area, and includes the opening of the bar at 11-a.m., and closes each evening a half hour before the end of each of event.  Commissioner Bishop suggested if an event goes longer, than 11-p.m. that it closes a half hour earlier, which was approved in the vote.
CITY ADMINISTRATOR'S REPORT:
Gwen Crawford said Valley City will have a visit from the Workforce safety officials to review city departments.
With the Hazzard Mitigation update, city officials will attend five meeting, required by FEMA every five years.
CITY UPDATES & COMMISSION REPORTS:
Avis Richter said City Hall is selling Valley City Area Chamber of Commerce, Chamber Bucks, noting the sales are going very well.  Commissioner Gulmon added that so far the For Love of Local economic stimulus program as sold $500,000 in Chamber Bucks, with $500,000 left to purchase.
City residence are reminded to not pile refuse around the recepticles.
Public Works Manager, Gary Jacobson said if residents allow the water department to E-Mail utilities bills instead of mailing, the resident will receive a one- time credit of $5.
Fire Chief Scott Magnuson reminded resident to stay off the river and other bodies of water ice, now that thawing is occurring.
The meeting was shown live on CSi Cable 68 followed by replays.