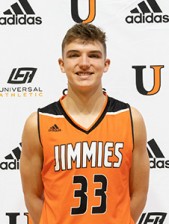 Sioux City Iowa —   (UJ) The University of Jamestown's Mason Walters (SO/Jamestown, ND) has been named GPAC Player of the Year, as the conference office announced its postseason honors Wednesday.
Walters, who was also named to the all-conference first team,  averaged 21.7 points, 12.1 rebounds and 2.1 assists per game
for the Jimmies, who finished the regular season with a record of 19-8 overall and 14-6 in conference play. He had five games of 30 points or more, including 38 points against Concordia (Neb.) Walters also had three games with 20 or more rebounds, including a UJ record 22 boards against Hastings (Neb.) His 21 double-doubles also lead the NAIA.
Marc Kjos (SO/Lake City, MN) was named to the all-conference second team. Kjos was second on the team with 11.2 points per game and led the Jimmies with 70 three-pointers, a .452 percentage from three-point range, 109 assists, and 27 steals.
Allante' Pickens (SR/Chicago, IL) and Will Cordes (FR/Shakopee, MN) were honorable mention all-conference selections. Pickens averaged 11.2 points and had 66 assists for UJ. Cordes averaged 8.3 points per game and tied with Pickens for second on the team with 48 made three-pointers.