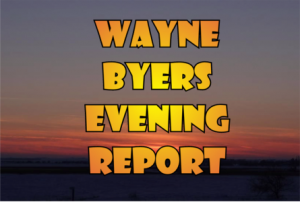 CSi Weather…
.TONIGHT…Increasing clouds. Patchy fog after midnight. Lows in the mid 20's.
.THURSDAY…Patchy fog in the morning. Partly sunny. Highs in the lower 50s. East winds 5 to 10 mph.
.THURSDAY NIGHT…Increasing clouds. Lows in the upper 20s. Southeast winds 5 to 10 mph.
.FRIDAY…Mostly sunny. Highs in the lower 50s. Southeast winds
5 to 10 mph.
.FRIDAY NIGHT…Partly cloudy. Lows around 30.
.SATURDAY…Mostly sunny. Highs in the upper 50s.
.SATURDAY NIGHT…Mostly cloudy. Lows in the upper 30s.
.SUNDAY…Mostly sunny. Highs in the upper 50s.
.SUNDAY NIGHT…Mostly clear. Lows in the upper 20s.
.MONDAY…Mostly sunny. Highs in the mid 50s.
.MONDAY NIGHT…Mostly cloudy. Lows in the mid 30s.
.TUESDAY…Partly sunny. Slight chance of rain possibly mixed
with snow in the morning, then chance of rain in the afternoon.
Highs in the lower 50s. Chance of precipitation 30 percent.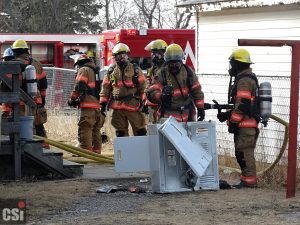 Jamestown  (CSi)  The Jamestown City Fire Department was called out about 9:25-a.m Wednesday to a reported fire in the laundry room at Hansen Heights Apartments on 5th Avenue, Northeast in Jamestown.
City Fire Chief Jim Reuther says, the fire was located in the dryer, on the first floor that caused considerable smoke to the area, and a lesser amount to the rest of the building.
Also on scene to assist in the evacuation of residents was Jamestown Police, and the Stutsman County Sheriff's Office.  A Dietrich school bus was on scene for the evacuated residents to keep warm in during the evacuation.  Jamestown Area Ambulance Service was on scene for standby.
The dryer was taken out of the building.
No injuries reported.
The fire department extracted smoke from the building.
One resident was not allowed to return to the building until door damage is repaired, from fire department access.  That person is receiving assistance from the Buffalo Valley Red Cross Chapter.
Ladder one was on scene for stand-by which is called to all structural fires.
Five city fire department units and 23 fire fighters were on scene around 40 minutes.
Chief Reuther says the fire is under investigation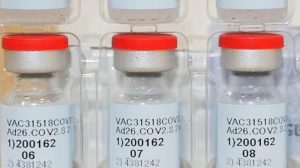 Jamestown  (CVHD)   Central Valley Health District (CVHD) has an additional 200 first doses of COVID vaccine available for tomorrow, March 4, for the current vaccination priority groups in Stutsman and Logan Counties.
The current priority groups include:
All persons 65 years and older
Ages 18 and older living with two or more high-risk* medical condition
Child care workers
School staff  (Teachers, nutritional services, aides, bus drivers, principals, administrative staff, custodians, etc)
To register for an appointment, please visit www.centralvalleyhealth.org and click the COVID-19 tab to view the available vaccination clinic.  Appointments are open to those in Stutsman and Logan counties, or surrounding counties.  Anyone from out of state will be turned away.  The clinic will be closed if the amount of appointments exceeds the number of available vaccine doses.
CVHD anticipates more vaccine the week of March 8 and will post more information on their Facebook page and website when the information is available.
* High-risk medical conditions as defined by the Centers for Disease Control and Prevention (CDC) at https://bit.ly/3uzNsTA.
NDDoH
COVID-19 Stats
Wed. Mar. 3  2021
11am
Barnes:
New Positives +1
Total Positives 1296
Active 9
Recovered 1255
Stutsman
New Positives  +3
Total Positives 3296
Active 6
Recovered 3196
COVID-19 Test Results
The results listed are from the previous day. Additional data can be found on the NDDoH website.
Please note that from now on the daily news release will be sent Monday – Friday. The NDDoH dashboard will continue to be updated daily.
BY THE NUMBERS
137,039
Residents who received at least one dose of vaccine
232,079
Total COVID-19 vaccine doses administered
6,950
Total Tests from yesterday*
1,673,674
Total tests completed since the pandemic began
111
Positive Individuals from yesterday*****
51
PCR Tests
60
Antigen Tests
100,067
Total positive individuals since the pandemic began
2.25%
Daily Positivity Rate**
605
Total Active Cases
+29
Change in active cases from yesterday
76
Individuals with a recovery date of yesterday****
98,014
Total recovered since the pandemic began
20
Currently hospitalized
-4
Change in hospitalizations from yesterday
1
New death(s)
1,448
Total deaths since the pandemic began

INDIVIDUALS WHO DIED WITH COVID-19
Man in his 70s from Ward County

NEW POSITIVE CASES REPORTED WENESDAY BY COUNTY

Adams
0
Grant
0
Ransom
3
Barnes
1
Griggs
0
Renville
0
Benson
2
Hettinger
1
Richland
6
Billings
0
Kidder
0
Rolette
8
Bottineau
0
LaMoure
0
Sargent
0
Bowman
2
Logan
0
Sheridan
0
Burke
0
McHenry
2
Sioux
0
Burleigh
12
McIntosh
0
Slope
0
Cass
16
McKenzie
2
Stark
9
Cavalier
1
McLean
0
Steele
0
Dickey
2
Mercer
2
Stutsman
3
Divide
2
Morton
3
Towner
0
Dunn
0
Mountrail
0
Traill
1
Eddy
0
Nelson
0
Walsh
4
Emmons
1
Oliver
0
Ward
13
Foster
0
Pembina
1
Wells
0
Golden Valley
0
Pierce
0
Williams
8
Grand Forks
5
Ramsey
1
* Note that this includes PCR and antigen; it does not include individuals from out of state. 
**Individuals (PCR or antigen) who tested positive divided by the total number of people tested who have not previously tested positive (susceptible encounters). 
*** Number of individuals who tested positive with a PCR or antigen test and died from any cause while infected with COVID-19. Please remember that deaths are reported as they're reported to us by the facility or through the official death record (up to 10-day delay). 
**** The actual date individuals are officially out of isolation and no longer contagious.
*****Daily positive numbers include people who tested with a PCR or antigen test. Totals may be adjusted as individuals are found to live out of state, in another county, or as other information is found during investigation.
For descriptions of these categories, visit the NDDoH dashboard.
For the most updated and timely information and updates related to COVID-19, visit the NDDoH website at www.health.nd.gov/coronavirus, follow on Facebook, Twitter and Instagram and visit the CDC website at www.cdc.gov/coronavirus.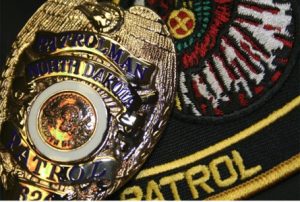 LaMoure  (NDDHP)  The North Dakota Highway Patrol investigated a one vehicle crash, February 28 at about 9:50-a.m. on LaMoure County Road 35 a half mile East of Highway One, four and a half miles west of Ft. Ransom.
The reports says  a  2006 Toyota Corolla, driven by 15 year old  Bailee Stockert, of Sanborn,
was traveling eastbound on County Road 35. The Toyota lost control on the gravel roadway and then left the roadway after over correcting. The Toyota entered the north ditch and rolled. The vehicle came to rest on its top and the driver was removed from her seatbelt by responders. Stockert was transported by life flight to Fargo to Sanford Hospital for injuries sustained in the crash.
Assisting at the scene were, the  Lamoure County Sheriff, Ransom County Sheriff, Barnes Ambulance, Verona Fire and rescue.
The crash remains under investigation by the North Dakota Highway Patrol.

Jamestown  (CSi)  Stutsman County Veterans Service Officer, David Bratton says, premium reductions are coming to those enrolled in the Veterans Group Life Insurance Program.
On Wednesday's Wayne Byers Show on CSi Cable 2 David added that, the reduction is effective April 1, 2021, and amounts to a seven percent reduction.
He said the VA continues to offer debt relief options, for those struggling due to effects of the pandemic.
David pointed out that the VA's Department of Veterans Affairs has given over one million doses of COVID-19 vaccinations to veterans, with 329,000 of those being second doses.
Also the VA is providing testing and COVID-19 vaccines to those utilizing caregiver support.
He said, appointments are filling fast for a Fargo VA Clinic first dose COVID-19 vaccination for veterans enrolled in the VA Healthcare program, regardless of age, in Jamestown at the Gladstone Inn & Suites on March 10.  Call 701-239-3700 and select option 2, to schedule an appointment in Jamestown.
David said, however the appointments may be filled.  If so, those interested may be put in the schedule for the next vaccine clinic.
In other notes, he said the VA is sending out 1095b's for taxes, concerning confirmation of the healthcare coverage, under Obama Care, for tax year 2020.  His office is handling requests of copies if needed.
He pointed out that plans are being reviewed for the possible restart of the Burleigh County van that takes vets to Fargo medical appointments.  The van will be accessible to those veterans that have had both doses of the COVID-19 vaccine.
David Bratton can be reached at his office in the lower level of the LEC in Jamestown, by calling 252-9043, Monday- Friday 8-a.m. to noon and 1-p.m. to 5-p.m.
He can also arrange to meet with in person visits for service, by calling him to meet upstairs at the LEC.
CHURCHS FERRY, N.D. (AP) — Authorities a man who was delivering a new bus to a school in Canada suffered a minor injury after the bus rolled over several times on a highway in northeastern North Dakota. The North Dakota Highway Patrol says 50-year-old Toronado Watson, of Winston-Salem, North Carolina, fell asleep shortly after 9 a.m. Wednesday. He was driving a 2022 Thomas school bus west on U.S. Highway 2 near Churchs Ferry. Watson tried to gain control of the bus after running off the road but overcorrected and wound up rolling it in the north ditch. Authorities say he was the sole occupant of the bus and was wearing his seatbelt.
BISMARCK, N.D. (AP) — Republican and Democratic legislative leaders are finalizing a resolution to expel a North Dakota House member accused of threatening and sexually harassing women at the state Capitol. House Majority Leader Chet Pollert says a resolution to expel GOP Rep. Luke Simons will be introduced on the House floor Thursday. Pollert and Democratic House Minority Leader Josh Boschee said they worked together over the the Legislature's mid-session break to craft the expulsion resolution. Simons has denied wrongdoing and declined Republican leadership's requests to resign. He says the allegations have been "totally misconstrued and taken out of context."
In sports news…
(AP)   Legislators in more than 20 states have introduced bills this year that would ban transgender girls from competing on girls' sports teams in public high schools. Yet in almost every case, sponsors are unable to cite an instance in their own state or region where such participation has caused problems. Asked about actual cases with consequences warranting sweeping bans, the bills' supporters focus on events in Connecticut between 2017 and 2019. During that span, two transgender sprinters combined to win 15 championship races. Supporters of transgender rights say the Connecticut case gets so much attention from conservatives because it's the only example of its kind. They say the wave of bills addresses a threat that doesn't exist.
In other sports….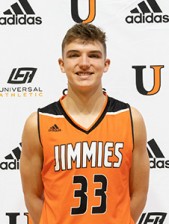 Sioux City Iowa —   (UJ) The University of Jamestown's Mason Walters (SO/Jamestown, ND) has been named GPAC Player of the Year, as the conference office announced its postseason honors Wednesday.
Walters, who was also named to the all-conference first team,  averaged 21.7 points, 12.1 rebounds and 2.1 assists per game
for the Jimmies, who finished the regular season with a record of 19-8 overall and 14-6 in conference play. He had five games of 30 points or more, including 38 points against Concordia (Neb.) Walters also had three games with 20 or more rebounds, including a UJ record 22 boards against Hastings (Neb.) His 21 double-doubles also lead the NAIA.
Marc Kjos (SO/Lake City, MN) was named to the all-conference second team. Kjos was second on the team with 11.2 points per game and led the Jimmies with 70 three-pointers, a .452 percentage from three-point range, 109 assists, and 27 steals.
Allante' Pickens (SR/Chicago, IL) and Will Cordes (FR/Shakopee, MN) were honorable mention all-conference selections. Pickens averaged 11.2 points and had 66 assists for UJ. Cordes averaged 8.3 points per game and tied with Pickens for second on the team with 48 made three-pointers.
2020-21 GPAC Men's Basketball All-Conference Honors
SIOUX CITY, Iowa  (UJ) — Four University of Jamestown women's basketball players earned all-conference awards as the Great Plains Athletic Conference announced its postseason teams Wednesday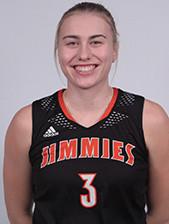 <Noelle Josephson
Hannah DeMars (SO/Grand Rapids, MN) was selected to the first team. DeMars led the Jimmies in scoring with 17.8 points per game as well as rebounding with 7.8 boards per game. She had nine games with 20 or more points, including a 39-point game at Doane (Neb.), which is the second-most in Jimmie history.
Kia Tower (SO/Bigfork, MN) was named to the second team.Tower averaged 14.7 points per game and reached double figure point totals in 22 of 26 games. Five times Tower scored 20 points or more. She set a new career high with 25 points against Northwestern (Iowa) early in the season and also reached that mark in the final game of the season at Morningside (Iowa). Tower was second on the team with 51 three-point field goals and 75 assists.
Earning honorable mention honors were Noelle Josephson (JR/Ramsey, MN) and Macy Savela (SO/Mountain Iron, MN). Josephson emerged as one of the premier defensive players in the conference, as evidenced by her 80 steals. The 80 steals was fourth most in a season by a Jimmie and gave Josephson an even 200 for her career, moving her into fourth place on the all-time UJ list. Josephson was third on the team in scoring with 10.4 points per game and second on the team with 6.1 rebounds per game. Savela was the top long-range shooters for the Jimmies this season, making 67 three-pointers at a 39.4 percent rate. She averaged 9.3 points per game and was in double figures for five of her last six games.
In addition, Josephson was one of three players chosen as GPAC Defensive Player of the Year. She was second in the conference in both steals (80) and steals per game (3.33). Josephson twice recorded seven steals in a game, tying a personal best. Sharing the award with Josephson were Kennedy Benne of Briar Cliff (Iowa) and Faith Meyer of Morningside (Iowa).
2020-21 GPAC Women's Basketball All-Conference Honors
In world and national news…
HOLTVILLE, Calif. (AP) — The Border Patrol says 13 people killed in a Southern California crash were among more than 40 migrants who entered the U.S. through a hole cut into the border fence with Mexico. Gregory Bovino, the agency's El Centro sector chief, told The Associated Press on Wednesday that surveillance video showed a Ford Expedition and Chevrolet Suburban drive through the opening Tuesday. It's believed they were part of a migrant smuggling operation. The Suburban carried 19 people, and it caught fire after entering the U.S. All escaped the vehicle and were taken into custody. The Expedition crammed with 25 people continued on, and a tractor-trailer struck it a short time later. The Border Patrol says agents weren't pursuing the vehicle before the crash.
(AP)  Cities and states are rapidly expanding access to vaccines as the nation races to head off a resurgence in coronavirus infections and reopen schools and businesses battered by the pandemic. The efforts come as the federal government ramps up shipments, with President Joe Biden saying the U.S. should have enough shots for all adults by the end of May. It also comes as more states are lifting restrictions like mask-wearing and reopening businesses despite warnings from health officials that it's too risky. Pennsylvania, Wisconsin and other states say teachers will get the first doses of the new one-shot Johnson & Johnson vaccine. Detroit is starting to vaccinate factory workers. And some states are vaccinating anyone 55 or older.
WASHINGTON (AP) — President Joe Biden says it's an "encouraging sign" that more than 200,000 people have signed up for insurance coverage in the first two weeks after he reopened HealthCare.gov as part of his coronavirus response. The solid start to the three-month special enrollment period indicates pent-up demand for health insurance a year into the COVID-19 pandemic, with many people still unemployed or unable to work as many hours as before. The sign-up opportunity for subsidized private health plans remains open through May 15. HealthCare.gov offers subsidized private health insurance under the Obama-era Affordable Care Act, catering mainly to low- and moderate-income working people.
WASHINGTON (AP) — A Federal Reserve survey of business conditions across the United States has found that economic activity was expanding at a modest pace in February. The Fed's business contacts expressed optimism about a stronger rebound as more COVID-19 vaccines are distributed. The Fed survey released Wednesday said that reports on consumer spending and auto sales were mixed last month, while overall manufacturing showed moderate gains despite supply-side constraints. The report, known as the beige book, is based on surveys conducted by the Fed's 12 regional banks. It will form the basis for discussions when central bank officials meet on March 16 and 17 to discuss their future moves on monetary policy.
ALBANY, N.Y. (AP) — A somber New York Gov. Andrew Cuomo is apologizing following sexual harassment allegations against him. He said Wednesday he "learned an important lesson" about his own behavior around women, but he said he intended to remain in office. Cuomo said he will "fully cooperate" with the state attorney general's investigation into sexual harassment allegations. Attorney General Letitia James is in the process of selecting an outside law firm to conduct an investigation into the allegations and produce a report that will be made publicly. Cuomo had avoided public appearances for days as some fellow Democrats call for him to resign.