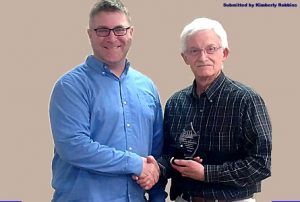 Bismarck  (CSi)  The North Dakota 9-1-1 Association recognized Jerry Bergquist at their quarterly meeting in Bismarck for his over 27 years of leadership and representation.
The Stutsman County Communications Center administrator, 9-1-1 coordinator, and emergency manager of Stutsman County, Bergquist is retiring from his current positions in April.
When the State of North Dakota was only beginning to recognize the three digits of 9-1-1, Jerry Bergquist was active in forming the North Dakota 9-1-1 Association to enhance, improve, promote and facilitate the North Dakota Emergency 911 system. He was elected President of the North Dakota 911 Association in October 1993 at the association's organizational meeting. Through his time with Emergency 9-1-1, North Dakota residents have seen the transition from being able to dial 9-1-1 from their landline phone, to utilizing the first wireless cell phone 9-1-1 calls to now the ability to text to 9-1-1.
North Dakota 911 Association president Jason Horning, says, "We greatly appreciate the time and service Jerry has given the organization, and in particular the mentorship he's provided to many of our members, including myself."
Jerry Bergquist has served on many committees in the North Dakota 9-1-1 Association, often elected chairman for his experience and guidance. He has served in the Emergency Services Communications Coordinating Committee (ESCCC), Department of Emergency Services Advisory Committee (DESAC), STEPS, Public Relations and By-Laws, Standard Operations and Guidelines, and Legislative committees. During his time of service, the State of North Dakota has seen not only the transition of Emergency 911 to Next Generation 911 but also the current transition to a statewide interoperable radio system for the public safety community.