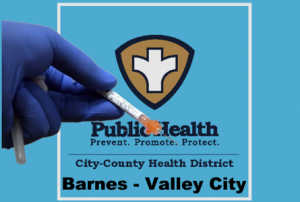 Valley City  (CCHD)  Free COVID-19 testing events for the VCSU and Valley City communities will be held this week from 1-2 p.m. at the W.E. Osmon Fieldhouse, "The Bubble". Rapid and conventional testing will be offered at each event again  on  Monday March 22, and Friday March 26.
These are WALK-IN testing events. If you wish to be tested, please park your vehicle and enter through the west entrance. Handicap parking spaces and access are available at the east entrance. Preregistration at testreg.nd.gov is encouraged; one only needs to register once.
South Central Adult Services  provides free bus rides for seniors who need a ride to any COVID-19 vaccination clinic or appointment in Valley City. Director Pat Hansen said just call ahead for a ride at 845-4300.