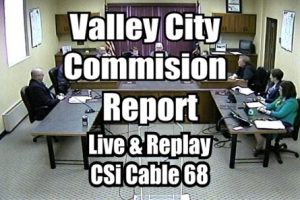 Valley City  (CSi)  The Valley City Commission met in Regular Session, Tuesday evening at City Hall.  Available on the zoom platform for viewing.  All members were present.
RECOGNITION FOR MAYOR FOR A DAY WAS HELD.
Introduced was Haley Martin whose essay was chosen as the winner, and selected a Mayor for a Day, 2021.
She was given a ride to City Hall, on a city fire truck.  On Monday she was given a tour of the City Fire Hall.
CITY GOVERNMENT WEEK PROCLAMATION WAS  READ BY MAYOR CARLSRUD.
Mayor Carlsrud said Valley City has received recognition as being in compliance  with North Dakota Guidelines for Safe Drinking Water.
APPROVAL OF CONSENT AGENDA ITEMS:
Monthly Reports from the Fire Chief, Building Inspector, Auditor, Municipal Judge and Public Works Accountant.
Monthly Bills for the City and Public Works in the Amount of $1,361,072.60.
Electrician, Plumber and/or Mechanical Contractor License(s) for the following businesses: a. Magnum Electric, Inc.
On Demand Plumbing
Ace Plumbing
ASAP Electric
Home Heating, Plumbing & A/C, Inc.
Maple River Electric
Engel's Electric ..those contingent with state approval.
A Raffle Request for a. St. Catherine's Knights of Columbus.
Barnes County Wildlife Federation.
Approved  Blocking off Street Request for Thundering Saints Debbie Gabel Memorial from 12 PM on August 13, 2021 to 8 AM on August 14, 2021 for 3rd Ave SE from Main St. to 2nd St SE contingent on receiving payment.
Public Comments :No One Spoke
General's "A Citizen's Guide to North Dakota Open Records & Open Meetings Laws" *A member of the public does not have the right to speak to the governing body at an open meeting. The public is only entitled to see and hear what happens at a meeting, and to record or broadcast those observations.
ü No personal attacks to persons present or not
ü No inflammatory language used during time that you have the platform
ü 5 minute maximum or as directed by the chair
ü Thank you for participating in City Government.
PUBLIC HEARING
For Application for Property Tax Incentives for New or Expanding Businesses (PILOT) for Trademark Tooling, LLC.   A letter of opposition was received, noting an unfair competitive advantage. Letters notifying the application was sent to three businesses, and to political subdivision, if they have opposition.
Following the Public Hearing, the City Commission unanimously Approved a Resolution approving Property Tax Incentives (PILOT) for Trademark Tooling, LLC.
ORDINANCE
Approved the First Reading of an Ordinance enacting a new section of the Valley City Municipal Code relating to Wireless Telecommunication Facility Guidelines. City Attorney Martineck said the Ordinance was reworked, and a first reading was redrafted, including a right of way fee, and other language.
Approved the  First Reading of an Ordinance to amend and reenact section of the Valley City Municipal Code related to numbers on buildings. City Attorney Martineck said the Ordinance is in line with state mandates including the size of numbers on buildings, and a penalty if not adhered to.
RESOLUTION
Approved a Resolution Amending the Master Fee Schedule re Planning and Zoning Application Fees. City Administrator Crawford said a fee change was included in the Master Fee Schedule.
Approved  a Resolution Approving Modifications to the Electric Rates. Public Works Manager Jacobson said there is no rate increase, noting a rate decrease in the Green Energy rate, along with other 'housekeeping' items.
NEW BUSINESS
Approved a NDDOT Cost Participation and Maintenance Agreement for Project NHU-2-094(181)929, Paving Improvement District No. 122 (Main Street Seal Coat).  KLJ said the project includes a 10 percent local cost, not covered by NDDOT funding.
Approved a  Gaming Site Authorization for Thundering Saints, Inc. on April 6, 2021 through June 30, 2021 at Woodland Steakhouse, to conduct pull tabs.
Approved an  Amendment to Employee Salary Schedule.   Three positions were noted by City Attorney Martineck.
Approved with one vote in opposition,  a  Construction Engineering Agreement for Paving Improvement District No.119 and119B, SanitarySewer District No. 64, Storm Sewer District No. 52 and Water Main District No. 100. KLJ said the project was bid out, and was awarded, with work to start in the next few weeks.
Discussed was increasing the $10,000 maximum purchasing power of the city.
The Commission voted to approve an increase of up to $30,000.
CITY ADMINISTRATOR'S REPORT: 
Gwen Crawford said attention has been paid to water tower improvements, including flow and pressure.
CITY UPDATES & COMMISSION REPORTS  Highlights
Carl Martineck said, Public Works is hiring for summer help.
Finance Director Avis Richter said the city has worked with Eide Bailey with budget auditing.
City Assessor, Sandy Hansen said the Board of Equalization meeting is April 14th.
City Fire Chief Scott Maguson said the fire ban remains in the City and has been extended.
(By action of the Barnes County Commission the Barnes County Burn ban has been extended through April 20.
Barnes County Emergency Manager Sue Lloyd said the burn ban now includes the use of fire pits as well as the burning of leaves, grass clippings, garbage pits, construction debris, fallen trees, crop residue, sloughs, campfires and bonfires.
Gas or gas camp stoves, charcoal or wood-fired grills with a cover may be used so long as they are on a hard non-organic surface 15 feet away from vegetation and an extinguisher or water is available on site.)
Public Works Director, Gary Jacobson said residents may still contact the city to take part in E-Mail billing, with 860 respondents, or about a quarter of water customers responding so far.
Commmissoner Gulmon said updating  funding for the firehouse project is continuing.
Mayor Carlsrud said Valley City Citywide Cleanup week is May 24-28, 2021.  He asked that items not be placed out until that week.
Avis Richter pointed out that the next City Commission meeting will be on Monday April 19.
The meeting was shown live on CSi Cable 68 followed by replays.