CSi Weather…
SEVERE THUNDERSTORM WATCH CANCELLED
Forecast:
.MONDAY NIGHT…Partly cloudy. A 30 percent chance of showers and thunderstorms in the evening in the Jamestown area, 20 percent chance in the Valley City area. Some thunderstorms may be severe.
Lows 60 to 65. Northeast winds up to 10 mph. Gusts up to 20 mph in the evening.
.TUESDAY…Mostly sunny. Highs in the mid 90s. Southeast winds
10 to 20 mph.
.TUESDAY NIGHT…Mostly cloudy. A 20 percent chance of showers thunderstorms after midnight in the Jamestown area, 30 percent chance in the Valley City area. Lows 70 to 75.
.WEDNESDAY…Mostly sunny. Highs in the mid 90s. West winds 5 to
15 mph shifting to the north 15 to 20 mph in the afternoon.
.WEDNESDAY NIGHT…Partly cloudy. Lows 60 to 65.
.THURSDAY…Mostly sunny. Highs in the mid 80s.
.THURSDAY NIGHT…Partly cloudy. Lows 60 to 65.
.FRIDAY…Mostly sunny. Highs in the mid 80s.
.FRIDAY NIGHT…Partly cloudy. Lows 60 to 65.
.SATURDAY…Sunny. Highs in the mid 80s.
.SATURDAY NIGHT…Mostly clear. Lows in the mid 50s.
.SUNDAY…Sunny. Highs in the mid 80s.
There is a possibility for isolated thunderstorms Monday afternoon
and evening, more likely in the James River Valley. One or two
storms may become severe with large hail to the size of baseballs
and wind gusts up to 70 mph. The coverage of this severe threat
will be isolated.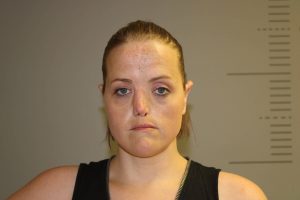 Oriksa  (NDHP)  On Monday, July 26th, a ND Highway Patrol (NDHP) Trooper responded to a report of a reckless driver traveling westbound on I-94 near Tower City. The vehicle was described as a tan Buick LeSabre with no registration displayed.
The NDHP Trooper located the Buick parked at the westbound Oriska Rest Area on I-94 MM 304 at approximately 7:24 am. The driver appeared to be passed out inside the running Buick.
The trooper was able to wake up the driver of the Buick and observed signs the driver was under the influence of methamphetamine. The driver refused to exit the vehicle and was placed under arrest.
After the driver of the Buick was placed under arrest, the trooper attempted to use force to remove the driver from the vehicle. The driver resisted arrest and was able to place the vehicle in reverse and began to accelerate in reverse, dragging the trooper.
The trooper was able to force the vehicle back into park and the driver continued to resist the trooper. While the driver was resisting, she attempted to disarm the trooper.
Two Good Samaritans assisted the trooper in removing the driver from the Buick and the trooper was able to place the driver in handcuffs. The driver was then secured in a patrol vehicle.
After taking the driver into custody, it was learned the Buick had been stolen from Clay County, MN on July 5th, 2021.
The driver of the Buick was 35 year old Amanda Leavy, of Jamestown, ND. Leavy was arrested for the following misdemeanor offenses: driving under the influence, driving under suspension, false information, and unauthorized use of a motor vehicle. She was also arrested for the following felonies: attempting to disarm a law enforcement officer, resisting arrest, aggravated assault, possession of methamphetamine and unlawful possession of methamphetamine paraphernalia.
Leavy was transported for minor injuries by the Barnes County ambulance to Mercy Hospital in Valley City. She was treated, released, and transported to the Stutsman County Jail.
The trooper was treated for non-life threating injuries at Mercy Hospital in Valley City and has been released from the hospital.
The Valley City Police Department and Barnes County Sheriff's Office responded to the incident as well.
The North Dakota Department of Health dashboard is updated daily by 11 am and includes cases reported through the previous day. The investigations are ongoing and information on the website is likely to change as cases are investigated. The information contained in this dashboard is the most up to date and will be different than previous news releases. This dashboard supersedes information from previous news releases or social media postings.
Check out our other dashboards: The COVID-19 Vaccine Dashboard, NDUS Dashboard.
NDDoH
COVID-19 Stats
Mon. Jul 26, 2021 2021
11- a.m.
Barnes
New Positives 0
Total Positives  1425
Active 0
Recovered: 1393
Stutsman
New Positives 0
Total Positives 3566
Active 7
Recovered  3477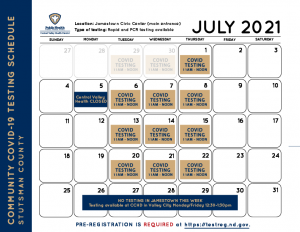 Jamestown  (CVHD)  Central Valley Health District wants the public to know that there will be NO testing scheduled at the Civic Center on July 27, 28, and 29 due to availability of the testing site.
CVHD encourages those with symptoms to seek testing from their medical provider during the week of July 26 to July 30.  Testing is also available in Valley City on Monday July 26 and Friday July 30 at the public health department as an additional opportunity for testing.
Unit Administrator Robin Iszler says that they will resume testing next week starting Tuesday, August 3, Wednesday August 4, Thursday, August 5 from 11-a.m.  to 12 p.m.. at the Jamestown Civic Center, Exchequer Room.
Bismarck  (CSi) . Doug Burgum Monday appointed North Dakota Parks and Recreation Director Andrea Travnicek to lead the state's Department of Water Resources, subject to approval by a majority of the members of the State Water Commission on Friday, July 30. The governor also appointed eight members to the State Water Commission with broad experience in water supply, flood protection, engineering and other water issues.
As a result of House Bill 1353 passed during the 2021 legislative session, on Aug. 1 the Department of Water Resources will be the primary state water agency, replacing the State Water Commission.
The governor appointed four new members and reappointed four current members to the State Water Commission.
New members appointed to the Commission are:
James Odermann, a Belfield rancher, who will represent the Little Missouri, Upper Heart and Upper Cannonball river basins.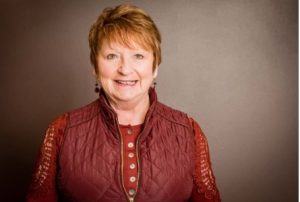 Connie Ova, CEO of the Jamestown/Stutsman Development Corp., who will represent the James River Basin.
April Walker, consulting firm owner and former Fargo city engineer, who will represent the Upper Red River Basin.
Gene Veeder, a McKenzie County rancher and board member for the McKenzie County Job Development Authority, who will represent the Upper Missouri River Basin.
The governor also reappointed the following commissioners:
Michael Anderson of Hillsboro, who represents the Lower Red River Basin.
Richard "Dick" Johnson of Devils Lake, who represents the Devils Lake Basin.
Jay Volk of Bismarck, who represents the Lower Missouri River Basin.
Burgum also expressed his gratitude for outgoing commissioners Katie Hemmer of Jamestown, Mark Owan of Williston, Matthew Pedersen of Valley City and Steven Schneider of Dickinson for their service to the Commission and the state of North Dakota.
Valley City  (Chamber 7-26-21)  Message from Valley City Mayor, Dave Carlsrud.
"Crazy Daze" is Wednesday July 28! Enjoy
Last Monday was the "Let's Walk Valley City" event. There were many booths providing education, fun and fellowship for approximately 600 people who attended. Thank you for a great job to all who organized the event and worked the booths.
A lady asked me if I would "please" mention that there are many cigarette butts lying around town. A cigarette filter can take 18 months – 10 years to decompose. So PLEASE dispose of your cigarette butts and packages properly. Keep Valley City beautiful, thank you.
Valley City State University (VCSU) held a "kick-off " for its Forward Together Capital Campaign.  VCSU is one of the "faces" of Valley City so please research the Forward Together Capital Campaign and consider helping.
TREES are important to protecting lawns, flowers, street surfaces, reduce storm water runoff, increase property values and are beautiful. Trees are stressing and you can make a difference WATERING them. Birch trees especially appear to be having a tough time.
Please research the Emerald Ash Borer as we have many Ash trees in Valley City: https://www.nd.gov/ndda/plant-industries/pest-survey-and-outreach/emerald-ash-borer-eab
The COVID-19 Variant is attacking non-vaccinated people creating illness and some deaths. Get your vaccination, as your family and friends want you alive and healthy.
August 5th, be watching for "The Longest Table". For details see: http://www.vclongesttable.org/
Thank you to contributors again this week.
"No matter what accomplishments you achieve, somebody helps you."                    (Wilma Rudolph)
Blessings, Be Respectful, Be Kind and Pray,
Dave
Dave Carlsrud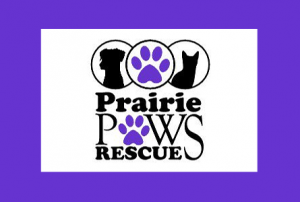 Jamestown  (CSi)  Prairie Paws Rescue invites the community to the "Splash & Dash," Dog Wash on Saturday August 14, from 10-a.m. to 1-p.m., at R.M. Stoudt, in Jamestown.
Enjoy a hot dog and pop, with a free will donation.
The suggested donation is $5-$15 depending on the size of the dog.  $5 for a nail trimming, with all proceeds going to Prairie Paws Rescue.
For more information visit:  wwwprairiepawsrescue.com, or call 701-320-4553.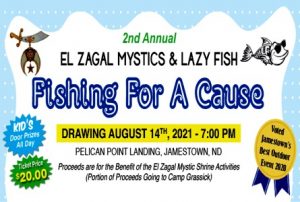 Jamestown  (CSi)  The Second Annual El Zagal Mystics & Lazy Fish, Fishing For A Cause is August 14, at Pelican Point Landing in Jamestown.
The ticket prices is $20, with proceeds benefiting the El Zagal Mystic Shrine activities, and a portion of the proceeds will go to the Elks Camp Grassick.
There will be kids Door Prizes all day.
The Little Tyke Fishing Tournament  for kids  ages 2-10, is 10-a.m. to 12 noon. All species allowed.
Longest size wins.  First Place $250, Second Place $150, Third Place $100.   Registration on the beach
Food and beverages 11:30-a.m. to 5:30-p.m.
Drawings for prizes provide by sponsors.
DJ, Rock 'n Ronnie.
Face painting 1-p.m. to 4-p.m.
Jamestown Inflatables 1-p.m. to 4-p.m.
Flickertail & Friends 5-p.m. to 10-p.m.
BILLINGS, Montana (AP) — Four firefighters have been released from the hospital and a fifth remains in a burn center after a Montana wildfire overran them last week. A U.S. Fish and Wildlife Service spokesperson said Monday that the firefighter still being treated sustained the most injuries of agency personnel involved in Thursday's accident but "is making good progress and is in good spirits." Swirling winds unexpectedly blew the blaze back on the firefighters in the Devils Creek area of Garfield County in central Montana. A Forest Service spokesperson says investigators are trying to better determine what led to the accident.
SIOUX FALLS, S.D. (AP) — Two companies seeking to build thousands of miles of pipeline across the Midwest are promising the effort will aid rather than hinder the fight against climate change. Some environmental groups remain skeptical. The pipelines would stretch from North Dakota to Illinois, potentially transforming the Corn Belt into one of the world's largest corridors for a technology called carbon capture and storage. The projects would capture the greenhouse gas carbon dioxide at ethanol refineries and transport it to sites where it could be buried thousands of feet underground beneath deep geological formations. But that isn't stopping some conservationists from opposing it, raising the chances that the pipelines become another pitched battle between energy companies and environmentalists.
In sports…
Monday Baseball…
Thompson 13 LaMoure A's 3
The LaMoure A's season comes to an end.
Thompson will play the loser of Cando and Hazen game Monday at 5-p.m.
In world and national news…
NEW ORLEANS (AP) — A Republican congressman from Louisiana who has criticized mask mandates and public health restrictions says he and his wife and son are now sick with the coronavirus. Rep. Clay Higgins says he and his wife were infected last year, but this time around is much more difficult. Louisiana is struggling with a fourth surge of the virus as the delta variant sends case numbers skyrocketing and fills hospital COVID wards again. Higgins has not said whether he has been vaccinated. Republican Rep. Vern Buchanan of Florida tested positive last week, but said he's been fully vaccinated so his symptoms have been mild.
(AP)  California and New York City have announced that they would require all government employees to get the coronavirus vaccine or face weekly COVID-19 testing. The moves come as officials race to beat back a summer surge driven by the delta variant. Meanwhile, in a possible sign that increasingly dire health warnings are getting through to more Americans, vaccination rates began to creep up again over the weekend. The numbers offer hope that the nation could yet break free of the coronavirus if people who have been reluctant to receive the shot are finally inoculated.
(AP)  Masks are again required in St. Louis city and St. Louis County amid a sharp increase in COVID-19 cases spurred by the delta variant. The mask mandate started Monday. Masks are mandatory in indoor public places and on public transportation for everyone age 5 or older — even for those who are vaccinated. Wearing masks outdoors is strongly encouraged, especially in group settings. The decision comes as both of Missouri's urban areas see a big uptick in coronavirus hospitalizations that began in rural parts of the state. Data from Johns Hopkins says Missouri ranks fourth nationally in new cases per capita in the past 14 days.
WASHINGTON (AP) — Senators are running into new problems as they race to seal a bipartisan infrastructure deal. Pressure is mounting Monday on all sides to show progress. It's a make-or-break week on President Joe Biden's top priority. One major roadblock is how much money should go for public transit. But spending on water projects, broadband and other areas remains unresolved, as is tapping COVID-19 funds to help pay. Democrats and the White House sent an offer to Republicans late Sunday to finish the remaining issues, but it was rebuffed by Republicans as "discouraging."
WASHINGTON (AP) — President Joe Biden is nominating eight new leaders for U.S. attorney positions, including in the office overseeing the prosecutions of defendants in the Capitol insurrection. If confirmed, Biden's nominees would run offices in the District of Columbia, Indiana, Maryland, Massachusetts, New York and Washington state. Most would be historic firsts, including the first Black or female attorneys to lead their districts. The nominees announced Monday come as the Justice Department continues to round out its leadership team under Attorney General Merrick Garland, who recently visited Chicago to announce an initiative cracking down on violent crime and gun trafficking. The Justice Department's 93 U.S. attorneys are likely to be central to that effort.