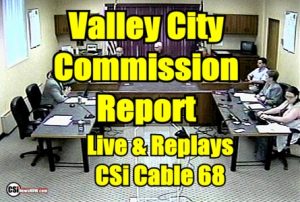 Valley City  (CSi)  The Valley City Commission met in Regular Session Tuesday evening at City Hall.  All members were present.
APPROVAL OF CONSENT AGENDA ITEMS:
Monthly Reports from the Fire Chief, Electrical Superintendent, Building Inspector Finance Director and Municipal Judge.
A Raffle Permit for Sheyenne Care Center.
A Parade Application for VCSU Homecoming Parade on Oct. 2 at 10:30 AM on Central Ave from 12 St. NE to the VCSU Foot Bridge.
Public Comments … No One spoke.
A PUBLIC HEARING was held for the 2022 City Budget
Following the Hearing the City Commission, Approved the First Reading of, an Ordinance Adopting the 2022 City Budget.  Finance Director Richter said the preliminary budget has been approved.  She pointed out changes in the budget, with the 2022 General Fund mill levy increased by 4.46 mills.  The expenditures in the 2022, city budget increased by $138,609.  Cash reserves have been met.  50 percent of the budget is earmarked for public safety.  The estimated property tax information has been mailed to property owners.
RESOLUTION
NEW BUSINESS
Approved the Monthly Bills for the City and Public Works in the Amount of $2,347,996.56.
Approved was the Valley City Barnes County Development Corporation Request for Funds.   Director, Jennifer Feist said the request is for $10, 000 for drainage analysis for the Northwest Industrial Park.
The city Commission approved the Valley City Barnes County Development Corporation's request to Retain $188,000 of Economic Development Funds.  Jennifer Feist  said, the request stems from purchasing a steel building in the  Northwest Industrial Park.  The funds would return to the city if the plans do not materialize.
Approved was Granting an Easement to Barnes County Park Board for Monson Trail. City Attorney Martineck said, the easement is along West Main Street, and was approved pending a review.
Approved was City Administrator to Negotiate Sale of City Lot Located North of West Main Street in NP Additions 5 and 6.
The City Commission approved a Site Authorization for Barnes County Wildlife Federation at the Valley City Eagles Club on April 2, 2022.
Highlighting the CITY ADMINISTRATOR'S REPORT:
Gwen Crawford said, city departments are going above and beyond of their regular duties.
The cold storage building has been closed on.   The closing on the Valley Implement building is expected this week.
CITY UPDATES & COMMISSION REPORTS
KLJ updated the city projects, progression.
Commissioner Gulmon said a marketing coordination position is being reviewed with committee meetings.
He said, until 2022 budget the mill levy had not been increased since 2016.
Mayor Carlsrud thanked those working on the 2022 City Budget. He said the city's water supply is good.
The meeting was shown live on CSi Cable 68 followed by replays.