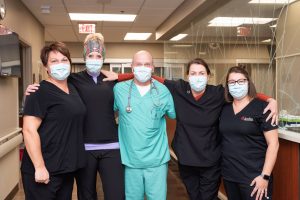 Jamestown  (JRMC)  The Jamestown Regional Medical Center was recently honored with the American Heart Association/American Stroke Association's Get With The Guidelines®-Stroke Quality Achievement Award, achieving Silver status.
The award recognizes the hospital's commitment and success ensuring that stroke patients receive the most appropriate treatment according to nationally recognized, research-based guidelines based on the latest scientific evidence.
"Rapid-response treatment for stroke offers the most significant chance for recovery. According to Jenna Bredahl, Quality & Risk Manager, "Once a stroke occurs, the goal is to lessen potentially debilitating effects, prevent further damage to the brain and reduce the medical and physical complications following a stroke."
JRMC is a Level IV Trauma Center designation, meaning the facility always has an advanced-trauma, life support-certified physician and nursing team available.
"Awards like these don't happen by accident," said JRMC President & CEO Mike Delfs. "They represent the hard work and dedication of our legendary care teams."
Learn more about JRMC at www.jrmcnd.com. Schedule an appointment at www.jrmcnd.com/appointments.
About Jamestown Regional Medical Center
Jamestown Regional Medical Center in Jamestown, N.D. serves 55,000 people in nine counties. In 2021, the National Rural Health Association named it a "Top 100 Critical Access Hospital" for the eighth consecutive year. Modern Healthcare named JRMC a "Best Places to Work in Healthcare" each year from 2017-2020.  Specialty services include ear, nose & throat, gynecology, podiatry, orthopedics, urology and wound care. For more information, visit www.jrmcnd.com or call (701) 952-1050.