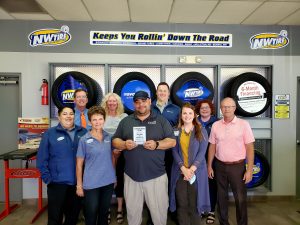 (Chamber)  The Chamber presented the Customer Service Award for Sept to Dany Ledda for his outstanding customer service.  The chamber honors individuals who demonstrate a consistent commitment to delivering products or services that satisfy customers by exceeding their requirements or expectations.
His nomination letter said, "I had posted a picture on Facebook of my tire and how it was having an issue. Dany contact me within 10 minutes, on a day when his business was closed, to check in see if everything was OK. I had purchased tires years ago from him and he was reaching out to see if there was anything he could do. The fact that, one, he contacted me on a closed business day was awesome. Two, the fact that he contacted me within minutes shows that he pays attention to his customers. And three, the fact that he was willing to go out of his way and make things right for something that was not even his problem or issue shows me that he truly cares about this community."
Congratulations to Dany! Northwest Tire has three locations in Jamestown, and provides automotive services and tires for most vehicles. You can reach them at 701-252-8646.
Customer Service Award nomination forms are available at the Chamber office and on their website at www.jamestownchamber.com or call 701-252-4830.