CSi Weather…
.TONIGHT..  A 20 percent chance of rain showers in the evening then decreasing clouds. Lows around 50. South winds around 5 mph shifting to the northwest after midnight.
.TUESDAY…Sunny. Highs in the lower 70s. Northwest winds 5 to
15 mph.
.TUESDAY NIGHT…Mostly clear. Lows in the upper 40s. Southwest
winds 5 to 10 mph.
.WEDNESDAY…Mostly sunny. Highs in the upper 70s. South winds
10 to 20 mph with gusts to around 35 mph.
.WEDNESDAY NIGHT…Partly cloudy. Lows in the mid 50s.
.THURSDAY…Mostly sunny with a 20 percent chance of rain
showers. Highs in the mid 70s.
.THURSDAY NIGHT…Partly cloudy. A 20 percent chance of rain
showers after midnight. Lows in the upper 40s.
.FRIDAY…Mostly sunny with a 20 percent chance of rain showers.
Highs in the upper 60s.
.FRIDAY NIGHT…Mostly cloudy with a 20 percent chance of rain
showers in the evening, then partly cloudy after midnight. Lows
in the lower 50s.
.SATURDAY…Sunny. Highs in the upper 70s.
.SATURDAY NIGHT…Mostly clear. Lows in the upper 50s.
.SUNDAY…Sunny. Highs around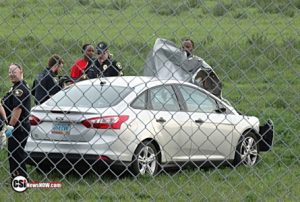 Jamestown  (CSi)  Jamestown Police investigated a incident at Jamestown Regional Airport on  Monday morning at about 8:36-a.m. when a car drove through a fence on airport property.
The car was eastbound on Old Highway 10, and failed to negotiate a curve, east of Airport Road going into a ditch and through the fence into a grassy area.
The female driver was not injured.
Assisting police at the scene was Jamestown Area Ambulance Service.
The Jamestown City Fire Department was dispatched to the scene, but was called back when it was determined by police there assistance was not needed.
The car was towed from the scene.
The incident remains under investigation by Jamestown Police.
Update..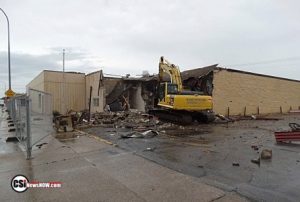 Jamestown  (CSi) On Monday, September 13, 2021 demolition of the former Jamestown Eagles Club building began.  2nd Avenue SW. adjacent to the structure is blocked to traffic.
Safety Fencing went up around the former  Eagles building, Tuesday August 31.  Asbestos removal has been completed.
Originally, the plan called for the event and starting construction in summer of 2020, but was delayed stemming from COVID-19 pandemic  related issues. The first step was to hired a company to clear the Asbestos, that has now finished.
Eagle Flats will have 33 apartment units at the site of the vacant Eagles building on First Avenue South, in Downtown Jamestown.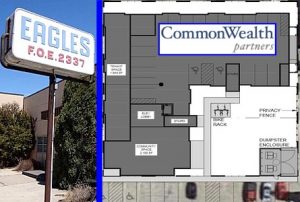 Commonwealth Companies had anticipated taking title to the Eagles property in October of 2020, and closing financing in April 2021, followed by construction, with completion now anticipated in 2022.
Eagle Flats will provide ground level parking, and have 33 accessible apartment units over the three floors, with a mix of one, two, and three-bedroom units in the secured building.
Residents will be within walking distance of downtown stores, along with Jamestown Middle School and employment in that ar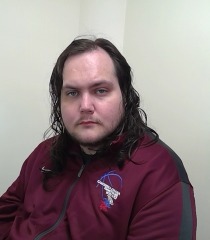 Jamestown  (JPD)  The Jamestown Police Department is warning Jamestown Residents regarding a convicted high risk sex offender who had relocated within the city of Jamestown.
Robert William Lilley, Jr., now resides at 1530 6th Avenue, SW, #39, Jamestown, ND.
He has been assigned a high risk assessment by the North Dakota risk level committee of the North Dakota Attorney General's Office.
He presently has no vehicle.
He is a 27 year old American Indian male, six feet one inch tall, weighing 315 pounds, with blue eyes, and brown hair.
Offense:  Gross Sexual Imposition (Force/Threat), when he was 16 years old.
When he was babysitting  two young boys, one was eight years old.
Lilley continued to act out sexually while in residential treatment, and was finally terminated from the program.
Conviction Date: December 2010, in Rolette County, ND Juvenile Court.
Disposition:  Custody of DJS until November 17, 2011.
Lilley is currently on probation with North Dakota Parole and Probation.
He is not wanted by police at this time and has served the sentence imposed by the court.
This notification is meant for public safety and not to increase fear in the community, nor should this information be used to threaten, assault, or intimidate the offender.
Any attempts to harass, intimidate or threaten these offenders, their families, landlords, or employers will be turned over for prosecution.
Printed handouts of the demographics of Robert William Lilley, Jr.  are available at the Jamestown Police Department.
More information on registered sex offenders is available at the North Dakota Attorney General's web site: www.sexoffender.nd.gov
The North Dakota Department of Health dashboard is updated daily by 11 am and includes cases reported through the previous day. The investigations are ongoing and information on the website is likely to change as cases are investigated. The information contained in this dashboard is the most up to date and will be different than previous news releases. This dashboard supersedes information from previous news releases or social media postings.
Check out our other dashboards: The COVID-19 Vaccine Dashboard, NDUS Dashboard.COVID- 19 stats:
Mon. Sept. 13,  2021
10:30- a.m.
Barnes
New Positives: 2
Total Positives:  1512
Active: 26
Recovered: 1449
Stutsman
New Positives:  8
Total Positives:  3858
Active:  108
Recovered: 3660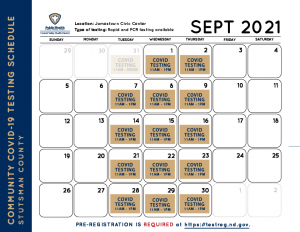 Jamestown  (CVHD)  Central Valley Health District reminds residents that COVID testing is  on Tuesdays, Wednesdays, and Thursdays, at the Jamestown Civic Center, Exchequor Room, from 11-a.m. to noon.
Call CVHD at 701-252-8130 to register.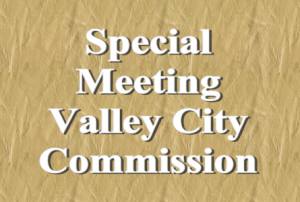 Valley City  (CSi)  The Valley City Commission met in Special Session Monday evening, at City Hall.  City Commissioner Gulmon was not present.

New Business
Discussed was the Valley City Municipal Code regarding Assessment of upaid utility bills.
City Administrator Crawford said, the public was invited to hear their comment, and concerns. She outlined the present notification process, of paying utility bills, including checking withdrawals and other payment methods.
From the audience a landlord,  Dick Lorenz said, notification should be given when responsibility is a burden on the small property investor.
Dean Ross who owns property, said it's the tenants responsibility to pay the utility bill, and not the landlord, under the recently enacted Ordinance.  He pointed out that the City Attorney should "go after," tenant that have not paid delinquent utility bills, possibly in small claims court.
Gwen Crawford said a lot of the delinquent bills stem from the tenant not paying the final bill before they move out.  She said presently after a predetermined time frame if the delinquent bill is not paid by a current tenant the electricity is shut off.
City Commission Magnuson said the Monday meeting was called to hear  landlords thoughts, comments, and concerns, under the Ordinance.  He said, city Ordinance can be amended by the City Commission.  He said he's open to hear comments and suggestions.
Mayor Carlsrud said the city held three public meetings for comments, with a lack of citizens attending, saying information on public notification of the hearings was available on line, in lieu of mailings.
Following discussions, Mayor Carlsrud said the present City Ordinance can be readdressed in the process of collecting delinquent utility bills.
No action was taken by the City Commission at Monday's Meeting.
Also at the meeting, the City Commission approved a raffle permit foe the Valley City Lions Club on September 14, 2021 during the Ham & Beef Fundraiser.
The meeting was shown live on CSi Cable 68.
Valley City  (Chamber 9-13-21) The latest message to the community from Valley City Mayor, Dave Calsrud:
Last Friday evening was a fun one at the Eagles Club. There was a fundraiser for the Museum's "Peggy Lee Project" and the Valley City High School Class of 1960 celebrated a reunion event simultaneously. There were many people visiting, eating & enjoying the music of the Myron Sommerfeld Orchestra. Part of the project plan is to have a large Peggy Lee mural on the Rudolf Square where she first worked for KOVC.  Kudos to all who are working on the project.
Watching the varying river levels has been fascinating. With the run-offs from the nice rains the river was up considerably, though now the run-offs have slowed, the releases at the dam are being adjusted accordingly.
Another thought about the rain or lack thereof, there have been reports of some "good" crops! Amazing, "how does one explain it"?
The past couple weeks "volunteering" has been one of our topics. Helping your neighbors, especially those who are older, can be very gratifying for you and a Blessing for your neighbors. Oh, and for us "chronologically gifted" folks, we can realize the same gratification by helping at places like the Barnes County Museum, hospital and assisted living facilities. Please consider volunteering.
Have you noticed the attractive lighting on the City Park Walk Bridge and the mural on the east wall of the shop? Thank you to all you who contributed.
Sunday the Red Knights International Motorcycle Club held a "911 Tribute Ride" to assist local fire victims. Nearly 200 riders registered before they "hit the road". Thank you everybody.
Thank you to contributors again this week.
"Love is a combination of friendship, passion and respect."  (John Glenn: A Memoir)                                                                                  
Blessings, Be Respectful, Be Kind and Pray,
Dave
Dave Carlsrud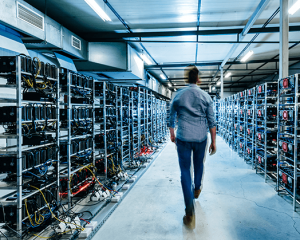 Jamestown  (CSi)  Tuesday September 14 there will be a ground breaking for the Applied Block Chain business to be located on Highway 20, a new cryptocurrency mining company. Cryptocurrency mining, or cryptomining, is a process in which transactions for various forms of cryptocurrency are verified and added to the blockchain digital ledger.
Applied Blockchain delivers cryptocurrency mining and infrastructure solutions to its customers.  The company has partnered with Bitmain, SparkPool and General Mining Research.
Applied Blockchain will employ about 30 people on site to monitor the equipment 24 hours per day at the hosting facility near Jamestown.
The Jamestown Chamber of Commerce is set to hold a groundbreaking for Applied Blockchain Inc. on Highway 20 north of the city, at 1:30 p.m. at 27th St SE and 26th Ave SE.
Previously posted on Applied Block Chain Website: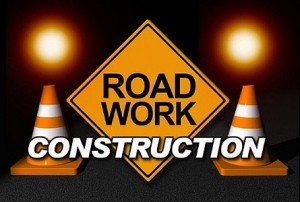 Valley City  (CSi)   Street work continues in Valley City. The eastbound parking lane between 2nd Avenue and 3rd Avenue is closed for construction operations.
The roadway will remain open to thru traffic. Parking will be allowed on the north side of Main Street. A portion of the sidewalk on the south side of the road between 2nd Avenue and 3rd Avenue up to the midblock from the west on Main Street will be removed; however, the sidewalk immediately adjacent to the building will remain in place. Pedestrians are to use the temporary crossings and channeling devices to access businesses. Construction operations are still ongoing between Central Avenue and 2nd Avenue.
Updated maps for all road closures will be posted on the City of Valley City's webpage http://www.valleycity.us/engineers/ when they are taking affect.  If you have any questions regarding the project, please contact KLJ at (701)‐845‐4980.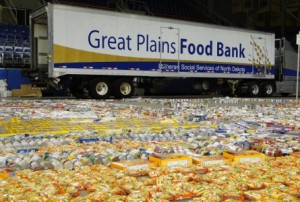 Valley City  (CSi)  The Great Plains Food Bank plans to stop in Valley City On Tuesday September 14 from 12:15-p.m. to 2-p.m.
The location will be at Epworth United Methodist Church.
Valley City  (CSi)  The Valley City Lions Club will hold the 39th Annual Ham & Beef Supper on Tuesday September 14 with serving from 4:30-p.m. to 7-p.m. at the Valley City Eagles Club.
Take out will be available.
Tickets are: $13 each, or two for  $25. Students 6-12 years old $7. Preschool five and under free.
Advance tickets from any Valley City Lions Club member.
Proceeds will go to local charities.
Jamestown  (City)  There will be a City Board of Adjustment Meeting held at City Hall at 8:00 AM on Wednesday, September 15, 2021.
On the agenda is a Variance Request: 605 25th St SW Jamestown, ND – Developer is seeking a variance of 41 parking spaces in order to construct a 2,417 sq. ft. quick serve restaurant.
A Variance Request: 1807 HWY 281 N, Jamestown, ND- Property owner is requesting rear yard variance to set building on yard site.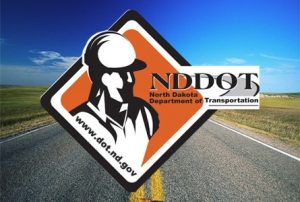 Bismarck  (NDDOT)  U.S. Highway 52 is temporarily closed from Carpio north to the junction of North Dakota Highway 5 this week.
This closure is due to Northern Plains Railroad replacing the crossing at U.S. 52, two miles north of Kenmare.
A marked detour is in place and the project is expected to be complete Friday, Sept. 17.
For more information about construction projects and road conditions throughout North Dakota, call 511 or visit the ND Roads map at travel.dot.nd.gov.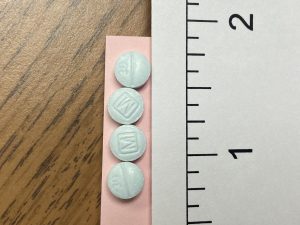 GRAND FORKS, N.D. (AP) — The Grand Forks Police Department has issued a warning about a powerful illegal opiate making the rounds locally. Officers say they responded to numerous narcotics-related drug overdoses Saturday evening, including a death. Police say illegal drug users ingested what they believed to be heroin and began overdosing. Immediate medical intervention was needed to revive them. Police say the substances were in fact a more dangerous and powerful opiate that caused the overdoses. The person who died was not immediately identified. The Grand Forks Police Department and Grand Forks Narcotics Task Force are investigating to determine the source of the narcotics.
In world and national news…
WASHINGTON (AP) — Secretary of State Antony Blinken is set to defend the Biden administration's much-criticized handling of the military withdrawal from Afghanistan before Congress in what are expected to be contentious hearings. In separate House and Senate testimony starting Monday, Blinken will face lawmakers angry about the administration's response to the quick collapse of the Afghan government and, more specifically, the State Department's response. The department has come under heavy criticism from both Republicans and Democrats for not doing enough and not acting quickly enough to get American citizens, legal residents and at-risk Afghans out of the country after the Taliban took control of Kabul on Aug. 15.
WASHINGTON (AP) — House Democrats are unveiling a sweeping proposal for tax hikes on big corporations and the wealthy to fund President Joe Biden's $3.5 trillion rebuilding plan. The House released details on Monday as Congress speeds ahead to shape the far-reaching package touches almost all aspects of domestic life. The proposed top tax rate would revert to 39.6% on couples earning more than $450,000, and there would be a 3% tax on wealthier Americans making beyond $5 million a year. For big businesses, the proposal would lift the 21% corporate tax rate to 26.5% on incomes beyond $5 million. The tax hikes are in line with Biden's own proposals.
OKLAHOMA CITY (AP) — Oklahoma's Pardon and Parole Board is recommending the governor commute the death sentence of Julius Jones for a 1999 killing. The board voted 3-1 on Monday to recommend Jones' sentence be commuted to life in prison. Board member Scott Williams recused himself because of a professional relationship he had with an attorney who spoke on Jones' behalf. Republican Gov. Kevin Stitt will ultimately decide Jones' fate. Jones has maintained his innocence in the 1999 shooting death of Edmond businessman Paul Howell. Jones' case has drawn widespread attention after it was profiled in "The Last Defense," a three-episode documentary produced by actress Viola Davis that aired on ABC in 2018.
BOSTON (AP) — The first trial in the college admissions bribery scandal is underway with defense attorneys seeking to portray the two parents accused of buying their kids way into school as victims of con man who believed their payments were legitimate donations. Defense attorneys said former casino executive Gamal Abdelaziz and former Staples and Gap Inc. executive John Wilson never discussed paying bribes. Prosecutors say the parents were well aware their payments were being used to have their kids designated as athletic recruits with fake or embellished credentials. The trial in Boston's federal court is expected to last a few weeks. Thirty three other parents charged in the case have pleaded guilty.
MEMPHIS, Tenn. (AP) — Jury selection is underway in the trial of a Tennessee state senator charged with stealing more than $600,000 in federal funds. The federal trial of state Sen. Katrina Robinson started Monday in Memphis. Robinson is accused of stealing funds from federal grants slated for The Healthcare Institute, which provides training for jobs in health care. Prosecutors say she used the money to pay for her wedding, honeymoon and other personal expenses. She has pleaded not guilty to charges of wire fraud and theft and embezzlement involving government programs. The Memphis Democrat was elected to the General Assembly in 2018.
(AP)  An international group of scientists is arguing the average person doesn't need a COVID-19 booster yet — an opinion that highlights the intense scientific divide over the question. Two of those scientists are top U.S. vaccine regulators, raising questions about whether White House plans for booster doses are getting ahead of the government's own experts. The group analyzed a long list of worldwide studies and concluded the shots still work well despite the extra-contagious delta variant. Their opinion piece was published Monday in The Lancet.