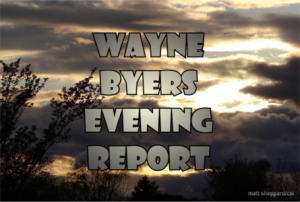 CSi Weather…
TONIGHT…Partly cloudy. Isolated rain showers and thunderstorms in the evening, then isolated rain showers after midnight. Lows in the mid 50s. Southwest winds 5 to 15 mph. Chance of precipitation 20 percent.
.THURSDAY…Mostly sunny. A 20 percent chance of rain showers in the morning in the Jamestown area, 30 percent in the Valley City area. Highs in the lower 70s. North winds 5 to 15 mph.
.THURSDAY NIGHT…Increasing clouds. Lows in the mid 40s. Northwest winds 5 to 10 mph.
.FRIDAY…Sunny. Highs in the upper 60s. Northwest winds 5 to10 mph.
.FRIDAY NIGHT…Partly cloudy. Lows in the upper 40s.
.SATURDAY…Sunny. Highs in the upper 70s.
.SATURDAY NIGHT…Mostly clear. Lows in the upper 50s.
.SUNDAY…Sunny. Highs in the mid 80s.
.SUNDAY NIGHT…Partly cloudy. Lows in the mid 50s.
.MONDAY…Mostly sunny with a 20 percent chance of rain showers. Highs in the upper 70s.
.MONDAY NIGHT…Increasing clouds. A 40 percent chance of rain showers. Lows in the upper 50s.
.TUESDAY…Partly sunny with a 30 percent chance of rain showers. Highs in the lower 70s.
The North Dakota Department of Health dashboard is updated daily by 11 am and includes cases reported through the previous day. The investigations are ongoing and information on the website is likely to change as cases are investigated. The information contained in this dashboard is the most up to date and will be different than previous news releases. This dashboard supersedes information from previous news releases or social media postings.
Check out our other dashboards: The COVID-19 Vaccine Dashboard, NDUS Dashboard.COVID- 19 stats:
Please be advised that a number of COVID-19 test results intended to be entered into the NDDoH COVID-19 dashboard on Tuesday, September 14, were held back by a minor reporting technology issue.
 The technology circumstance that led to this delay has been resolved. Due to automation, the number of tests reported Wednesday includes partial data from Tuesday.  The overall number of current active cases and rolling positivity rate are correct.
 The state continues to see an increase in the number of positive cases across the state and encourages North Dakotans to take precautions to protect against COVID-19.
COVID-19 Stats
Wed. Sept. 15, 2021
10:30- a.m.
Barnes
New Positives: 11
Total Positives:  1528
Active: 34
Recovered: 1454
Breakthrough Incidence Per 10K Fully Vaccinated Individuals: 58
Stutsman
New Positives:  22
Total Positives:  3889
Active:  34
Recovered: 3690
Breakthrough Incidence Per 10K Fully Vaccinated Individuals: 89
ND CASE RATES
NEW CASES REPORTED WEDNESDAY, SEPT. 15: 944
ACTIVE CASES*: 3,235
DAILY POSITIVITY RATE: 6.57%
TOTAL KNOWN CASES THROUGHOUT PANDEMIC: 124,047
TOTAL RECOVERED THROUGHOUT PANDEMIC: 119,232
NEW DEATHS: 4
TOTAL DEATHS: 1,580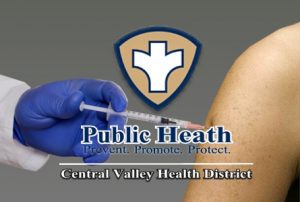 Central Valley Health District Regularly Scheduled Vaccination Clinics And Locations
The Schedule subject to changes depending if the listed vaccination clinic is full. Contact CVHD at 252-8130.
Thursday, September 16, 2021
Vaccine Type: PFIZER, MODERNA
Event Time: 9:00am – 12:00pm
Event Location: Central Valley Health District
Thursday, September 23, 2021
Vaccine Type: PFIZER, MODERNA
Event Time: 9:00am – 12:00pm
Event Location: Central Valley Health District
Pop-Up Community Vaccination Clinics
Thursday, September 30, 2021
Vaccine Type: PFIZER, MODERNA
Event Time: 9:00am – 3:00pm
Event Location: Central Valley Health District
Various Upcoming Dates
Event Information: These are pop-up community clinics with varying times/locations. 
Event Location: Buffalo Mall and S&R Truck Plaza
Drive up clinics at the Buffalo mall will be held on Sundays and Mondays.  The event will take place from 1 pm to 6 pm in the Buffalo Mall parking lot located at 2400 8th Ave SW in Jamestown.  The clinics are open to anyone 12 years of age and older no appointment is needed you can preregister at https://www.ndvax.org. Dates of the clinics continue on  September 19 and 20.
For more information, please call CVHD at 252-8130.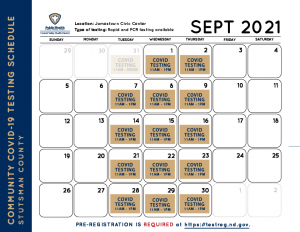 Jamestown  (CVHD)  Central Valley Health District reminds residents that COVID testing is  on Tuesdays, Wednesdays, and Thursdays, at the Jamestown Civic Center, Exchequor Room, from 11-a.m. to 1-pm
Call CVHD at 701-252-8130 to register.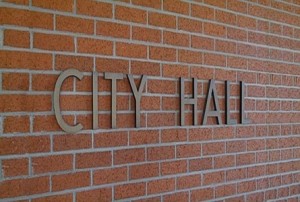 Jamestown  (CSi)  The Jamestown, Board of Adjustment, Wednesday unanimously approved a variance requested, concerning 41 parking spaces in connection with construction of a fast food restaurant where Hong Kong Buffet was located at 605 25th Street, in Southwest in Jamestown.
The owners of Taco John's, presently located in Southeast Jamestown, Pentex Restaurant Group, submitted the application for the construction of a 2,400 square foot building, with previous Planning Commission approval this month, for lot combinations, at the location.
In August this year, the former Hong Kong Buffet building was demolished.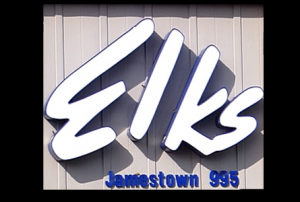 Jamestown  (ELKS)  The Jamestown Elks Lodge 995 is hosting a 13 for 13 drive to remember the 13 fallen soldiers that started on September 13th.
There are 13 days to give $13.00.  Whether it be $1.00 a day or one donation of $13.00, your donation will make a difference. The goal is to raise $1,313.
Donations will run through September 25th at the Elks Lodge #995. Donations can be dropped during operation hours after 4PM Monday through Friday and on Saturdays between 12-noon, and 6-p.m.
All proceeds will be donated to "Service Dogs of America" located in Jud, North Dakota.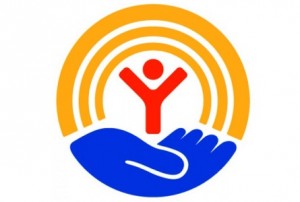 Jamestown  (CSi)  The Jamestown United Way kick-off event is planned on Monday September 20 from 5:30 to 7 p.m. at  Hansen Arts Park in Downtown Jamestown.
At the outdoor community gathering there will be free food, fun music and games to celebrate its partner organizations and the start of its annual fundraising campaign.
Jamestown United Way is a community impact organization that raises money for local community partners. Its annual fundraising campaign is from September through January; this is when it collects donations from local business owners and employees.
The campaign and event funds are distributed to 12 organizations in Stutsman County. United Way officials said it they are proud to support these partners who provide educational programs, job resources, transportation and other services to the community.
BISMARCK, N.D. (AP) — The developer of an oil refinery near Theodore Roosevelt National Park will keep its construction permit active, even after it has faced delays and received two extensions. North Dakota environmental officials have determined Meridian Energy Group has made enough progress on the $1 billion project this summer to keep the permit active. Meridian cited several reasons for the delays, including lawsuits filed by environmental groups over the permitting process, as well as the coronavirus pandemic, which led to a downturn in the oil industry last year. Meridian first proposed the refinery just 3 miles from the park in 2016, with the goal of having it operating by next year.
(AP)  A review of hundreds of pieces of legislation across the United States shows that Republican legislators in more than half of the states are taking away the powers state and local officials use to protect the public against infectious diseases. The review conducted by Kaiser Health News, or KHN, also found that in all 50 states, legislators have proposed bills to curb such public health powers since the COVID-19 pandemic began. While some governors vetoed bills that passed, at least 26 states pushed through laws that permanently weaken government authority to protect public health.
CUSTER CITY, S.D. (AP) — Government scientists say the pace of logging in South Dakota's Black Hills National Forest is too much and the forest is shrinking. Worries about wildfires and tree-killing beetles drove U.S. officials to sharply ramp up logging years ago. Across the U.S. West, more trees have been dying as climate change dramatically alters the landscape and leaves forests susceptible to wildfires and pests. Critics say in the fervor to address the problem, federal officials are allowing the removal of too many older trees that can better withstand fire. Forest Service Chief Randy Moore says a warming planet demands changes but the timber industry should be part of the solution.
In world and national news…
WASHINGTON (AP) — The top U.S. military officer is defending his phone calls to his Chinese counterpart during the final months of Donald Trump's presidency as an effort to avoid misunderstandings and conflict. Gen. Mark Milley, chairman of the Joint Chiefs of Staff, offered his explanation Wednesday in a written statement. The Milley phone calls were described in excerpts from the forthcoming book "Peril" by Washington Post journalists Bob Woodward and Robert Costa. The book says Milley told Gen. Li Zuocheng of the People's Liberation Army that he would warn his counterpart in the event of a U.S. attack.
WASHINGTON (AP) — U.S. government advisers will debate Friday if there's enough proof that a booster dose of Pfizer's COVID-19 vaccine is safe and effective. It's the first public step toward deciding which Americans may get an extra dose and when. The Food and Drug Administration on Wednesday posted much of the evidence that it will ask outside experts to consider at Friday's meeting. But the agency agency struck a neutral tone in reviewing the data and discussing the rationale for boosters. That careful approach is notable given that White House officials have been previewing a booster campaign that they hoped to begin next week.
(AP)  South Carolina officials who have been sued over a law banning school districts from issuing face mask mandates say that they should be removed from pending litigation. That's the argument made in recent court filings from Gov. Henry McMaster, Attorney General Alan Wilson and others being sued by the American Civil Liberties Union. The ACLU is suing on behalf of disability rights groups and parents of South Carolina children with disabilities. The plaintiffs are challenging a budget measure passed this summer that prevents South Carolina districts from using any state funding to require masks in schools.
ANN ARBOR, Mich. (AP) — Pro-Palestinian protests outside a Jewish synagogue in Michigan are protected by the Constitution's First Amendment. That's the opinion of a federal appeals court. The court declined to stop the demonstrations or set restrictions outside Beth Israel Synagogue in Ann Arbor. The protests have occurred on a weekly basis since 2003, with people holding signs that say "Jewish Power Corrupts" and "End the Palestinian Holocaust." Members of the synagogue, including some Holocaust survivors, say the protests have caused emotional distress. But the appeals court says the protesters aren't blocking access to the synagogue or making a lot of noise.
COLUMBIA, S.C. (AP) — State police say a prominent South Carolina lawyer tried to arrange his own death this month so his son would get $10 million in life insurance. But authorities say the planned fatal shot only grazed Alex Murdaugh's head on Sept. 4. The State Law Enforcement Division says it charged the shooter, 61-year-old Curtis Edward Smith, with assisted suicide, insurance fraud and several other counts. Murdaugh was not charged Tuesday night. His lawyer said on the Today show that Smith sold drugs to Murdaugh and took advantage of his mental illness. Attorney Dick Harpootlian also says Murdaugh did not kill his wife and son.