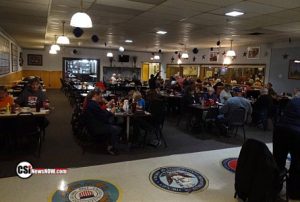 (CSi)  The Patriot's Banquet & Fundraising auction, will be held on October 21st starting at 5:00.  Tickets for the banquet and auction are available at the club or from area veteran organizations.  The cost is $40 single and $60 with companion.
All Vets Club President, LeRoy Wegenast says, The All Vet Club is a non-profit founded in 1998 serving area veterans, their families and many service and civic groups in the Jamestown community.
All in the community are welcome  at the All Vets.  For more information, please call 252-8994.  Join them  for an evening of great food, and auction fun for a patriotic cause.