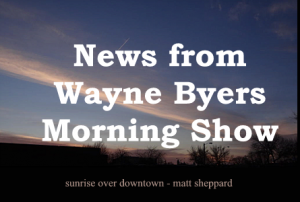 CSi Weather…
REST OF TODAY…Sunny. Highs 75 to 80. Breezy. South winds 15 to 25 mph.
.TONIGHT…Mostly clear. Lows in the mid 50s. South winds around 15 mph.
.THURSDAY…Mostly sunny. Highs in the mid 70s. South winds 15 to20 mph.
.THURSDAY NIGHT…Mostly cloudy. Chance of rain showers and
slight chance of thunderstorms after midnight. Lows in the mid
50s. South winds 5 to 10 mph. Chance of precipitation 40 percent.
.FRIDAY…Partly sunny with chance of rain showers and slight
chance of thunderstorms. Highs in the lower 70s. Southwest winds
5 to 10 mph shifting to the northwest in the afternoon. Chance of
precipitation 40 percent in the Jamestown area, 50 percent in the Valley City area.
.FRIDAY NIGHT…Mostly cloudy. Chance of rain showers and slight
chance of thunderstorms in the evening, then chance of rain
showers after midnight. Lows around 50. Chance of precipitation
30 percent.
.SATURDAY…Rain showers likely. Highs in the mid 60s. Chance of
showers 70 percent.
.SATURDAY NIGHT…Mostly cloudy. Rain showers likely in the
evening, then chance of rain showers after midnight. Lows in the
mid 40s. Chance of showers 60 percent.
.SUNDAY…Mostly sunny. A 20 percent chance of rain showers in
the morning. Highs in the lower 60s.
.SUNDAY NIGHT…Mostly clear. Lows in the lower 40s.
.COLUMBUS DAY…Sunny. Highs in the mid 60s.
.MONDAY NIGHT…Partly cloudy with a 20 percent chance of rain
showers. Lows in the lower 40s.
.TUESDAY…Mostly sunny with a 20 percent chance of rain showers.
Highs in the lower 60s.
The North Dakota Department of Health dashboard is updated daily by 11 am and includes cases reported through the previous day. The investigations are ongoing and information on the website is likely to change as cases are investigated. The information contained in this dashboard is the most up to date and will be different than previous news releases. This dashboard supersedes information from previous news releases or social media postings.
Check out our other dashboards: The COVID-19 Vaccine Dashboard, NDUS Dashboard.COVID- 19 stats:
COVID-19 Stats
Tues. Oct. 5,  2021
10:30-a.m.
Barnes
New Positives: 14
Total Positives: 1670
Active: 65
Recovered: 65
New  Breakthrough Incidence Per 10K Fully Vaccinated Individuals: 134
Stutsman
New Positives: 12
Total Positives: 4120
Active: 76
Recovered: 3947
New Breakthrough Incidence Per 10K Fully Vaccinated Individuals: 172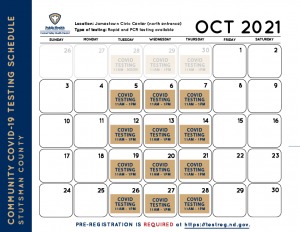 Jamestown  (CVHD)  Central Valley Health District reminds residents that COVID testing is  on Tuesdays, Wednesdays, and Thursdays, at the Jamestown Civic Center, Exchequor Room, from 11-a.m. to 1-pm
Call CVHD at 701-252-8130 to register.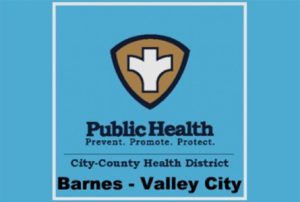 Valley City (CCHD)  City County Health in Valley City announces changes in their COVID-19 testing days and site location in Valley City.
Testing has moved to the REC Center at 140 4th Street Southwest.  Testing will be 12:30-2:30 Mondays, Wednesdays and Fridays.
The Flu/COVID Vaccination Clinic is Saturday October 9th 9:00-am to 2:00-pm at the Hi-Liner Activity Center. WALK-IN any time from 9:00-a.m. to 2:00-p.m.
Their are opportunities for vaccinations, both for annual influenza and for the COVID vaccine. In October CCHD opens early on Tuesdays at 7-am and late on Wednesdays until 6-pm, Call 845-8518 to make an appointment).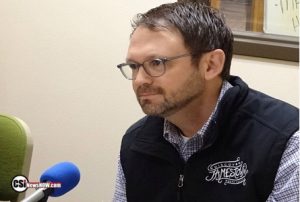 Jamestown  (CSi)  Jamestown Tourism has received three grant requests, for the City Promotion Capital Construction Funding.
On Tuesday's Wayne Byers Show on CSi Cable 2, Tourism Director, Searle Swedlund said, on the agenda are requests from, Fort Seward to purchase a new flag, The Jamestown Arts Center, for a new projector, and Frontier Village for General Store improvements.   He said $40,000 is available from the Fund, and any unused dollars will go into next years "pot."  Funding comes from the Restaurant  and Hotel taxes.
Searle also said, with Bison World, has been granted tax exempt status, and that over the next month, developer, Apogee Attractions will have ready, the next level of planning information, including such items as restrooms, and the location of other features of the park.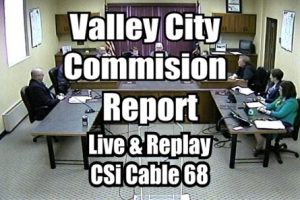 Valley City  (CSi)  The Valley City Commission met in Regular Session, Tuesday evening at City Hall.  All members were present.
APPROVAL OF CONSENT AGENDA
Approved the Monthly Reports from the Fire Chief, Electrical Superintendent, Building Inspector Finance Director and Municipal Judge.
Approved Blocking  off Street Request for Connect Church on Central Ave S from 3rd St s to 4th St S and then 3rd St SW to 2nd Ave SW on October 31st, 2021 for the Trunk or Treat event.
Approved a Raffle Permit for St. Catherine's Elementary School for Drawing on November 5th, 2021.
Public Comments  No One Spoke
PUBLIC HEARING
Public Hearing  was held for Issuance of New Class E Alcoholic Beverage Licenses to TBD Inc.  Finance Director Richter said she and the City Attorney reviewed the application and all was in order.  No public comments were heard.
Following the Public Hearing Commissioners teh City Commission approved the Issuance of New Class E Alcoholic Beverage Licenses to TBD Inc.
A Public Hearing was held  for the Replat Request of Lots 10-12 of Andrus and Sifton's Addition.  City Attorney Martineck, said it's a relocation of an alley at the VCSU Campus.
Following the Public Hearing the City Commission Approved a Resolution Approving the Replat Request of Lots 10-12 of Andrus & Sifton's Addition.
Another  Public Hearing  was held regarding Special Assessments for 5th Avenue NW Reconstruction which includes Paving Improvement District No. 118, Storm Sewer Improvement District No. 53, Sanitary Sewer Improvement District No. 65, and Water Main Improvement District No. 101. Deputy Auditor Klein said the Special Assessment Commission approved the action, and that the Commission pick up the costs of a seal coat spread over a two year period.
Following the Public Hearing the City Commission Approved Special Assessments as recommended by the Special Assessment Commission for Paving Improvement District No. 118, Storm Sewer Improvement District No. 53, Sanitary Sewer Improvement District No. 65, and Water Main Improvement District No. 101, and city paying for the seal coating.
ORDINANCE
Approve second and final reading of Ordinance No. 1089, an Ordinance Adopting 2022 City Budget. Finance Director Richter said there is no changes from teh First Reading and no addtional comments.
Commission Gulmon said the Mill Levy for 2022, is 76.9 Mills,  the same level as 2019.   He said this is the first Mill Levy increase since 2010.
Finance Director Avis Richter said commercial property valued at $500,000 will get an increase of $111.48.  Residential property valued at $100,000 will  increase by $20.07.
Approved was the Second and Final Reading of Ordinance 1088, an Ordinance Approving Text Amendments to Titles 11 and 16 of the Valley City Municipal Code.
RESOLUTION
Approved a Resolution Approving Final Plans & Specifications for Master Lift Station Upgrades and Authorizing Engineer to Advertise for Bids.
Approved was a Resolution Approving Final Plans & Specifications for Main Street Storm Sewer Outlet (Elks) and Authorizing Engineering to Advertise for Bids.
NEW BUSINESS
Approved an Application for Property Tax Exemption for Improvements to 231 2nd Ave NE. City Assessor Hansen recommended approval, with the property improvements.
CITY ADMINISTRATOR'S REPORT Highlights
Gwen Crawford said with the Love's Travel Center, KLJ reported the turning radius was amended by the NDDOT after being reviewed.  Turning aprons will be installed, including traffic flow control.  The plan is looking to be completed in the near future.  Drainage issues and landscaping will also be addressed.  The roadway will become the city's, with the plan to be approved according to city standards.
 CITY UPDATES & COMMISSION REPORTS
Fire Chief Scott Magnuson pointed out that during this National Fire Prevention week, fire fighters are visiting schools, with demonstrations and education.  October 12 and 13 is the annual battle of the badges blood drive with the fire department and police department in friendly competition to see which department has the most donors signed up.
Commissione Gulmon reported, city finances through August were reviewed. He added that the City Sales Tax collections were up this year through July by 4-percent.  The food and beverage taxes were up 37 percent.  He added that the solid waste (garbage) operation is running a deficit, and will need to be addressed.
The meeting was shown live on CSi Cable 68 followed by replays.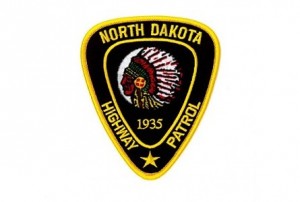 Bismarck  (NDHP)  A news release issued by the North Dakota Highway Patrol on Tuesday October 5, 2021 said  "Trooper Steven Mayer was justified in discharging his firearm in the defense of self and others."
Highway Patrol News Release:
"On the evening of Tuesday, September 7, at approximately 8:18 pm, a North Dakota Highway Patrol  trooper was assisting Morton County Sheriff's Office deputies in a pursuit of a vehicle traveling east
on Interstate 94 near mile marker 139 or 13 miles west of Mandan. The pursuit originated from a  reckless driver call. When the pursuit ended, the trooper fired his weapon resulting in the death of the  lone vehicle occupant, a 45 year-old Billings, Montana man. The incident is under investigation by the North Dakota Bureau of Criminal Investigation (BCI). Our trooper has been placed on administrative leave pending the investigation by BCI and review by the  Morton County State's Attorney, which is standard practice and department policy following an  officer involved shooting. North Dakota Highway Patrol troopers train extensively for high-risk incidents. We value each  individual and understand that the loss of life is a tragic event. The North Dakota Highway Patrol has a robust program in place to assist our troopers and their  families through these difficult times.

SEPTEMBER 13, 2021 UPDATE: The trooper involved in this incident is identified as Trooper Steven Mayer.
OCTOBER 05, 2021 UPDATE: The North Dakota Highway Patrol has received notice from the Morton County  State's Attorney's Office that after careful review of the officer involved shooting, Trooper  Mayer was justified in discharging his firearm in the defense of self and others. Therefore,
there will be no charges arising from this incident or investigation. The NDHP has reviewed the  case as well and has determined that Trooper Mayer acted within department policy during  the incident."
In sports…
Tuesday
High School Volleyball
At Jerry Meyer Arena
Jamestown def Turtle Mountain (25-13, 25-6, 25-16) in straight sets.
At Leal
Carrington def Barnes County North 3-0 (25-14, 25-10, 25-15).
At Oakes
Oakes def Griggs-Midkota in straight sets 25-14, 25-12, 25-12.
Tuesday
UJ Men's Soccer
Diego Valle (SR/Yucaipa, Calif.) and Alex Hamer (SR/Solihull, England) provided the heroics for the University of Jamestown men's soccer team Tuesday night as the Jimmies defeated Waldorf (Iowa) University 4-3 in non-conference action at the Jimmie Turf Field.
Valle's goal with 51 seconds remaining gave the Jimmies a 4-3 lead, then Hamer stopped a penalty kick with 1.9 seconds left to seal the victory.
Jamestown, now 4-4-2 this season, returns to conference play on Wednesday at Presentation (S.D.) College.
Hendrik Romahn (JR/Osterburg, Germany) scored off a rebound in the third minute for the first goal of the match, and UJ held a 1-0 lead until Daniel Pinkney leveled for the Warriors in the 44th minute.
Aaron Pike (SR/Milton Keynes, England) (57th minute) and Taylor Lubungo (FR/Goma, D.R. Congo) (66th) helped the Jimmies to a two-goal lead, but Lucas Berte brought Waldorf within a goal in the 70th minute, and Daniel Burko got the match-tying goal in the 82nd.
Romahn played the ball from 10 yards beyond midfield to Valle, and Valle got past his defender. The Waldorf keeper came straight at Valle for a challenge, but the Jimmie striker got around the keeper's left side and put the ball in the net.
The Warriors turned on the offensive pressure on the next possession, and the Jimmies were whistled for a handball in the 18-yard box with 1.9 seconds on the clock. Hanibal Abraha took the spot kick and tried to go to Hamer's right side, but Hamer was able to stretch out and knock the shot away. Abraha got the rebound and appeared to score the tying goal, but the officials ruled time had expired and the goal was no good.
Shots were 18-15 in favor of Waldorf, as were shots on goal (13-10). Keanan Ainge (FR/Cambridge, England) made five saves in the first half for UJ, and Hamer had five saves after coming on after halftime.
Tuesday UJ Women's Golf
VERMILLION, S.D.  (UJ)   — The University of Jamestown women's golf team is in fifth place after the conclusion of the GPAC Fall Championship, which finished Tuesday at The Bluffs Golf Course.
GPAC FALL CHAMPIONSHIP RESULTS
Jamestown shot a 348 on Tuesday and have a two-round score of 690 (342-348). Morningside (Iowa) is in first at 612 (304-308), followed by Dakota Wesleyan (S.D.) at 666 (343-323), and Briar Cliff at 680 (339-341). Dordt (Iowa) is fourth at 684 (348-336).
Izzy Marchino (SR/Highlands Ranch, Colo.) is tied for 12th at 26-over 170 (82-88), Jayme Carlson (JR/Hartford, S.D.) is tied for 15th at 27-over 171 (86-85), Haley Malone (JR/Moorhead, Minn.) is tied for 26th at 32-over 176 (91-85), Kyra Vogel (FR/Jamestown, N.D.) is tied for 28th at 33-over 177 (87-90), and Faith Justesen (SO/Hawley, Minn.) is tied for 32nd at 35-over 179 (87-92).
Sofia Castelan of Morningside is the leader at 6-over 150 (74-76).
The final two rounds of the tournament will be played April 25-26 at Norfolk Country Club in Norfolk, Neb.
MLB-AL WILD CARD
Bosox whip Yanks, advance to face Rays
BOSTON (AP) — The Boston Red Sox have earned themselves a few days in Florida.
The Bosox have moved into the AL Division Series by thumping the Yankees, 6-2 in the wild-card game. Xander Bogaerts (BOH'-gahrts) and Kyle Schwarber belted early homers and Alex Verdugo drove in three runs to back a sterling performance by Nathan Eovaldi (eh-VAHL'-dee).
Bogaerts set the tone with a two-run homer in the bottom of the first, two innings before Schwarber's solo blast. Verdugo padded Boston's lead with an RBI double and a two-run single.
Eovaldi allowed a run and four hits while striking out eight over 5 1/3 innings, blanking New York until Anthony Rizzo homered in the sixth.
Gerrit Cole was pulled with two on and no out in the third, charged with three runs and four hits.
Giancarlo Stanton had three of New York's six hits, including a ninth-inning homer.
The ALDS begins Thursday in St. Petersburg as the Bosox take on the league-leading Tampa Bay Rays.
MLB-PLAYOFFS
McClanahan to start Game 1 of ALDS for Rays
UNDATED (AP) — Tampa Bay left-hander Shane McClanahan will start Game 1 of the Rays' AL Division Series against the Red Sox.
Rookie Shane Baz (bahz) will take the mound for Game 2 on Friday night. Depending on bullpen use in the opening two games, manager Kevin Cash said Drew Rasmussen is the "highly likely" Game 3 starter.
In other playoff news:
— Astros left-hander Framber Valdez will start Game 2 of the ALDS against the White Sox, following Game 1 starter Lance McCullers Jr. Valdez won a career-high 11 games this season with 125 strikeouts and a 3.14 ERA in 22 starts. Chicago manager Tony La Russa hasn't named his starting pitchers.
— Brewers right-hander Corbin Burnes will start Game 1 of the NL Division Series with the Braves on Friday. Milwaukee also says that right-hander Brandon Woodruff will start Game 2 on Saturday. The Braves are going with right-hander Charlie Morton for the opener and left-hander Max Fried for Game 2.
— Two missing Dodgers pitchers earn nearly as much as the entire Rays' major league roster heading into the playoffs. The defending champion Dodgers currently have more than three times the payroll of the Rays, the team they beat in last year's World Series. The Dodgers had a major league-high $260.9 million payroll on Aug. 31.
MLB-NEWS
Rockies work out deals with Senzatela, Cron
UNDATED (AP) — The Colorado Rockies have agreed to deals with right-hander Antonio Senzatela and first-baseman C.J. Cron.
Senzatela's five-year, $50.5 million contract includes a club option for 2027. He was 4-10 with a 4.42 ERA in 28 starts last season.
Cron will return on a two-year, $14.5 million deal. He hit .281 with a team-leading 28 homers after signing a free-agent deal last February.
Also in the majors:
— Shortstop Alcides (al-SEE'-dehs) Escobar has agreed to a one-year, $1 million contract to stay with the Nationals. Escobar batted .288 with 21 doubles, two triples, four homers and 28 RBIs in 75 games with the Nationals after signing with the club in July. The 2015 All-Star is a lifetime .259 hitter with 245 doubles and 470 RBIs over 12 major league seasons.
— Former major league player and general manager Eddie Robinson has died at age 100. Robinson had been the oldest former big leaguer, the last surviving member of the Cleveland Indians' 1948 World Series championship team. He played 13 years in the majors and was GM of the Rangers from 1976-82.
NBA-NEWS
Irving misses 1st practice after Nets return to New York
UNDATED (AP) — Kyrie Irving didn't practice with the Brooklyn Nets on Tuesday, again remaining away from the team amid questions about his availability to play in New York because of the city's vaccine mandate.
Coach Steve Nash had no further update about the status of his All-Star guard but said the team supports him.
Irving hasn't said if he has been vaccinated against COVID-19, asking for privacy when pressed about his status during the team's media day on Sept. 27. He wasn't with his teammates that day at Barclays Center, instead appearing via Zoom.
New York has a mandate requiring COVID-19 vaccinations for athletes who play in or practice in the city.
Also in the NBA:
— Pau Gasol (pow gah-SAWL') has announced his retirement from basketball, ending a career of more than two decades that earned him two NBA titles and a world championship gold with Spain's national team. The 41-year-old Gasol had already announced his farewell from international basketball in August after Spain lost to the United States in the quarterfinals of the Tokyo Olympics. Gasol won his two NBA titles with the Lakers.
— Tuesday's exhibition game between the Bucks and Grizzlies in Memphis was suspended after three quarters when a fire alarm went off, leading to evacuation of FedExForum. The Grizzlies were leading 87-77 in the preseason opener for both teams. Officials said the problem was a false alarm caused by a sprinkler in a non-public area.
NFL-NEWS
Chiefs adding wide receiver Josh Gordon to 53-man roster
UNDATED (AP) — The Kansas City Chiefs are adding Josh Gordon to their 53-man roster and the wide receiver is expected to play in Sunday night's AFC title game rematch against the Buffalo Bills.
The Chiefs signed Gordon to the practice squad last week with the assumption that he would join the active roster when he learned enough of the playbook. He had just been reinstated by the NFL following his sixth suspension for violations of league policies. The Chiefs hope his size and athleticism provide another option alongside Tyreek Hill and Travis Kelce in their passing offense.
In other NFL news:
— The Cowboys are releasing linebacker Jaylon Smith in what could be considered a cost-cutting move because of a guaranteed salary next season in the case of an injury. Smith's role had been reduced with the presence of rookie Micah Parsons and the move of Keanu Neal to linebacker from safety.
— Jaguars owner Shad Khan has publicly reprimanded head coach Urban Meyer for what he called "inexcusable" behavior at an Ohio bar over the weekend. Meyer's actions were captured on video and released on social media, one showing a young woman dancing close to Meyer's lap as he sits on a bar stool. A second, more damning video appears to show Meyer touching the woman's behind.
— A person with knowledge of the deal says the Dolphins have traded wide receiver and returner Jakeem Grant to the Bears. Grant for a sixth-round pick in the 2023 draft.
NCAA-TRANSFERS
NCAA waiver will help football teams replace transfers
UNDATED (AP) — The NCAA Division I Council has approved a one-year waiver that will allow football teams to sign up to seven players to replace those that leave the program. The move is intended to address a growing number of transfers.
Current NCAA rules state a team can sign no more than 25 players to a scholarship in any year. But more players are switching teams and a bonus year of eligibility was granted to athletes who competed during the pandemic last year. That has coaches worried they will not be able to replenish their rosters.
GOLF-LPGA-MAJOR
The 'Dinah' leaving desert as LPGA major gets new sponsor
UNDATED (AP) — The LPGA says Chevron has agreed to a six-year deal as title sponsor of the event currently known as the ANA Inspiration. Chevron takes over in 2023 and plans to move the tournament near company headquarters in Houston.
Next April will be the end of 40 years of the only women's major played on the same course at Mission Hills in Rancho Mirage, California.
INDYCAR-SATO
Rahal dropping Sato
UNDATED (AP) — The IndyCar future of two-time Indianapolis 500 winner Takuma Sato is in doubt after Rahal Letterman Lanigan said the Japanese driver won't return to the team next year.
Sato has raced in IndyCar since 2010 following seven seasons in Formula One. The Tokyo native has driven for Rahal the last four years, capturing the 2020 Indy 500 among his four victories for the team.
In world and national news…
LONG BEACH, Calif. (AP) — Federal investigators say a ship's anchor may have hooked, dragged and torn a massive underwater pipeline that spilled tens of thousands of gallons of crude oil into the water off Southern California. They also say the pipeline owner didn't quickly shut down operations after a safety system alerted to a possible spill. The weekend spill sent up to 126,000 gallons of heavy crude into the ocean off Huntington Beach and will close beaches and stop local fishing for weeks. Questions remain about the timeline of the spill. The Coast Guard says a commercial ship reported a possible spill Friday night and later reports followed but the agency waited until sunrise Saturday to investigate.
WASHINGTON (AP) — President Joe Biden's and congressional Democrats' push for a 10-year, $3.5 trillion package of social and environmental initiatives has reached a turning point. Biden has been repeatedly conceding that the measure will be much smaller. Democrats say he's recently discussed a $1.9 trillion to $2.3 trillion price tag. That represents an effort by Biden to push his party beyond months of stalemate and refocus bargainers on nailing down the policy and fiscal decisions that will be needed to succeed. There's been no agreement on a final figure and plenty of other unanswered questions remain, along with the possibility of failure.
(AP)  The Biden administration is moving to relax the rules for a student loan forgiveness program that has been criticized for its notoriously complex requirements. The change could offer debt relief to thousands of teachers, social workers, military members and other public servants. The Education Department said Wednesday it will temporarily drop some of the toughest requirements around the Public Service Loan Forgiveness program, which was launched in 2007 to steer more college graduates into public service. Through October 2022, public servants with any type of federal student loan or repayment plan will be eligible for loan forgiveness if they have made 10 years of payments.
VATICAN CITY (AP) — Pope Francis has expressed "shame" for himself and the Roman Catholic Church for the scale of child sexual abuse within the church in France. The pope spoke during his Wednesday regular audience at the Vatican about a report released a day earlier that estimated some 330,000 French children were abused by clergy and other church authority figures dating back to 1950. He expressed "sadness and pain for the trauma that they suffered'' and shame over "the incapacity of the church for too long to put them at the center of its concerns." The pope also expressed his "closeness and paternal support" to French priests in the face of a "difficult test.''
STOCKHOLM (AP) — Two scientists have won the Nobel Prize for chemistry for finding an "ingenious" new way to build molecules that can be used to make everything from medicines to food flavorings. The Royal Swedish Academy of Sciences said Wednesday that the work of Benjamin List of Germany and Scotland-born David W.C. MacMillan has already had a significant impact on pharmaceutical research and made chemistry "greener." Making molecules requires linking individual atoms together in specific arrangement. It is a difficult and slow task. Until beginning of the millennium, chemists had only two methods to speed up the process. That all changed in 2000, when List and MacMillan independently reported that small organic molecules can be used to do the same job as big enzymes and metal catalysts.
TOKYO (AP) — Global shares have slipped in cautious trading despite a rally on Wall Street led by technology companies and banks that erased most of the losses from a sell-off the day before. Benchmarks fell in early trading in Europe, while shares finished lower in Japan, South Korea, Australia and Hong Kong. Shanghai trading was closed for the Chinese national holidays. Worries remain in Asia about ongoing coronavirus infections, although hopes are growing that economic activity will return closer to normal later this year. The market has been choppy as investors try to gauge how the economy will recover.