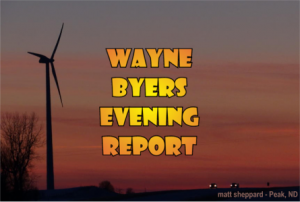 CSi Weather…
TONIGHT…Partly cloudy with a 20 percent chance of rain showers and thunderstorms in the Jamestown area, 40 percent in the Valley City area. . Lows in the mid 50s. Southeast winds 5 to 10 mph.
.FRIDAY…Partly sunny with a 20 percent chance of rain showers and thunderstorms in the Jamestown area, 40 percent in the Valley City area.  Highs in the lower 70s. Southeast winds around 5 mph shifting to the northeast in the afternoon.
.FRIDAY NIGHT…Mostly cloudy with a 50 percent chance of rain
showers and thunderstorms. Lows in the lower 50s. Northeast winds
5 to 10 mph.
.SATURDAY…Rain showers and chance of thunderstorms. Highs in
the lower 60s. Northeast winds 5 to 10 mph. Chance of rain 80-percent.
.SATURDAY NIGHT…Mostly cloudy. Rain showers likely and chance
of thunderstorms in the evening, then chance of rain showers and
thunderstorms after midnight. Lows in the mid 40s. Chance of
precipitation 70 percent in the Jamestown ara, 90 percent in the Valley City area.
.SUNDAY…Mostly sunny. A 20 percent chance of rain showers in
the morning. Highs in the mid 60s.
.SUNDAY NIGHT…Mostly clear. Lows in the lower 40s.
.COLUMBUS DAY…Sunny. Highs in the mid 60s.
.MONDAY NIGHT…Partly cloudy with a 20 percent chance of rain
showers. Lows in the mid 40s.
.TUESDAY…Mostly sunny with a 20 percent chance of rain showers.
Highs in the lower 60s.
.TUESDAY NIGHT…Mostly cloudy with a 50 percent chance of rain
showers. Lows in the mid 40s.
.WEDNESDAY…Rain showers. Highs in the upper 50s.
An isolated afternoon or evening thunderstorm possible  Thursday. Severe
weather is not expected at this time.
A few strong thunderstorms are possible Friday afternoon through
Friday night, with heavy rain possible.
The North Dakota Department of Health dashboard is updated daily by 11 am and includes cases reported through the previous day. The investigations are ongoing and information on the website is likely to change as cases are investigated. The information contained in this dashboard is the most up to date and will be different than previous news releases. This dashboard supersedes information from previous news releases or social media postings.
Check out our other dashboards: The COVID-19 Vaccine Dashboard, NDUS Dashboard.COVID- 19 stats:
Thurs. Oct. 7,    2021
10:30-a.m.
Barnes
New Positives: 11
Total Positives: 1692
Active: 61
Recovered:  1594
New  Breakthrough Incidence Per 10K Fully Vaccinated Individuals: 16
Stutsman
New Positives: 20
Total Positives: 4169
Active: 103
Recovered: 3972
New Breakthrough Incidence Per 10K Fully Vaccinated Individuals: 19
Valley City (CCHD)  City County Health in Valley City announces changes in their COVID-19 testing days and site location in Valley City.
Testing has moved to the REC Center at 140 4th Street Southwest.  Testing will be 12:30-2:30 Mondays, Wednesdays and Fridays.
A reminder:
The Flu/COVID Vaccination Clinic is Saturday October 9th 9:00-am to 2:00-pm at the Hi-Liner Activity Center. WALK-IN any time from 9:00-a.m. to 2:00-p.m.
Their are opportunities for vaccinations, both for annual influenza and for the COVID vaccine. In October CCHD opens early on Tuesdays at 7-am and late on Wednesdays until 6-pm, Call 845-8518 to make an appointment)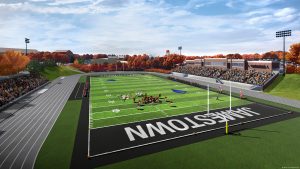 Jamestown  (Courtesy Jms Chamber)  A Ribbon cutting is planned for Friday October 8, 2021 at the Charlotte & Gordon Hansen Stadium at the University of Jamestown.
The planned program is as Follows:
Noon
Welcome Sean Johnson, University of Jamestown Athletic Director
Video of thanks UJ and JHS Coaches
Opening Remarks Dr. Polly Peterson '89, President, University of Jamestown
Dr. Robert Lech, Superintendent, Jamestown Public Schools
History of Gifts Brett Moser x'03/'21, VP of Development, University of Jamestown
Donor Remarks Dr. Jo-Ida C. Hansen, Lead Donor
Steve Schmitz, CEO/President, First Community Credit Union, Track
Kelly Rachel '84, CEO/President, Unison Bank, Booster Suite
Clarice Liechty '83, Reuben and Clarice Liechty President's Suite
Darin Erstad, JHS '92, Erstad Field
Student-Athlete Testimony Christopher Sayler – JHS '20, UJ Class of 2024
Major Donor Recognition Brett Moser
Blessing of Stadium Kirstie Dobson, UJ Director of Campus Ministries
Closing Sean Johnson
Ribbon Cutting Emily Bivens, Jamestown Chamber of Commerce
Appetizers Served in the Jim Johnson Plaza following the ceremony
Immediately following the ceremony, we ask that all major donors meet President Peterson to take a photo by Jimmie/Blue Jay Statues on the Plaza.
After the program and ribbon cutting, tours will be available at the stadium.  Then at Erstad Field, at Jamestown High School there will be  another ribbon cutting to take place at approximately 1-p.m. Friday.
Jamestown (UJ)  The University of Jamestown has outlined events and activities, for the Homecoming Celebration  October 8, 9 and 10.
Friday, October 8th
8:00 am – Noon
Welcome & Check-in
Lyngstad SEC (map)
10:00 am – 10:30 am
Campus Tours
Lyngstad SEC (map)
10:30 am – 11:00 am
Class/Alumni Photos
Voorhees Chapel (map)
Noon
Stadium Dedication
Charlotte &
Gordon Hansen Stadium (map)
5:00 pm – 7:00 pm
President's Banquet
(tickets)
Gladstone Inn & Suites (map)
7:30 pm
Homecoming Concerts
Reiland Fine Arts Center (map)
&Voorhees Chapel (map)
8:30 pm
All Class Alumni & Friends Social
Shady's Restaurant & Lounge (map)
Saturday, October 9th
7:30 am
5k Run/Walk
Starts at Charlotte &
Gordon Hansen Stadium (map)
8:30 am
Jimmie Jane Breakfast
Heritage Room in Nafus Center (map)
9:00 am
Athletic Hall of Fame Breakfast
(tickets)
Harold Newman Arena (map)
11:00 am – 1:00 pm
Booster Club Tailgate Party
Jim Johnson Plaza (map)
1:00 pm
Football Game
Rollie Greeno Field (map)
5:00 pm
Chili Feed
Gladstone Inn & Suites (map)
Sunday, October 10th
8:00 am
Chapel
Voorhees Chapel (map)
Valley City  (CSi) The  2021 Barnes County Multi-Jurisdictional Multi-Hazard Mitigation Plan, Draft, is now available for review on the Barnes County and City of Valley City websites.
A printed copy is also available at the Barnes County Highway Department in the emergency manager's office.
A public hearing to accept comments on the draft plan will be held from 7:00 to 7:30 p.m. on Thursday, October 7, 2021, in Room 102 at the Rhoades Science Center at Valley City State University in Valley City. The public hearing will review the draft plan, results from the mitigation survey, and public comments received. The public hearing will officially close at 7:30 p.m. and will be followed by a Steering Committee meeting immediately thereafter.
The Steering Committee will review public comments received and participation by local jurisdictions and approve the draft plan to be submitted to the N.D. Dept. of Emergency Services (NDDES) and the Federal Emergency Management Agency (FEMA) for approval. Once the plan receives approval pending-adoption, each incorporated jurisdiction included in the plan must pass an adoption resolution before an official approval letter from FEMA is issued.
To submit feedback or a comment on the plan, please contact Daniel Schwartz at Nexus Planning & Consulting, LLC at 701-989-7970; dschwartz@nexusplanco.com.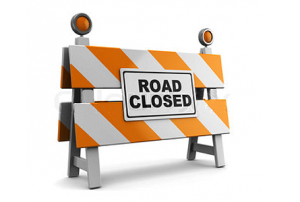 Jamestown  (City)  Starting Tuesday, October 12, 2021; there will be a road closure on the 800 block of 4th Ave NW for utility work. This closure begin at approximately 7:00 AM on Tuesday and will continue through Thursday, October 14, 2021.
Construction signing will be put in place by the Street Department.
Motorists should use extreme caution in this area and take alternate routes during this time, if possible.
Jamestown  (NDHP)  The North Dakota Highway Patrol reports a 58 year old Pettibone man died in a one vehicle rollover Thursday morning about 8:26-a.m., on Highway 3, at mile post 102.
The report says, 1he driver  was operating his 1999 Dodge Ram  2500 southbound on Hwy 3 at an unknown speed, near milepost 102, when he failed to negotiate a curve in the roadway. The vehicle entered the west ditch and rolled, killing him.
Assisting at the scene were, the Kidder County Sheriff's Office, Ambulance and Fire/Rescue.
The crash remains under investigation by the Highway Patrol.
Bismarck  (NDHP)  A North Dakota Highway Patrol trooper was conducting a traffic stop near Manvel on I-29 MM 151 just after 11-.a.m., Thursday, October 7.
The Report says, the trooper was attempting to identify the female driver. He returned to driver's car and asked her to step out of the vehicle. 26 year old Kiersten Murphree, of  Indianapolis, IN., put the vehicle, a 2017 Sonic,  in drive and fled the traffic stop. She took the Manvel exit at a high rate of speed and ran off the roadway driving through a fence. The barbed wire from the fence punctured her tire and caused her tire to go flat. She was eventually taken into custody by the trooper and arrested for driving under suspension, false information to law enforcement, and fleeing a peace officer. She also had full extradition warrants from Pasco County,  Florida in which she was arrested on.
BISMARCK, N.D. (AP) — North Dakota's Board of Chiropractic Examiners has revoked the license of Chad Isaak, the man convicted of killing four people at a property management company in Mandan. The seven-member board voted unanimously recently to revoke Isaak's state chiropractic license which had been suspended pending the outcome of his murder trial. In August, a Morton County jury convicted Isaak in the April 2019 slayings of RJR co-owner Robert Fakler, employees Adam Fuehrer and Bill and Lois Cobb. Isaak lived in Washburn on property owned by RJR, but no definitive motive was established for the crime. All four victims were shot and stabbed.
AUSTIN, Texas (AP) — A federal judge has ordered Texas to suspend a new law banning most abortions in the state, but that doesn't mean abortion services will instantly resume. Under the new law, abortions in Texas are prohibited once medical professionals can detect cardiac activity, usually around six weeks and before some women know they're pregnant. Enforcement is left up to private citizens who are deputized to file civil lawsuits against abortion providers, as well as others who help a woman obtain an abortion in Texas. Some doctors still fear that they could be sued without a more permanent legal decision.
FARGO, N.D. (AP) — A Wisconsin man accused of illegally transporting a black bear carcass from Canada to North Dakota has reached a plea agreement. Federal prosecutors say Joseph Stolarczyk, of Mosinee, Wisconsin, exceeded the Manitoba bag limit by killing two bears in the same year. He was arrested after bringing the bear across the Pembina Port of Entry in northeastern North Dakota. Acting U.S. Attorney Nick Chase says Stolarczyk pleaded guilty to a misdemeanor count of unlawful transportation of wildlife in foreign commerce. Stolarczyk could face up to a year in prison and a $100,000 fine.
In sports…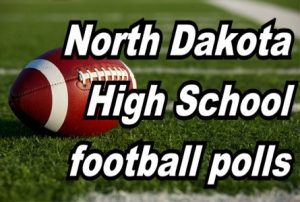 NDAPSSA H.S. Football Polls
Sixth Poll
Class B 11-man
Team Rec. LW Pts.
Beulah (15) 7-0 78 1
Hillsboro-Central Valley (1) 6-1 63 3
Langdon-Edmore-Munich 6-1 36 2
Kindred 6-1 33 4
Velva-Garrison 6-0 25 5
Others receiving votes: Central Cass (6-1), Harvey-Wells County (5-2) and Bowman County (6-1)
9-man
Team Rec. LW Pts.
LaMoure-L-M (16) 7-0 80 1
New Salem-Almont 7-0 60 2
Cavalier 7-0 47 3
Divide County 7-0 29 5
Nelson County 7-0 12 NR
Others receiving votes: Bottineau (7-0), Hettinger-Scranton, South Border (6-1), Surrey (5-1) and Wyndmere-Lidgerwood (5-2)
In world and national news…
WASHINGTON (AP) — Senate leaders have announced an agreement to extend the government's borrowing authority into December, temporarily averting an unprecedented default that experts say would have decimated the economy. Senate Majority Leader Chuck Schumer made the announcement as he opened the Senate on Thursday. He said he hoped the Senate could vote later in the day. Republican leader Mitch McConnell made the offer of a short term extension Wednesday. President Joe Biden and business leaders have ramped up their concerns over what an unprecedented federal default would mean for the nation's economy.
(AP)  Pfizer is asking the U.S. government to allow use of its COVID-19 vaccine in children ages 5 to 11. If regulators agree, shots could begin within a matter of weeks. Pfizer already had announced that a lower dose of its vaccine worked and appeared safe in a study of the youngsters. Pfizer and its German partner BioNTech on Thursday officially filed its application with the Food and Drug Administration. FDA's advisers are scheduled to debate the evidence later this month. Until now the vaccine was available only as young as 12, and many parents and pediatricians are clamoring for protection for younger kids.
WASHINGTON (AP) — The number of Americans applying for unemployment benefits fell last week, another sign that the U.S. job market and economy continue their steady recovery from last year's coronavirus recession. The Labor Department said Thursday that unemployment claims were down by 38,000 to 326,000, the first drop in four weeks. Since surpassing 900,000 in early January, the weekly applications, a proxy for layoffs, had fallen more or less steadily all year. Still, they remain elevated from pre-pandemic levels: Before COVID-19 hammered the U.S. economy in March 2020, weekly claims were consistently coming in at around 220,000.
HARRISBURG, Pa. (AP) — The governors of four northeastern states are agreeing to share information about firearms purchases to help detect and investigate straw buyers and other gun crimes. Governors in Connecticut, New Jersey, New York and Pennsylvania signed an agreement Thursday to exchange gun crime data for use only by law enforcement. The agreement includes provisions governing security and mandated notice if the information is misused. The four Democratic governors say the initiative will help target gun networks that cross state lines. The states plan to share details they get from federal government reports that show who first bought and sold guns recovered during criminal investigations.
NEW YORK (AP) — Federal authorities say 18 former NBA players have been arrested on charges alleging they pocketed $2.5 million illegally by defrauding the league's health and welfare benefit plan. U.S. Attorney Audrey Strauss told a news conference that the defendants' playbook involved fraud and deception. An indictment in Manhattan federal court said the ex-players and one of their spouses engaged in a widespread scheme to defraud the plan by submitting false and fraudulent claims for reimbursement of medical and dental expenses that were never incurred. The list of those charged include Tony Allen, Glen Davis and Sebastian Telfair.