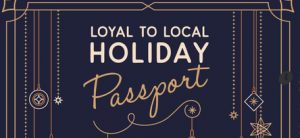 Jamestown  (Chamber)  The Jamestown Area Chamber of Commerce is launching the "Loyal To Local,"  shop local program, gearing to keep holiday shopping dollars in Jamestown.
Chamber Executive, Emily Biven said, "Holiday Passport," Booklets can be picked up at the Chamber Office, and then starting November 27, to be taken to participating local businesses to get stamped when making a purchase.  The fully stamped booklet can then be turned into the Chamber office, to be eligible for prizes donated by Jamestown businesses.
She pointed out that both retail and service businesses can participate.  She said that businesses interested in participating to can contact the Chamber office with donations of prizes, and for advertising mentions in the booklet, at 701-252-4830 or E-Mail  director@jamestownchamber.com The deadline is November 5, 2021.  More information on line at jamestownchamber.com
Emily hopes the promotion will generate about $100,000 during the holiday shopping period and through January 8, 2022.