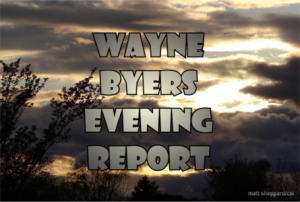 CSi Weather…
.FRIDAY NIGHT…Mostly cloudy. Scattered rain showers and isolated thunderstorms in the evening, then rain showers likely and chance of thunderstorms after midnight. Lows in the mid 50s. Northeast
winds 5 to 10 mph. Chance of precipitation 60 percent in the Jamestown area, 50 percent in the Valley City area.
.SATURDAY…Rain showers and chance of thunderstorms. Highs in
the mid 60s. East winds 5 to 15 mph. Chance of precipitation 90 percent.
.SATURDAY NIGHT…Rain showers and chance of thunderstorms. Lows
around 50. South winds around 10 mph shifting to the northwest
after midnight.  Chance of precipitation 90 percent.
.SUNDAY…Mostly cloudy. Rain showers likely and slight chance of
thunderstorms in the morning, then chance of rain showers in the
afternoon. Highs in the upper 50s. Northwest winds 10 to 20 mph
with gusts to around 35 mph. Chance of precipitation 60 percent in the Jamestown area, 70 percent in the Valley City area.
.SUNDAY NIGHT…Partly cloudy. Lows in the lower 40s.
.COLUMBUS DAY…Sunny. Highs in the mid 60s.
.MONDAY NIGHT…Partly cloudy. Lows in the lower 40s.
.TUESDAY…Partly sunny. A 20 percent chance of rain showers in
the afternoon. Highs around 60.
.TUESDAY NIGHT…Mostly cloudy. Chance of rain showers in the
evening, then rain showers likely after midnight. Lows in the mid
40s. Chance of showers 60 percent.
.WEDNESDAY…Rain showers. Highs in the mid 50s.
.WEDNESDAY NIGHT…Mostly cloudy. Rain showers likely in the
evening, then chance of rain showers after midnight. Lows in the
lower 40s. Chance of showers 60 percent.
.THURSDAY…Mostly sunny. A 30 percent chance of rain showers in
the morning. Highs in the mid 50s.
A few thunderstorms are possible Friday  night.
An isolated strong storm is possible, with small hail and gusty
winds as the main threats.
An isolated strong storm is possible on Saturday across
southeastern North Dakota.
Each event is likely to include heavy rain.  Between a half inch and possibly up to two inches, in total precipitation amounts from the system, depending on location.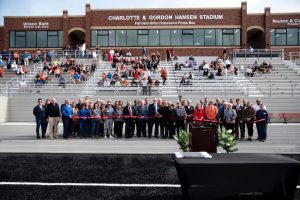 Jamestown (Chamber)    Members of the Jamestown Area Chamber of Commerce Ambassadors held a ribbon cutting ceremony for the dedication of Charlotte & Gordon Hansen Stadium at the University of Jamestown campus. Part of the project also included the Erstad Field on the Jamestown High School Campus. This project is a great example of the collaboration of the University of Jamestown and Jamestown Public Schools. Both facilities will provide a safe, top-of-the-line experience for Jamestown student-athletes. Congratulations to Jamestown Public Schools and the University of Jamestown and the community on this project.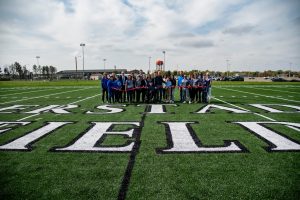 (Photos Courtesy of the Jamestown Area Chamber of Commerce)
Businesses qualify for a ribbon-cutting ceremony if they open, move, remodel, are under new ownership or change their name.  For more information, contact Emily Bivens by emailing: director@jamestownchamber.com or call the chamber at 701-252-4830.
The North Dakota Department of Health dashboard is updated daily by 11 am and includes cases reported through the previous day. The investigations are ongoing and information on the website is likely to change as cases are investigated. The information contained in this dashboard is the most up to date and will be different than previous news releases. This dashboard supersedes information from previous news releases or social media postings.
Check out our other dashboards: The COVID-19 Vaccine Dashboard, NDUS Dashboard.COVID- 19 stats:
COVID-19 Stats
Fri. Oct. 8,  2021
10:00-a.m.
Barnes
ONE NEW DEATH..TOTAL DEATHS 33
New Positives: 8
Total Positives: 1700
Active: 59
Recovered:  1599
Breakthrough Incidence Per 10K Fully Vaccinated Individuals: 159
Stutsman
New Positives: 22
Total Positives: 4191
Active: 108
Recovered: 3984
Breakthrough Incidence Per 10K Fully Vaccinated Individuals: 221
North Dakota cases reported Fri.
NEW CASES REPORTED: 696
ACTIVE CASES: 4,485
DAILY POSITIVITY RATE: 7.1%
TOTAL KNOWN CASES THROUGHOUT PANDEMIC: 137,126
TOTAL RECOVERED THROUGHOUT PANDEMIC: 131,006
ACTIVE HOSPITALIZATIONS: 184
DEATHS: 1
TOTAL DEATHS: 1,635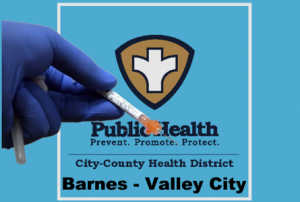 Valley City   (CCHD)  City-County Health District (CCHD) in Valley City is offering extended hours  through the month of October. CCHD will be open on Tuesdays starting at 7:00 AM and will also stay open until 6:00 PM on Wednesdays.
CCHD is conducting a mass influenza and COVID-19 clinic on Saturday, Oct. 9, from 9:00 AM until 2:00 PM. The mass clinic will be held at the Hi-Liner Activity Center (HAC). The influenza vaccine will be available for individuals 6 months of age and older. And the COVID-19 vaccine will be available for individuals 12 years of age and older. Bring your insurance card and if applicable, your COVID-19 vaccination card. Please call City-County Health District at 701-845-8518 with any other questions you may have or if you would like to schedule an appointment to be vaccinated."
An annual flu vaccine is recommended for everyone 6 months of age and older, with a few rare exceptions.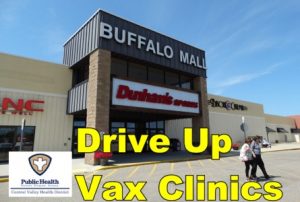 Drive up clinics at the Buffalo mall are being held on Sundays and Mondays.  The event takes place from 1 pm to 6 pm in the Buffalo Mall parking lot located at 2400 8th Ave SW in Jamestown.  The clinics are open to anyone 12 years of age and older no appointment is needed you can preregister at https://www.ndvax.org.
For more information, please call CVHD at 252-8130.
More information on Buffalo Mall Vaccination Clinics. and S&R Truck Plaza Clinics, in Jamestown.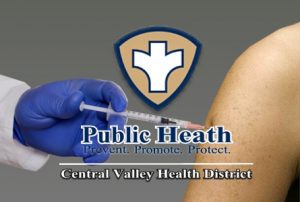 Central Valley Health District Regularly Scheduled Vaccination Clinics And Locations
The Schedule subject to changes depending if the listed vaccination clinic is full. Contact CVHD at 252-8130.
Monday, October 11, 2021
Vaccine Type: PFIZER, MODERNA
Event Time: 9:00am – 10:30am
Event Location: Central Valley Health District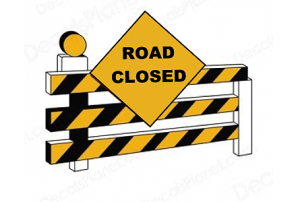 Jamestown  (City)  In Jamestown, starting Tuesday, October 12, 2021; there will be a road closure on the 800 block of 4th Ave NW for utility work. This closure begin at approximately 7:00 AM on Tuesday and will continue through Thursday, October 14, 2021.
Construction signing will be put in place by the Street Department.
Motorists should use extreme caution in this area and take alternate routes during this time, if possible.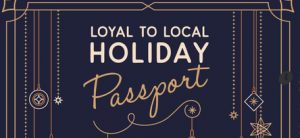 Jamestown  (Chamber)  The Jamestown Area Chamber of Commerce is launching the "Loyal To Local,"  shop local program, gearing to keep holiday shopping dollars in Jamestown.
On Friday's Wayne Byers Show on CSi Cable 2, Chamber Executive, Emily Biven said, "Holiday Passport," Booklets can be picked up at the Chamber Office, and then starting November 27, to be taken to participating local businesses to get stamped when making a purchase.  The fully stamped booklet can then be turned into the Chamber office, to be eligible for prizes donated by Jamestown businesses.
She pointed out that both retail and service businesses can participate.  She said that businesses interested in participating to can contact the Chamber office with donations of prizes, and for advertising mentions in the booklet, at 701-252-4830 or E-Mail  director@jamestownchamber.com The deadline is November 5, 2021.  More information on line at jamestownchamber.com., including the business participation cost for Chamber members and non-members.
Emily hopes the promotion will generate about $100,000 during the holiday shopping period and through January 8, 2022.
UPDATE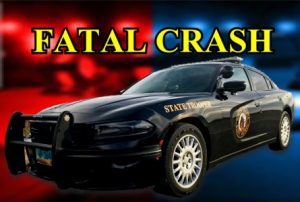 Jamestown  (NDHP)  The North Dakota Highway Patrol reports a 58 year old Pettibone man died in a one vehicle rollover Thursday morning about 8:26-a.m., on Highway 3, at mile post 102.
The report says, the driver 58 year old Bryan Helder  was operating his 1999 Dodge Ram  2500 southbound on Hwy 3 at an unknown speed, near milepost 102, when he failed to negotiate a curve in the roadway. The vehicle entered the west ditch and rolled, killing him.
Assisting at the scene were, the Kidder County Sheriff's Office, Ambulance and Fire/Rescue.
The crash remains under investigation by the Highway Patrol.
Edgeley  (NDHP)  The North Dakota Highway Patrol reports a two vehicle crash on Friday, October 8, about 8-a.m. at Highway 13 at the intersection of Highway 281 at Edgeley.
The report says a 2018 Ford Explorer driven by 63 year old Frankie Rodgers of Leesville, South Carolina was traveling east on Highway 13 at about 45 mph.  A 2004 Chevrolet Impala, operated by 32 year old Leland Schneider of Millarton was traveling south on Highway 281.  The Ford went through the marked intersection at Highway 13 and Highway 281.  The Ford struck the right front passenger side of the Chevrolet, which spun into the northbound land and Ford came to rest in the southeast ditch. No injuries were reported to the drivers or a passenger in the Ford, 64 year old Sheryl Rodgers of Leesville.  Frankie Rodgers was cited for Careless Driving.
Assisting at the scene were the LaMoure County Sheriffs Office, Edgeley Fire and Edgeley Ambulance.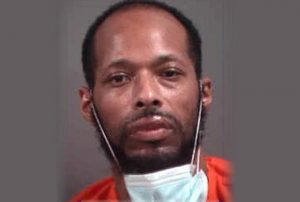 FARGO, N.D. (AP) — A North Dakota man has been sentenced to life in prison without parole for fatally shooting his mother and a police officer as authorities tried to serve an eviction notice. Salamah Pendleton, of Grand Forks, was convicted on two counts of murder in the May 2020 killings of Officer Cody Holte and Lola Moore. The 43-year-old Pendleton opened fire on Holte and other officers while they were trying to serve the papers to evict him and his mother from their apartment. Moore was killed as Pendleton fired wildly at officers. Pendleton had owed $800 in rent through April 2020.
In world and national news…
KABUL, Afghanistan (AP) — An Islamic State suicide bomber has struck a mosque packed with Shiite Muslim worshippers in northern Afghanistan. Friday's attack killed at least 46 people and wounded dozens in the latest security challenge to the Taliban as they transition from insurgency to governance. The regional Islamic State affiliate claimed responsibility and identified the bomber as a Uygher Muslim. The claim says the attack targeted both minority Shiites and the Taliban for their purported willingness to expel Uyghers to meet demands from China. It was the deadliest attack since foreign troops left Afghanistan at the end of August.
ISLAMABAD (AP) — The United States and Pakistan have held difficult talks over the path forward in Taliban-ruled Afghanistan at a time when relations between the two countries are shaky. The meeting on Friday between Washington's deputy secretary of state and Pakistani leaders came amid an array of unsettled issues. They include questions such as the level of future engagement with the Taliban in Afghanistan, the ongoing evacuation of foreign nationals and those who want to flee the new Taliban rulers. Another question on the agenda is who will provide funds to stave off a full economic meltdown and looming humanitarian crisis in Afghanistan.
WASHINGTON (AP) — U.S. employers added just 194,000 jobs in September, a second straight tepid gain and evidence that the pandemic still has a grip on the economy with many companies struggling to fill millions of open jobs. Friday's report from the Labor Department also showed that the unemployment rate fell sharply to 4.8% from 5.2% in August.
PROVIDENCE, R.I. (AP) — An investigation by The Associated Press has found that a vocal group of chiropractors has become an influential force in stirring up anti-vaccine misinformation during the pandemic. Some of them have been lobbying against vaccine mandates and capitalizing on the pandemic by sowing fear and mistrust of COVID-19 vaccines. An anti-vaccine convention in Wisconsin attended by people from around the country was organized by chiropractors, and those who attended were allowed to earn continuing education credits in 10 states. Most members of the profession are pro-vaccine and focus their work on traditional efforts like spinal adjustments. But anti-vaccine chiropractors have taken an outsized and vocal role in spreading misinformation about masks and immunizations.
NEW YORK (AP) — Former President Donald Trump's company lost more than $70 million operating his Washington D.C. hotel while in office. That is according to documents released Friday by a House committee investigating his business. The company had to inject millions into the hotel and get Deutsche Bank to delay payments on a loan tied to the property. The House Committee on Oversight and Reform said financial statements it obtained show the losses came despite $3.7 million in payments from foreign governments, business that government ethics experts say Trump should have refused because it posed conflicts of interest with his role as president.
(AP)  Top science advisers to President Joe Biden are calling for a new "bill of rights" to guard against powerful new artificial intelligence technology. The White House's Office of Science and Technology Policy on Friday launched a fact-finding mission to look at facial recognition and other biometric tools used to identify people or assess their emotional or mental states and character. Biden's chief science adviser, Eric Lander, and the deputy director for science and society, Alondra Nelson, also published an opinion piece in Wired magazine detailing the need to develop new safeguards against faulty and harmful uses of AI that can unfairly discriminate against people or violate their privacy.
WASHINGTON (AP) — A lawyer for Steve Bannon says Bannon won't comply with a congressional investigation into the Jan. 6 insurrection at the Capitol because President Donald Trump is asserting executive privilege to block demands for testimony and documents. But attorney Robert Costello also said that Bannon, a former aide to Trump who had contact with him the week of the Capitol attack, is prepared to "comply with the directions of the courts" when and if they rule on the issue. The stance taken by Bannon raises the prospect that three other aides who were subpoenaed may also refuse to comply with subpoenas by the special House panel investigating the attack.