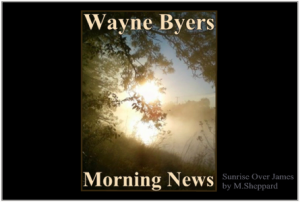 CSi Weather…
REST OF TODAY…Sunny. Highs in the lower 60s. Northwest winds 10 to 15 mph.
.TONIGHT…Mostly clear. Lows in the upper 30s. North winds 5 to 10 mph.
.TUESDAY…Partly sunny. Highs in the mid 50s. Northeast winds 10 to 20 mph.
.TUESDAY NIGHT…Cloudy. Chance of rain showers in the evening,
then rain showers after midnight. Lows in the mid 40s. Northeast
winds 15 to 20 mph.  Chance of rain 80-percent.
.WEDNESDAY…Rain showers in the morning, then rain showers and
slight chance of thunderstorms in the afternoon. Highs in the mid
50s. East winds 20 to 25 mph with gusts to around 40 mph. Chance of precipitation near 100 percent.
.WEDNESDAY NIGHT…Cloudy. Rain showers in the evening, then
chance of rain showers after midnight. Lows around 40.
.THURSDAY…Mostly cloudy. Highs in the upper 40s.
.THURSDAY NIGHT…Mostly cloudy. Lows in the mid 30s.
.FRIDAY…Partly sunny. Highs in the lower 50s.
.FRIDAY NIGHT…Mostly clear. Lows in the lower 30s.
.SATURDAY…Sunny. Highs in the upper 50s.
.SATURDAY NIGHT…Mostly clear. Lows in the mid 30s.
.SUNDAY…Sunny. Highs around 60.
Precipitation…
Saturday and Sunday Total…Valley City 3.38 inches  in town..2.81 at the NDAWN Weather Station
Jamestown
Saturday
CSi Weather Computer in Downtown Jamestown at Historicc Franklin School
1.55 inches….Official N/A due to technical issues.
Sunday….
Official 1.27 inches
CSi Weather Computer .88
FARGO, N.D. (AP) — The National Weather Service reports that two tornadoes touched down in Minnesota and North Dakota during storms on Saturday. KFGO reports that the weather service has confirmed a tornado with estimated peak winds of 100 mph touched down in Park Rapids, Minnesota, about 10:30 p.m. It tore roof panels from a church and a car dealership. A tornado with estimated peak winds of 70 mph touched down briefly in a field southeast of Lidgerwood, North Dakota. No one was hurt in either instance.
A Colorado Low looks to kick out Tuesday night, and track northeastward through the Dakotas Wednesday through Wednesday night, before exiting into Canada Thursday. The overall impacts with this system for the time of year look to remain minimal, however, there are some periods of significant
weather to monitor for.  Precipitation  remains in the 1 to 2 inch range, with
perhaps isolated amounts up to 3 inches.   Some localized flooding is possible.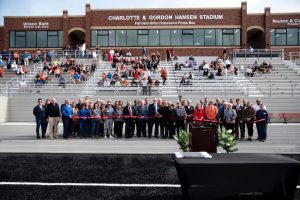 Jamestown (Chamber)    Members of the Jamestown Area Chamber of Commerce Ambassadors held a ribbon cutting ceremony for the dedication of Charlotte & Gordon Hansen Stadium at the University of Jamestown campus. Part of the project also included the Erstad Field on the Jamestown High School Campus. This project is a great example of the collaboration of the University of Jamestown and Jamestown Public Schools. Both facilities will provide a safe, top-of-the-line experience for Jamestown student-athletes. Congratulations to Jamestown Public Schools and the University of Jamestown and the community on this project.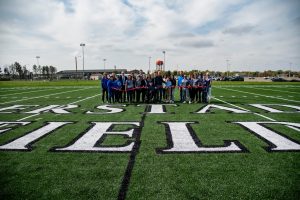 (Photos Courtesy of the Jamestown Area Chamber of Commerce)
Businesses qualify for a ribbon-cutting ceremony if they open, move, remodel, are under new ownership or change their name.  For more information, contact Emily Bivens by emailing: director@jamestownchamber.com or call the chamber at 701-252-4830.
The North Dakota Department of Health dashboard is updated daily by 11 am and includes cases reported through the previous day. The investigations are ongoing and information on the website is likely to change as cases are investigated. The information contained in this dashboard is the most up to date and will be different than previous news releases. This dashboard supersedes information from previous news releases or social media postings.
Check out our other dashboards: The COVID-19 Vaccine Dashboard, NDUS Dashboard.COVID- 19 stats:
COVID-19 Stats.
Sun. Oct 10,  2021
10:30 -a.m.
Barnes
New Positives: 7
Total Positives: 1718
Active: 55
Recovered:  1617
Breakthrough Incidence Per 10K Fully Vaccinated Individuals: 143
Stutsman
New Positives: 2
Total Positives: 4203
Active: 80
Recovered: 4024
Breakthrough Incidence Per 10K Fully Vaccinated Individuals: 198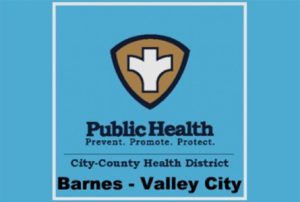 Valley City   (CCHD)  City-County Health District (CCHD) in Valley City is offering extended hours  through the month of October. CCHD will be open on Tuesdays starting at 7:00 AM and will also stay open until 6:00 PM on Wednesdays.
City County Health in Valley City announces changes in their COVID-19 testing days and site location in Valley City.
Testing has moved to the REC Center at 140 4th Street Southwest. Testing will be 12:30-2:30 Mondays, Wednesdays and Fridays.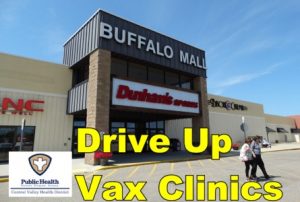 Drive up clinics at the Buffalo mall are being held on Sundays and Mondays.  The event takes place from 1 pm to 6 pm in the Buffalo Mall parking lot located at 2400 8th Ave SW in Jamestown.  The clinics are open to anyone 12 years of age and older no appointment is needed you can preregister at https://www.ndvax.org.
For more information, please call CVHD at 252-8130.
More information on Buffalo Mall Vaccination Clinics. and S&R Truck Plaza Clinics, in Jamestown.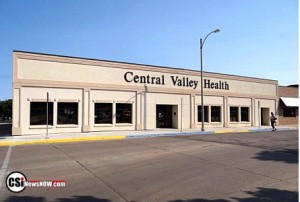 Central Valley Health District Regularly Scheduled Vaccination Clinics And Locations
The Schedule subject to changes depending if the listed vaccination clinic is full. Contact CVHD at 252-8130.
Monday, October 11, 2021
Vaccine Type: PFIZER, MODERNA
Event Time: 9:00am – 10:30am
Event Location: Central Valley Health District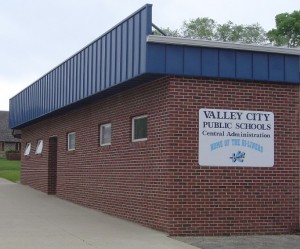 Valley City  (VCPS)  Valley City Public School's has announced the dates of two public input meetings for their "Exploring the Future of School Facilities" at Valley City Public Schools.
Superintendent Josh Johnson says,  "We hope that you will join us at the  High School Theater, and engage with the school district with our facility explorations."
Public Input Meeting will be held on,  Monday, October 11 and/or Wednesday, October 13 at 7:00pm  at the High School Theater.

Johnson said if anyone has questions,  to contact him at the school district office at 701-845-0483.
Josh Johnson
Superintendent
Valley City Public Schools
(701) 845-0483
VCPS-Public-Input-Meetings-Oct.-11-13
If you are unable to join us for either of the public meetings, we will be recording the presentations and sharing links on our website at www.hiliners.org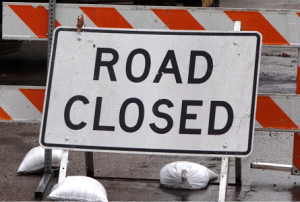 Jamestown  (City)  In Jamestown, starting Tuesday, October 12, 2021; there will be a road closure on the 800 block of 4th Ave NW for utility work. This closure begin at approximately 7:00 AM on Tuesday and will continue through Thursday, October 14, 2021.
Construction signing will be put in place by the Street Department.
Motorists should use extreme caution in this area and take alternate routes during this time, if possible.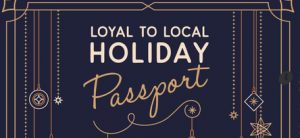 Jamestown  (Chamber)  The Jamestown Area Chamber of Commerce is launching the "Loyal To Local,"  shop local program, gearing to keep holiday shopping dollars in Jamestown.
On Friday's Wayne Byers Show on CSi Cable 2, Chamber Executive, Emily Biven said, "Holiday Passport," Booklets can be picked up at the Chamber Office, and then starting November 27, to be taken to participating local businesses to get stamped when making a purchase.  The fully stamped booklet can then be turned into the Chamber office, to be eligible for prizes donated by Jamestown businesses.
She pointed out that both retail and service businesses can participate.  She said that businesses interested in participating to can contact the Chamber office with donations of prizes, and for advertising mentions in the booklet, at 701-252-4830 or E-Mail  director@jamestownchamber.com The deadline is November 5, 2021.  More information on line at jamestownchamber.com., including the business participation cost for Chamber members and non-members.
Emily hopes the promotion will generate about $100,000 during the holiday shopping period and through January 8, 2022.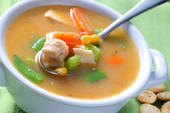 Jamestown  (CSi)  Washington Elementary School in Jamestown will hold a soup fundraiser  on October 15, with proceeds to benefit the purchase of playground equipment.
Tickets purchased by October 8, will enable ticket holders to pick up the soup at a drive up on October 15, at Washington School between 4:30p.m., and 6:30-p.m.
Tickets can be purchased through any student, staff, or PTO member.
Call Washington Elementary School for more information at 701-252-0468.
Edgeley  (NDHP)  The North Dakota Highway Patrol reports a two vehicle crash on Friday, October 8, about 8-a.m. at Highway 13 at the intersection of Highway 281 at Edgeley.
The report says a 2018 Ford Explorer driven by 63 year old Frankie Rodgers of Leesville, South Carolina was traveling east on Highway 13 at about 45 mph.  A 2004 Chevrolet Impala, operated by 32 year old Leland Schneider of Millarton was traveling south on Highway 281.  The Ford went through the marked intersection at Highway 13 and Highway 281.  The Ford struck the right front passenger side of the Chevrolet, which spun into the northbound land and Ford came to rest in the southeast ditch. No injuries were reported to the drivers or a passenger in the Ford, 64 year old Sheryl Rodgers of Leesville.  Frankie Rodgers was cited for Careless Driving.
Assisting at the scene were the LaMoure County Sheriffs Office, Edgeley Fire and Edgeley Ambulance.
Mandan  (NDDHP)  The North Dakota Highway Patrol investigated a crash between a Morton County, Sheriff's patrol unit and an SUV, Thursday, October 7, about 8:51-p.m. at the Memorial Bridge, on the west side of the bridge, in Mandan.
The report says the  2020 Ford Explorer Sheriff's unit, operated by Deputy Damon Burkel of Mandan received minor injuries.
He was responding to a crash at the intersection of Memorial Highway and 46th Avenue SE in Mandan.  He was traveling east in the left lane of Memorial Highway and slowed to make a U-turn at the intersection just west of the bridge.  Before making the U-turn, Burkel deactivated  his emergency lights.  As he was making the turn, 18 year old  Naida Valandra of Mandan driving a 2019 GMC Acadia  struck the drivers side on Burkel's vehicle. Both Vehicles came to rest in the east lane of Memorial Highway.
Valendra and her passenger  18 year old Kennedy Brunelle of Bismarck received minor injuries.
The crash remains under investigation by the Highway Patrol.
BISMARCK, N.D. (AP) — A Wyndmere man facing four counts of felony child endangerment in Burleigh County is again scheduled for trial after missing several court dates since being charged nearly two years ago. Tory Fowler was stopped in November 2019 for speeding on U.S. Highway 83 near Wilton. A Burleigh County deputy sheriff noticed the odor of burned marijuana in Fowler's car and later found marijuana, methamphetamine and drug paraphernalia in the vehicle. Four children were in the car. Since his arrest Fowler has missed three pretrial conferences, which resulted in the cancellation of three jury trials. A trial is set for Nov. 24.
FARGO, N.D. (AP) — A state lawmaker from southeastern North Dakota who's accused of misdemeanor theft in Bottineau County says he's surprised by the charge and believes it's fabricated. Republican Sen. Jason Heitkamp, of Wahpeton, tells The Associated Press he was in Bottineau earlier this week to retrieve some of his belongings from his former girlfriend and did not steal anything. He says he has been served with a summons but had not seen a copy of the complaint. Heitkamp says he does not yet have an attorney. His first court appearance is scheduled for Nov. 2.
BISMARCK, N.D. (AP) — The abrupt closure of a North Dakota-based photography business has left couples in a four-state area scrambling to locate wedding photos or find new photographers for upcoming nuptials. Glasser Images owner Jack Glasser said that due in large part to COVID-19 the Bismarck studio "simply couldn't keep up with our ongoing costs, debt repayment, salaries, rent and other business expenses." He told customers in an email he cannot offer refunds. The North Dakota Attorney General's Office said it had fielded more than 170 complaints about the situation by Friday afternoon and was investigating. Glasser's attorney, Tim O'Keeffe, tells The Bismarck Tribune he and Glasser will talking to customers in the next couple of days. The company did business in the Dakotas, Minnesota and Colorado.
MILWAUKEE (AP) — Attorneys for a North Dakota man accused of wounding two Wisconsin police officers while he was on the run from an attempted murder charge in his home state are petitioning for a jury pool from a different county. Twenty-four-year-old Nathanael Benton, of Fargo, North Dakota, has pleaded not guilty in the shootings of two Delafield police officers in November 2020. The officers suffered non-life threatening injuries in the shootings that occurred in Waukesha County, about 27 miles (43 kilometers) west of Milwaukee. The Milwaukee Journal Sentinel reports that Benton's lawyers said in a petition that local news coverage and social media surrounding police shootings has created too much prejudice among Waukesha County residents. They also said there is a "growing public bias" about the case.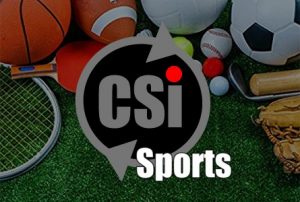 Jamestown  (UJ)  The University of Jamestown welcomed its 2021 class to the Athletic Hall of Fame on Saturday morning at Harold Newman Arena.
 Lawrie Paulson '77
Brandi (Geider) Harty '04
Kyle Iverson '08 
2003-04 Men's Basketball Team
2008 Baseball Team
ROLLIE GREENO AWARD WINNERS – RICK HACK '81, JEFF DOHN '82
JIM CLARK AWARD – JORDAN GENGLER '11
 More information at CSiNewsNow.com under Sports…
Friday
High School Football
Mandan 17, Jamestown 14
Valley City 28, Watford City 6
Thompson 38, Carrington 0
Lisbon 40, Milnor-North Sargent 6
Ellendale/Edgeley/Kulm 28, Oak Grove Lutheran 14
Grant Co/Flasher 44, Kidder County 0
LaMoure/L-M 34, Maple Valley/Enderlin 0
Kindred 47, Oakes 12
Larimore 36, Griggs/Midkota 0
Beulah 38, Dickinson Trinity 30
Bishop Ryan 20, Velva 12
Bismarck Century 38, Bismarck High 0
Bismarck Legacy 28, Minot 19
Bismarck St. Mary's 49, Turtle Mountain 0
Bottineau 50, North Prairie 14
Cavalier 38, Finley-Sharon/Hope-Page 0
Central Cass 34, Linton/HMB 14
Dickinson 23, Williston 12
Dunseith 50, TGU 26
Fargo Davies 33, Fargo South 7
Fargo Shanley 61, Grand Forks Central 0
Harvey-Wells County 48, Park River-Fordville/Lankin 0
Hillsboro/Central Valley 35, Grafton 0
Killdeer 18, Heart River 8
Lakota/Adams-Edmore/Dakota Prairie 16, New Rockford-Sheyenne 6
Little Wound, S.D. 60, Standing Rock 2
May-Port CG 46, Hatton-Northwood 16
Napoleon/G-S 30, Hettinger/Scranton 22
New Salem-Almont 55, Mott-Regent 12
Ray/Powers Lake 58, Mohall-Lansford-Sherwood 26
Richland 32, Tri-State 0
Rugby 66, New Town 0
Sheyenne 30, Fargo North 13
Shiloh Christian 16, Southern McLean 0
South Border 48, Richardton-Taylor 12
Surrey 42, Divide County 20
Wahpeton 28, Devils Lake 21
West Fargo 42, Grand Forks Red River 8
Westhope-Newburg-Glenburn 24, South Prairie 0
Wyndmere-Lidgerwood 50, Hankinson 48
Results of Sat Football Homecoming Game At Hansen Stadium
Concordia (Neb)  24  Jamestown  17
Jamestown  (UJ)  The Concordia (Neb.) University Bulldogs held off a fourth quarter comeback attempt by the University of Jamestown football team and defeated the Jimmies 24-17 Saturday afternoon at Charlotte & Gordon Hansen Stadium.
The loss drops the Jimmies' record to 2-4 overall and 2-3 in the GPAC. UJ is home next Saturday against No. 2 Northwestern (Iowa) College at 1 p.m.
Concordia needed just two plays for the opening score as Korrell Koehlmoos took a shovel pass from DJ McGarvie 78 yards to the end zone. Jamestown tied the game with a touchdown pass of their own, a 33-yarder from Cade Torgerson (JR/Billings, Mont.) to Isaiah Roebuck (FR/Marana, Ariz.). The Izaak Myles (JR/Apple Valley, Calif.) extra point made it 7-7 with 11:54 in the second quarter.
The Bulldogs took a 17-7 lead into the half after a 41-yard Daniel Cantu field goal and McGarvie's 12-yard touchdown pass to Garrett Schardt. UJ had the only points in the third quarter, a 24-yard field goal by Myles that made it 17-10 entering the fourth quarter.
McGarvie threw his second scoring pass to Koehlmoos, a 20-yard strike that increased the Bulldogs' lead to 24-10 with 12:52 remaining. Jamestown found the end zone again with 5:20 left as Carlos Julian (FR/North Las Vegas, Nev.) scored from 11 yards out.
UJ had one last drive beginning at the 3:24 mark and went 50 yards in 15 plays, but the drive ended on downs with four seconds left, and a Concordia kneel down ran out the clock.
Torgerson completed 26-of-52 passes for 253 yards. The 52 attempts set a new Jimmie single game record, breaking the previous mark of 50 by Josh Kittell in 2008. Micah Madyun (FR/Ramsey, Minn.) caught nine passes for 76 yards and Marcus Giles (JR/Coon Rapids, Minn.) added five grabs for 44 yards. Julian had 32 yards rushing on eight carries.
Defensively, Aaron Mack (SO/Jamestown, N.D.) and Jed Rantz (FR/Arroyo Grande, Calif.) each had six tackles. Josiah Rudloff (FR/Aladdin, Wyo.) had two tackles for loss, totalling 12 yards and registered a sack. Hershell Jefferson (FR/Pensacola, Fla.) also had an interception.
Saturday
At Aberdeen, SD
VCSU Football
VCSU 44 Presentation College 10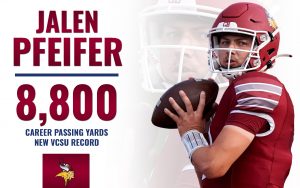 ABERDEEN, S.D.  (VCSU)  – A delayed start did not slow down the nationally-ranked Valley City State football team on Saturday night.
After kicking off 90 minutes later than scheduled due to heavy rain and storms earlier in the day, the Vikings needed less than 16 minutes of play to decide their game at Presentation College. A pair of defensive touchdowns and a record-setting day by quarterback Jalen Pfeifer carried the Vikings to a 44-10 victory over the Saints.
Martin Jones returned an interception 75 yards for a touchdown, and Ashton Raquino returned a fumble 35 yards for a score as VCSU built a 28-0 lead just 12 seconds into the second quarter. The Vikings would coast from there, remaining undefeated on the season with the 34-point victory.
Quarterback Jalen Pfeifer became the new all-time passing leader in VCSU history on Saturday, surpassing the record of 8,675 career yards held by Kurtis Walls. Pfeifer broke the record in the third quarter and finished the game with 8,809 career passing yards. Pfeifer also became the all-time leader in total touchdowns responsible for – having a hand in four more scores Saturday. He has now accounted for 92 total touchdowns (74 Passing and 18 rushing) in his career, breaking the old record of 88 set by Kurtis Walls.
The Vikings started the scoring on their first drive of the game as Pfeifer rushed for a 14-yard touchdown with 10:10 left in the first quarter. On the Saints' next possession, Jones intercepted a pass at the VCSU 25-yard line and returned it for a 75-yard touchdown and a 14-0 lead. After the VCSU defense forced a punt, Pfeifer hit Justice Bice for a 53-yard touchdown and the Vikings had a 21-0 lead after the first quarter.
On the first play of the second quarter, Marshaun Jones sacked the quarterback and forced a fumble that Ashton Raquino picked up and returned 35 yards for a touchdown. VCSU's defense would add a safety later in the quarter on a Presentation College punt, and the Vikings took a 30-3 lead into the locker room.
The Vikings tacked on two more scores in the second half as Pfeifer connected with Benjamin Dumond (27 yards) and Jorun Hamre (29 yards) for touchdowns.
Pfeifer went 20-for-33 in the game, racking up 295 passing yards and three scores. Dumond hauled in eight passes for 114 yards and a touchdown. Michael Cornelious had five catches for 56 yards as eight different Vikings hauled in passes. Justice Bice rushed 12 times for 45 yards to go along with his 53-yard touchdown catch. Nico Magana was 6-for-6 on PAT kicks.
Riley Gerhardt totaled eight tackles and two sacks to lead VCSU's defensive effort. Marshaun Jones had five tackles, a sack and two tackles for loss, and Dustin Kasowski finished with six total tackles and a sack. Martin Jones, Paco Baltazar and Jerrod Williamson each had an interception for the Vikings, who finished with four total takeaways. VCSU's defense allowed 292 total yards.
The No. 17-ranked Vikings remain undefeated and are now 6-0 overall and 4-0 in the North Star Athletic Association. Presentation College drops to 0-7 overall and 0-4 in the NSAA.
Up next: Valley City State (6-0) travels to Madison, S.D., for a 4 p.m. game against Dakota State on Saturday, Oct. 16.
FARGO, N.D. (AP) — Quincy Patterson passed for two touchdowns and rushed for two more as North Dakota State powered past Northern Iowa 34-20 in a showdown of Missouri Valley Football Conference powers. Leading 13-10 at halftime, Patterson stretched the Bison lead with a pair of third-quarter touchdowns. He scored on a keeper from the 4 and later rolled out for a 3-yard toss to Noah Gindorff as the unbeaten Bison pushed their lead to 27-10. Theo Day was 12-of-31 passing for 257 yards and a touchdown for the Panthers, but was sacked five times for a loss of 35 yards.
VERMILLION, S.D. (AP) — Carson Camp threw two touchdown passes and Mason Lorber added two field goals, including a 54-yarder in the fourth quarter as South Dakota held off North Dakota, 20-13 in a Missouri Valley Conference showdown. Camp fired seven yards to Caleb Vander Esch and Lorber converted from 37-yards out in the first quarter top put the Coyotes up, 10-0 to start the game.
More Local/Regional Weekend Sports Scores And Recaps   At CSiNewsNow.com  Click on Sports
— Greg Joseph made a 54-yard field goal as time expired to give the Vikings a 19-17 victory over the winless Lions. Joseph made four field goals, including a career-best 55-yarder. Alexander Mattison provided 153 total yards and a second quarter touchdown catch for Minnesota.
— DeAndre Hopkins hauled in a difficult 9-yard touchdown catch with 5:13 remaining to give the Cardinals a 17-7 lead in a 17-10 downing of the 49ers. Kyler Murray completed 22 of 31 passes for 239 yards to help the Cardinals improve to 5-0 for the first time since 1974. Niners rookie Trey Lance finished 15 of 29 passing for 192 yards and one interception in his first career start, also rushing for a team-high 89 yards.
UNDATED (AP) — Mason Crosby went from goat to hero with one kick in overtime.
Crosby missed three consecutive field goal attempts before nailing a 49-yarder to give the Packers a 25-22 victory at Cincinnati. Crosby missed two in the final 2:12 of regulation and again in OT before sending the Packers to their fourth straight win.
Aaron Rodgers threw for 344 yards and two touchdowns, with Davante Adams grabbing 11 passes for 206 yards and a score. Aaron Jones rushed for 103 yards.
Ja'Marr Chase had six receptions for 159 yards and a long TD.
Joe Burrow threw for 281 yards, two touchdowns and two interceptions. He left the stadium for the hospital after the game as a precaution for a possible throat contusion.
— The Steelers' three-game losing streak is over after rookie Najee Harris ran for a season-high 122 yards in their 27-19 victory over the Broncos. Ben Roethlisberger threw for 253 yards and two touchdowns while enjoying great protection all afternoon. Teddy Bridgewater completed 24 of 38 passes for 288 yards and two fourth-quarter touchdowns for Denver, which has dropped two straight since a 3-0 start.
— Justin Fields threw his first career touchdown pass and the Bears' defense was stellar in a 20-9 downing of the Raiders in Vegas. Jesper Horsted caught the first TD pass by Fields, who went 12 of 20 for 111 yards in his third career start. Derek Carr passed for 206 yards and Josh Jacobs rushed for a late touchdown in the Raiders' second consecutive loss.
— The Bills won a rematch of last season's AFC title game as Josh Allen threw for three touchdowns and ran for a fourth in a 38-20 trouncing of the Chiefs. Allen finished with 315 yards through the air, and Micah Hyde returned a rare interception of Patrick Mahomes 26 yards for another score. Mahomes threw for 272 yards and two TDs but was picked off twice and lost a fumble in a game delayed more than an hour by lightning in the second half.
— The Buccaneers crushed the Dolphins, 45-17 as Tom Brady threw for 411 yards and five touchdowns. Antonio Brown became the fastest receiver to 900 catches as he grabbed scoring strikes of 62 and 4 yards. Mike Evans had TD catches of 34 and 22 yards, and Giovani Bernard also scored on a 10-yard reception.
— Dak Prescott threw for three touchdowns for the Cowboys in a 44-20 thumping of the Giants. Prescott shook off a pair of first-half turnovers to finish 22 of 32 for 302 yards, one day to the year of his gruesome ankle injury suffered against New York. The already injury-plagued Giants lost running back Saquon (SAY'-kwahn) Barkley to an apparent ankle sprain in the first quarter and quarterback Daniel Jones to a concussion in the second.
— Austin Ekeler (EHK'-lur) scored three touchdowns, including a 3-yard score with 1:31 remaining in the Chargers' wild 47-42 triumph over the Browns. Justin Herbert had his record 11th 300-yard game with 398 yards passing and tied a career-high with four touchdowns. Mike Williams had 165 receiving yards and caught two TD passes for the Chargers, off to their first 4-1 start since 2014.
— Jalen Hurts ran six yards for a touchdown with 2:38 left, completing the Eagles' comeback in a 21-18 downing of the Panthers. Hurts had a pair of scoring runs in the second half to help Philadelphia come back from a 12-point deficit. DaVonta Smith had seven catches for 77 yards and a 2-point conversion for the Eagles.
— Jameis (JAY'-mihs) Winston connected on a Hail Mary for one of his four touchdown passes in the Saints' 33-22 downing of Washington. Winston connected with Marquez Callaway on the 49-yard TD on the final play of the first half after hitting Deonte Harris for a 72-yard score. Washington QB Taylor Heinicke was picked off twice while completing just 20 of his 41 passes for 248 yards and no touchdowns.
— The Titans dealt the Jaguars their 20th consecutive loss as Derrick Henry ran for 130 yards and three touchdowns in Tennessee's 37-19 victory. The Jaguars fumbled on the third play of the game, with Kevin Byard scooping it up and running 30 yards for a score. Jacksonville also missed an extra point, dropped a potential pick-6, missed a 53-yard field goal and and was flagged for a phantom pass interference penalty on a third-down play.
— Nick Folk's 21-yard field goal with 15 seconds left lifted the Patriots to a 25-22 win over the Texans. Rookie Mac Jones threw a touchdown pass to tie it in the fourth quarter and engineered a 15-play, 85-yard drive that ended with Folk's fourth field goal of the day. Jones threw for 231 yards with a touchdown and an interception as the Patriots ended a two-game skid.
— The Falcons were winners in London as Matt Ryan threw for 342 yards and two touchdowns in their 27-20 victory over the Jets. Rookie Kyle Pitts hauled in his first NFL TD catch and had nine rebounds for 119 yards in his finest game of the young season. Ryan completed 33 of 45 passes with no interceptions despite playing without his top two receivers.
ALDS
Both games seen on CSi 41 FS-1
UNDATED (AP) — The Boston Red Sox used extra innings to take a two-games-to-one lead over the top-seeded Tampa Bay Rays in the American League Division Series.
Christian Vazquez slammed a two-run homer in the bottom of the 13th to give the Red Sox a 6-4 win over the Rays.
The Red Sox were ahead, 4-2 in the eighth inning before Wander Franco homered and Randy Arozarena (ah-roh-zah-REH'-nah) tied it with an RBI double. Franco also scored on Austin Meadows' two-run homer in the first inning.
It was 4-all when Yandy Diaz singled with one out in the 13th and came around to score on a double by Kevin Kiermaier that glanced off the right field wall, caromed off outfelder Hunter Renfroe and flew into the bullpen.
Umpires conferred and went to the headsets before correctly awarding Kiermaier a ground rule double, sending Diaz back to third.
Boston's Kike (KEE'-kay) Hernandez made it 4-2 with his seventh consecutive hit, a solo homer in the fifth. He also singled home a run.
Kyle Schwarber also homered for the Red Sox, who can wrap up the series on Monday.
Meanwhile, the White Sox have avoided a three-game sweep in the AL Division Series by turning a 5-1 deficit into a 12-6 rout of the Astros.
The game changed in the third inning as Yasmani Grandal (yahs-MAH'-nee grahn-DAHL') smacked a two-run homer and Leury (lay-OOR'-ee) Garcia delivered a three-run blast.
Grandal also was hit by a throw in a three-run fourth, allowing Luis Robert to come home and put the White Sox ahead to stay.
The Astros lost despite Kyle Tucker's two-run homer and two-run double.
Garcia had four ribbies for the White Sox, who host Game 4 on Monday.
COLLEGE FOOTBALL-AP POLL
Bulldogs top poll as Tide fall to 5th…Iowa No. 2, Cincy 3rd
UNDATED (AP) — Georgia is the new No. 1 in The Associated Press college football poll, taking the top spot in the regular season for the first time since 1982.
The Bulldogs claimed all 62 first-place votes following their lopsided win over Auburn and Alabama's loss at Texas A&M. The Crimson Tide slipped from first to fifth following their first loss in 20 games.
Iowa moved up a spot to second and is followed by Cincinnati and Oklahoma, giving hope for some fresh blood in the CFP semifinals. Ohio State, Penn State, Michigan, Oregon and Michigan State round out the top 10, with five of those spots occupied by Big 10 teams.
Auburn fell out of the poll and Texas A&M re-emerged at 21 following the Aggies' win over the Tide.
NASCAR-CHARLOTTE
Larson overcomes mechanical issues to win at The Roval
CONCORD, N.C. (AP) — Kyle Larson rallied from early electrical issues Sunday to win for the seventh time this season and storm into the third round of NASCAR's playoffs.
Larson's victory on The Roval at Charlotte Motor Speedway was his seventh of the season. Larson and reigning Cup champion Chase Elliott moved into the round of eight, but Alex Bowman and William Byron were eliminated.
Elliott was nearly sabotaged by a vengeful Kevin Harvick who was seeking payback after Elliott cost him a win three weeks ago.
Tyler Reddick finished second.
PGA-SHRINER CHILDREN'S OPEN
Im dominates back nine to win in Vegas
LAS VEGAS (AP) — Sungjae Im carded seven birdies in eight holes around the turn for a four-shot victory at the PGA Shriners Children's Open.
Im was among four players who had at least a share of the lead on the front nine before his birdie blitz led to a 9-under 62 and a 24-under total.
Matthew Wolff was second, one in front of Rory Sabbatini, Marc Leishman (LEESH'-man) and Adam Schenk.
LPGA-FOUNDERS OPEN
Ko wins tourney, ties Sorenstam mark
WEST CALDWELL, N.J. (AP) — Jin Young Ko has won a tournament while tying an impressive scoring record. She finished off a wire-to-wire victory in the LPGA's Cognizant Founders Cup, closing with a 5-under 66 for an 18-under total.
Ko has strung together 14 consecutive rounds in the 60, tying the mark set by Annika Sorenstam in 2005.
Ko joined Nelly Korda as the only three-time winners on the LPGA Tour this season.
Caroline Masson finished four shots back in second.
PGA TOUR CHAMPIONS-FURYK AND FRIENDS
Lefty continues Tour Champions success
JACKSONVILLE, Fla. (AP) — Phil Mickelson has won for the third time in four career starts on the PGA Tour Champions, closing with a 4-under 68 for a two-shot victory over Miguel Angel Jimenez in the Constellation Furyk & Friends.
The 51-year-old Mickelson won for the first time since his out-of-nowhere triumph at the PGA Championship at Kiawah Island in May for his sixth career major title.
Jimenez pulled even with Lefty with back-to-back birdies on the back nine, but Mickelson birdied 15 to move back in front for good.
NHL-RANGERS-ZIBANEJAD
Rangers reach eight-year deal with Zibanejad
NEW YORK (AP) — The New York Rangers and top center Mika Zibanejad (MEE'-kah zih-BAN'-eh-jad) have agreed to an eight-year contract worth $68 million.
Zibanejad will count $8.5 million against the salary cap beginning next season and through 2029-30.
The 28-year-old Swede was almost a point-a-game player last season with 24 goals and 26 assists in 50 games despite a slow start. Zibanejad has 283 points in 323 regular-season games since the Rangers acquired him from Ottawa in 2016.
SOCCER-WORLD CUP QUALIFIER
Panama beats US
PANAMA CITY, Panama (AP) — Anibal Godoy scored in the 54th minute as Panama upended the United States 1-0 in a World Cup qualifier.
American coach Gregg Berhalter started a largely second-string lineup in the middle of another hectic stretch of three matches in seven days.
The U.S. has eight points after five of 14 games, ahead of Panama on goal difference, heading into Wednesday night's match against Costa Rica at Columbus, Ohio.
In world and national news…
WASHINGTON (AP) — Drugmaker Merck has asked U.S. regulators to authorize its promising antiviral pill against COVID-19, setting the stage for a decision within weeks. If cleared by the Food and Drug Administration, it would be the first pill shown to treat COVID-19, adding a new, easy-to-use weapon to the world's arsenal against the pandemic. The FDA will scrutinize company data on the drug's safety and effectiveness before rendering a decision. All COVID-19 drugs now authorized by the FDA require an IV or injection.
CHIGNIK, Alaska (AP) — An earthquake with a preliminary magnitude of 6.5 has struck early Monday off the coast of Alaska. The U.S. Geological Survey says the epicenter was about 71 miles east of the village of Chignik. The depth was reported at about 28 miles deep. The U.S. Tsunami Warning Center says there is no tsunami threat.
COWETA, Okla. (AP) — Several reported tornadoes have ripped through Oklahoma, causing damage late Sunday into early Monday morning. The severe weather system also brought heavy rain, lightning and wind to parts of Arkansas, Kansas, Missouri and Texas. News outlets report a possible tornado struck Coweta, Oklahoma, late Sunday causing significant damage to a high school, homes and a gas station. A hail storm earlier in the evening caused damage to homes, cars and businesses in Norman. No deaths or injuries were immediately reported. Oklahoma Gas & Electric says in a statement that crews are actively working to restore power outages.
STOCKHOLM (AP) — Three U.S-based economists have won the 2021 Nobel prize for economics for pioneering research on the labor market impacts of minimum wage, immigration and education, and for creating the scientific framework to allow conclusions to be drawn from such studies that can't use traditional methodology. Monday's winners were David Card of the University of California at Berkeley; Joshua Angrist from the Massachusetts Institute of Technology; and Guido Imbens from Stanford University. Unlike the other Nobel prizes, the economics award wasn't established in the will of Alfred Nobel. It was set up by the Swedish central bank in his memory in 1968, with the first winner selected a year later.
HUNTINGTON BEACH, Calif. (AP) — Officials say a Southern California beach that had been closed since an undersea pipeline leaked crude into ocean waters last week is set to reopen Monday. City and state beaches in Huntington Beach will reopen after water quality tests revealed no detectable levels of oil associated toxins in the water. Huntington Beach had been reeling from the pipeline leak that spilled crude into the Pacific Ocean off Southern California. The spill of at least about 25,000 gallons and no more than 132,000 gallons of crude has kept the ocean off limits for a week to surfers, swimmers and people who want to walk along the shore.
TOKYO (AP) — Global shares are mixed amid persisting worries about energy shortages and weaker than expected jobs growth in the U.S. Shares fell in Paris, Frankfurt and Sydney but rose in Tokyo and London. Shanghai was flat. Surging demand has collided with supply and shipping constraints, among other factors, pushing energy prices sharply higher and causing power outages in China and some other major economies. The release of weaker than expected employment figures pulled share prices on Wall Street lower Friday. This week, investors are turning their attention to inflation numbers due out on Wednesday, and upcoming corporate earnings.