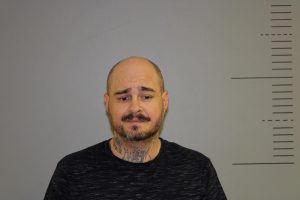 Jamestown  (JPD  A man is in custody after police were called to a woman being held against her will Tuesday afternoon.
Jamestown Police Lt. Robert Opp reports that at around 1-p.m., police were alerted through 911.   The male suspect and female were both located at Loaf and Jug at 424 1st Avenue North. Officers arrived and made contact with both, who have a relationship history.
Lt. Opp stated:   "The male was recently released from jail and his papers state he is to have no contact with the victim."
42 year old Jesse L. Dill,  was arrested for violating the conditions of his release. The female victim was not physically harmed.
Lt. Opp says, "Reports have been forwarded to the Stutsman County State's Attorney for further charges."
Jamestown Police  was assisted by the Stutsman County Sheriff's Office and North Dakota Parole and Probation.