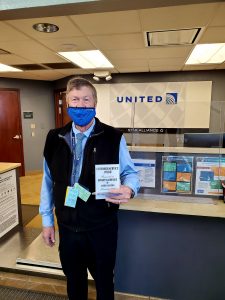 Jamestown  (Chamber)  The Customer Service Award for Nov went to Dwight Rasmussen for his outstanding customer service.  The chamber honors individuals who demonstrate a consistent commitment to delivering products or services that satisfy customers by exceeding their requirements or expectations.
His nomination letter said, "Our experience with him was excellent! Our flight kept getting postponed to the point of being rescheduled to the next day and Dwight's service to us was exceptional. His positive attitude, friendly outgoing manner, and knowledge made a real difference to us. His helpfulness was experienced by other customers having the same travel problems we did. One of our travel companions witnessed Dwight in action in the recent past and his professionalism, friendliness, and help never varies! He is an outstanding customer service professional!"
Congratulations to Dwight! Skywest – Jamestown Station is located at the Jamestown Regional Airport. You can reach them at 701-252-6466
Customer Service Award nomination forms are available at the Chamber office and on their website at www.jamestownchamber.com or call 701-252-4830.