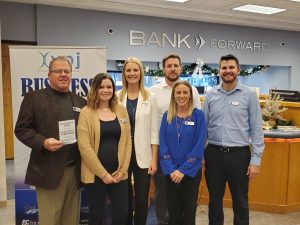 Jamestown  (Chamber)  Bank Insure Tax Invest Forward was recognized as the Nov Business of the Month Award recipient for their outstanding customer service and continued commitment to the community.
Their nomination stated, "Bank Forward and all their various Forward entities here in town do a fabulous job. They really stepped up in this last year to help local small businesses like me through the process of applying for and getting forgiveness for COVID related funds. I didn't think my business would have qualified, but they actually pointed it out to me and helped me apply. I would not have pursued it or known about it if it wasn't for them. I'm sure all our local financial institutions did a great job helping the community through this process, but Bank Forward employees went above and beyond. I'm so thankful I bank with them. They helped save my business!"
The Jamestown Area Chamber of Commerce honors businesses that provide superior customer service, exhibit community spirit and provide a positive economic impact to the community.  This award provides recognition throughout the month with a plaque and a recognition banner for the month. Monthly award winners will be considered for the Business of the Year to be awarded in January of 2022.  Business of the Month award nomination forms are available at the Chamber office and online at www.jamestownchamber.com. Call 701-252-4830 for more information.