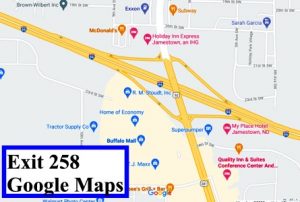 Update
Jamestown  (NDHP)  The ND Highway Patrol reports a 69 year old Wyoming man was killed in a one vehicle rollover about 2:17-p.m., Saturday, Jan. 8. 2022 on I-94 at Jamestown.  Blowing snow and icy conditions were reported.
The  69 year old male from Upton, WY  identified as Dennis H. Crow,was driving the pickup eastbound on I-94 after having just entered at exit 258 in Jamestown. He lost control and entered the median causing the vehicle to roll over. The vehicle rolled across the westbound lanes and came to rest in the north ditch upright. The driver was pronounced dead on the scene.
The passenger  26 year old Dennis D. Crow from Upton, WY. was injured.  He  was transported to Jamestown Regional Medical Center for non-life-threatening injuries.
Assisting at the scene were, Jamestown PD, Stutsman County SO, Jamestown FD
The crash remains under investigation.