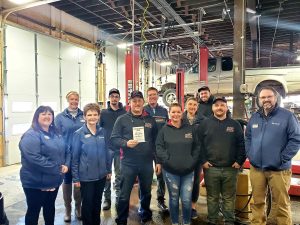 (Chamber)  The January Customer Service Award went to Mike Hansen for his outstanding customer service.
The chamber honors individuals who demonstrate a consistent commitment to delivering products or services that satisfy customers by exceeding their requirements or expectations.
His nomination letter said, "Mike Hansen at Pit Stop in Jamestown provided excellent customer service to our family. We were going out of town for a week. Our son's truck needed some repairs done on it. We hoped to have all this done while we were gone. I stopped in talked with Mike about the needed repairs. He stated he could not do everything that was needed but would call to another shop and see if they could help us. Mike not only called the other shop to set up the repairs for us he took our truck to the other shop to have them complete the work. He made sure that they knew exactly what we needed fixed. The shop did the needed repairs and Mike did what they needed to do. Upon returning home both shops had completed the work needed. Mike handled everything and we had no worries if the work would get done or not. A big thanks to Mike for the excellent customer service."
Congratulations to Mike! Pit Stop Express Lube is located at 117 4th St. NW. You can reach them at 701-952-7867.
Customer Service Award nomination forms are available at the Chamber office and on their website at www.jamestownchamber.com or call 701-252-4830.