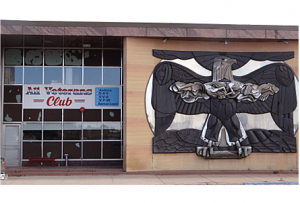 Jamestown, ND (KCSi-T.V. News) — The community is welcome to support the Jamestown All Vets Club, with a two day fundraiser Aug 23 & 24,  at the Bunker in Jamestown.  Friday noon to 7pm.  Sat 8AM – 1PM. 
On Monday's Wayne Byers Show on CSi Cable 2, spokesperson Nellie Degen said the fundraiser is a rummage sale, with sloppy joes and baked goods available with those proceeds also going to support the All Vets Club's operations.
She pointed out that on Thursday August 22, 2013, rummage sale items can be dropped off at the Bunker in Jamestown from 6-p.m., to 9-p.m.
Then, on Friday August 23rd, the Bunker will be the location for the rummage sale, and food items from noon to 7-p.m.  On Saturday August 24th the hours at the Bunker will be 8-a.m., to 1-p.m.
She added that all proceeds will be donated to the All Vets Club for operations, now under the management of Jon Beyer.
The event is sponsored by: The American Legion Auxiliary, the DAV Auxiliary and the VFW Auxiliary of Jamestown.
For more information contact Nellie Degen at 320-5440, or Mary Holzworth: