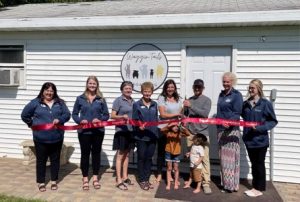 The Chamber held a ribbon cutting ceremony for Waggin' Tails Boarding LLC.
This business provides boarding and daycare for dogs. For more information call Devony Wegenast at 701-269-4843.
From their Facebook Page:   We are a family operated kennel just 15 miles west of Jamestown, ND. Our kennels have heat & A/C with a personal outdoor run for each pup!
For more information about ribbon cuttings, contact Emily Bivens by emailing: director@jamestownchamber.com or call the chamber at 701-252-4830.