(VCSU) – Valley City State University will induct five individuals and one team into the Vikings Athletic Hall of Fame this year.
The Class of 2022 includes Molly (Anderson) Welstad '03, Loni (Hall) Thilmony '07, Josh Kasowski '05, Matt Johnson '01, Karalea (Morris) Hoyano '07 and the 2006 softball team.
All will officially be inducted into the Vikings Hall of Fame during Homecoming on Friday, Sept. 16, 2022. For tickets or more information about the Hall of Fame ceremony, contact the VCSU Alumni Office at 701-845-7203.
Hoyano and the 2006 softball team were previously announced as inductees in 2020, but their official induction was delayed until this year due to travel restrictions in place during the COVID-19 pandemic.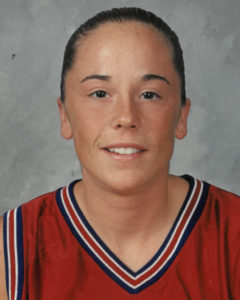 Molly (Anderson) Welstad '03
Anderson transferred to VCSU prior to her junior season in 2000-01 and went on to score 1,029 points in just two years with the VCSU women's basketball team. Anderson made an immediate impact on the program and earned 1st Team All-Conference in both 2001 and 2002. A sharp-shooting guard from Watford City, Anderson made 176 career 3-pointers (2nd all-time at VCSU) and dished out 272 career assists (4.5/game). She scored a school record 536 points during the 2001-02 season and averaged 17.4 points per game during her Viking career. Her 91 3-pointers during the 2001-02 season still stands as a school record.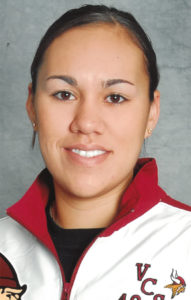 Loni (Hall) Thilmony '07
Loni Hall was a four-year impact player for the VCSU women's basketball team, leaving her mark as the school's all-time leading rebounder and one of the best post players in history. Hall was named the Dacotah Athletic Conference Freshman of the Year in 2004 and went on to earn All-Conference honors each of the next three seasons. She was also named All-American once during her career and earned an Academic All-American award as a senior. Hall finished her Viking career with 1,626 points, ranking second all-time at VCSU. She currently holds school records for career rebounds (855) and free throws made (423).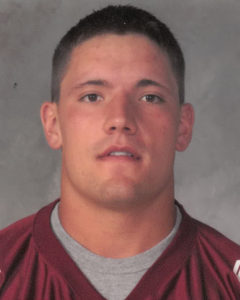 Josh Kasowski '05
Josh Kasowski racked up 346 career tackles as a fierce linebacker on the Valley City State football team from 2000 to 2004. A native of Valley City, Kasowski excelled on the hometown team and finished his career as the school's all-time leading tackler. Kasowski had 155 tackles and 13 tackles for loss as a senior, ranking second in the nation with 15.5 tackles per game. He also topped 100 tackles as a junior, recording a team-high 123 stops. He was a two-time All-Conference selection and was named 1st Team All-American in 2004. Kasowski's 346 tackles currently rank him third in VCSU history. He also finished his career with 26 tackles for loss, 11.5 sacks and six forced fumbles. He played immediately as a freshman, recording 17 tackles on VCSU's conference championship team in 2000.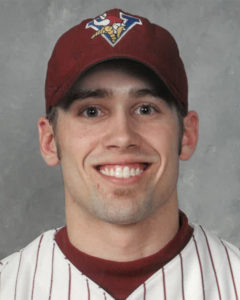 Matt Johnson '01
Johnson was a three-time All-Conference selection and was named the North Dakota Collegiate Athletic Conference Most Valuable Senior, excelling as a standout catcher and hitter during his Viking baseball career. A native of Sawyer, N.D., Johnson tallied a .354 career batting average and a .428 on-base percentage during his four years at VCSU. He hit 14 home runs and collected 90 RBIs. He earned All-Conference in 1997, 1998 and 2000, and he was named NDCAC Most Valuable Senior, Honorable Mention All-American and NAIA Scholar-Athlete after his senior season in 2000. Johnson batted .362 as a senior with 34 RBI, eight home runs and a .622 slugging percentage.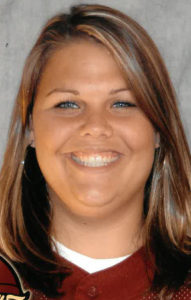 Karalea (Morris) Hoyano '07
Hoyano was a two-time all-conference selection as a pitcher and was named honorable mention All-American after her senior season in 2006. A native of White Rock, B.C., Hoyano transferred to VCSU before her junior season in 2005. During her Viking career,Hoyano pitched 361.2 innings and compiled a 1.99 career ERA. She finished her two years at VCSU with 490 strikeouts, 48 complete games, 14 shutouts, two no-hitters and one perfect game. She posted a 22-10 record with a 1.56 ERA and a school-record 340 strikeouts during her senior season, leading the Vikings to the Region III Championship and an appearance at the NAIA World Series. Hoyano was named MVP of the Region III Tournament after pitching all of the Vikings' 28 innings in a dominating performance. She started the tournament with a no-hitter and allowed just one earned run over four games.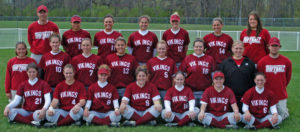 2006 Softball Team
The 2006 VCSU softball team won the Region III Tournament and advanced to the NAIA World Series for just the second time in program history.
The Vikings compiled a 36-19 overall record. The Vikings shined brightest in the postseason, taking second in the Dakota Athletic Conference Postseason Tournament before sweeping through the Region III Tournament with a 4-0 record and earning their spot at the NAIA World Series. Pitching and defense carried the Vikings as they outscored their Region III opponents 9-3 over those four games, including two 1-0 victories. VCSU then went 1-3 in pool play at the NAIA World Series in Decatur, Ala. VCSU finished the season with a combined 1.68 team ERA and 17 shutouts. Karalea Morris threw two no-hitters and one perfect game, while Alana Purvis recorded two no-hitters. Morris was named All-American and Region III Tournament MVP. Morris, Kelli Unrein and Ruby Garza were named all-conference.
The 36 wins was one of more than a dozen team and individual school records set by the team. Individuals from the 2006 team still hold current school records for home runs (Kelli Unrein, 15), stolen bases (Jackie O'Neill, 49) and strikeouts (Karalea Morris, 340). Team members included RaeAnne Cote, Karalea Morris, Katie Cavallaro, Ruby Garza, Charla Bick, Alisha Sackman, Jackie O'Neill, Molly Schultz, Alana Purvis, Kelli Unrein, Kelli Baumgartner, Tara Coates, Sadie Smith, Amanda Bryson, Carling Beninger, Jennifer Thorson, Jessica Ruzicki and Lara Loomis. Chad Slyter was head coach, and Christy Capner was assistant coach. Student assistants were Jenni Crom and Josh Plecity.