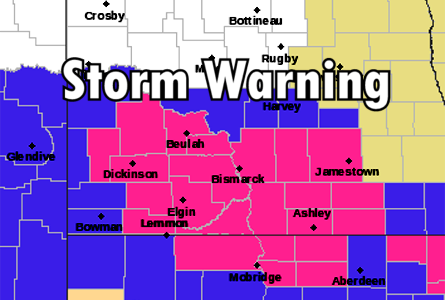 URGENT - WINTER WEATHER MESSAGE
National Weather Service Bismarck ND
803 PM CST Sun Mar 5 2023


Including the cities of Lamoure, Ashley, Solen, Strasburg,
Ellendale, Steele, Oakes, Mandan, Gackle, Linton, Hettinger, New
Leipzig, Beulah, Killdeer, Center, Carson, Selfridge, New
England, Kulm, Mott, Tappen, Dickinson, Jamestown, Halliday,
Edgeley, Bismarck, Napoleon, Wishek, Elgin, Hazen, Fort Yates,
and Medora


...WINTER STORM WARNING REMAINS IN EFFECT UNTIL NOON CST MONDAY...

* WHAT...Snow and blowing snow expected. Additional snowfall up to
  two inches. Winds could gust as high as 40 mph.

* WHERE...Most of south central and southwest North Dakota.

* WHEN...Until Noon CST Monday.

* IMPACTS...Plan on slippery road conditions. Areas of blowing snow
  could significantly reduce visibility. The hazardous conditions
  will impact the Monday morning commute.

Include counties of:  Dunn-Mercer-Oliver-Billings-Stark-Morton-Burleigh-Kidder-Stutsman- Hettinger-Grant-Adams-Sioux-Emmons-Logan-La Moure-McIntosh-Dickey-

PRECAUTIONARY/PREPAREDNESS ACTIONS...

If you must travel, keep an extra flashlight, food, and water in
your vehicle in case of an emergency. The latest road conditions can
be obtained by calling 5 1 1.