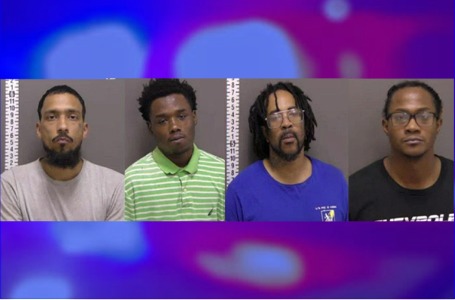 Fargo, N.D. (Valley News Live) – It's been over a week since 16-year-old James Moore was shot and killed in Fargo and after a press conference on Wednesday, there are new details about the four individuals arrested in the case so far.
31-year-old Marcus Rexrode, 19-year-old Fabian Scott, and 41-year-old Marcus McCuin are all facing a murder charge, and additional weapons or drug-related charges.
Rexrode was the first one arrested. Scott was taken into custody during a swat raid in West Fargo Tuesday night. McCuin's arrest was announced Wednesday.
And 36-year-old Tommie Trent was arrested on "conspiracy to delivery marijuana".
This is not the first time some of these men have encountered police.
Some of these men involved in Moore's death have a criminal history in Cass County though none to this level.
Rexrode was charged with driving under a revoked or suspended license in January of this year. Scott was charged with ingesting a controlled substance in October and November of 2021. McCuin has no previous charges in Cass county. Trent was charged with disorderly conduct, fighting behavior in 2021.
At Wednesday's news conference, police said they were confident this incident started as a drug robbery and explained why they haven't and still can't say too much.
"The information we provide you is as much investigative information we can provide at this moment, but it's substantially more than a week ago," Fargo Police Chief Dave Zibolski said.
Many people in the community have been upset about the lack of communication from police about their investigation…
"Honestly, just be straightforward with everything, don't like beat around the bushes like saying oh I can't tell you," West Fargo Neighbor Landyn Roberts said.
Criminal Investigations Division Captain Bill Ahlfeldt says there's a reason for not releasing all the details.
"During our previous press conference about this incident, we were unable to give many details about the incident for the purposes of not jeopardizing the investigation," Ahlfeldt said.
Police say the investigation is far from over.
"We will identify everyone that's involved and we will pursue them and all investigative leads, and bring those folks in front of the criminal justice system because we think that's important," Zibolski said.
And police share their condolences with the family.
'it's tragic when anyone is killed or died in this way, but even more tragic when they're 16," Ahlfeldt said.
Police say at this time, there could potentially be more arrests related to the incident.