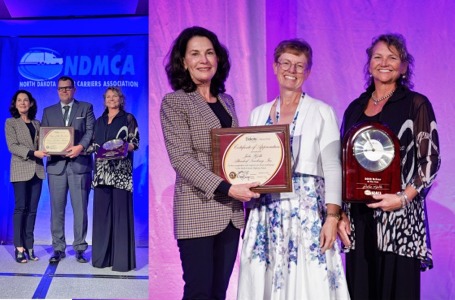 NDHP – On September 6, 2023, the North Dakota Motor Carrier Association (NDMCA)
and the North Dakota Highway Patrol (NDHP) presented the 2022 Driver of the Year and 2022 Trooper of
the Year awards at the annual NDMCA convention held in Bismarck.
NDMCA's Trooper of the Year award reflects the trucking industry's appreciation for enhancing safety for
those who depend on the highway for their livelihood.
The NDMCA presented Trooper Jonathan Skalicky with the 2022 Trooper of the Year award. Trooper
Skalicky serves the southeast region and is stationed in Valley City as a Traffic Enforcement Trooper. Prior
to joining the NDHP, Skalicky served with the Williston, Valley City, and Fargo Police Departments. He has
served the NDHP as a weapons instructor and is a recipient of the NDHP Legion of Honor Medal in
addition to numerous other awards. He is an active volunteer with the Abused Person Outreach Center in
Valley City and has been the lead for the ND Torch Run for Special Olympics in the Jamestown and Valley
City areas for several years.
The NDHP presents the Driver of the Year award in appreciation of the selected driver's outstanding
dedication to safety, and their support and cooperation to the highway patrol.
The NDHP presented Julie Hjelle, Altendorf Trucking, with the 2022 Driver of the Year award. Julie has
been driving semi-tractor trailer units for 29 years. She started with Altendorf Trucking in 1994 as a
leased-on driver. In January 2010, she became a company driver until 2011 when she took the role of
safety director. In 2015, Julie resigned from that position to continue her driving career as a company
driver. Julie has had an accident-free driving career of nearly 3 million miles. Julie has competed in the
NDMCA Truck Driving Competition and in 2019, she won the 5-axle sleeper berth class and was also
named Rookie of the Year, the first for a woman in North Dakota. From there, Julie represented North
Dakota at the American Trucking Association's National Truck Driving Competition in Pittsburgh,
Pennsylvania. She recorded the highest score on the written exam at nationals with a perfect score,
putting North Dakota on the map in the truck driving industry and inspiring other women drivers.