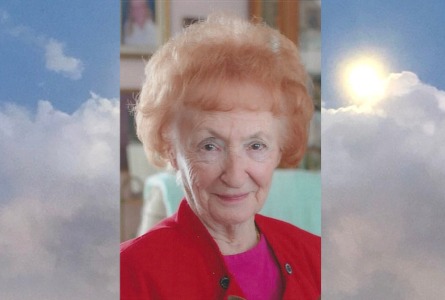 Lillian Verna Dixon passed away peacefully on September 12, 2023 at the age of ninety-two. She was born April 11, 1931, daughter of Sam and Bertha Harr in Woodworth, North Dakota.
Sam moved the family to Buchanan where they grew up farming. She attended school, graduating in 1949. She earned her teaching degree at Valley City State College and taught school in Sydney Township for four years. She was called by John Hillerson and went to work for the ND Credit Union League.
She married Virgil Biloff in 1950. In 1959 they opened a pizza restaurant in Jamestown. Things changed; Virgil left. Lil continued to run the Pizza Palace.
In 1967 she married Richard Dixon. They moved the family to Bismarck in 1969. Lil continued to run the Pizza Palace in Jamestown, moving it to the corner across from the Gladstone Hotel in 1968. At this time Lil also owned and operated a restaurant at Midway Lanes in Bismarck. She later owned a gift shop at the GP Hotel.
In 1974 she moved back to Jamestown and expanded her restaurant by opening the Side Door, then the Continental Room and Continental Lounge.
During her time of expansion, she started catering for many events in Jamestown and the surrounding area. One of her first and largest ever at the civic center was the first farmers' banquet serving over 1000 people.
Lil was very hard working, kind, and compassionate, employing everyone from the young to the old, including people with disabilities. She touched so many people in so many ways.
She continued to operate the restaurant until 2006 when she sold the business and semi-retired.
She is survived by daughter, Melody Kemmet; son, William Biloff; sister, Mary Morford; sister-in-law, Cleo Harr. Grandchildren: Shawn (Stacy) Zimney; Benjamin (Sara) Biloff; Jessie (Larissa) Biloff; Sarah (Dan Lipp) Kemmet; Samantha (Cade) Colvin; Dylan Biloff; Jade Biloff; Lindsay Rowell; and many great grandchildren, nieces, nephews and cousins.
Lil was preceded in death by her parents, Sam and Bertha Harr; brother, Vernon Harr; sister, Vivian Comeau; brother, James (Patty) Harr; son, Gary Biloff; and husband, Richard Dixon.
Memorial Service – 10:30am, Monday, September 18, 2023, at the Seventh Day Adventist Church, Jamestown.