Robert E. Hanson, 67, Bismarck, died Feb. 4, 2015, at Essentia Health, Fargo. Services will be held at 10:30 a.m. Monday, Feb. 9, at Church of Corpus Christi, Bismarck. Further arrangements are pending with Eastgate Funeral & Cremation Service, Bismarck.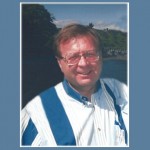 BISMARCK, N.D. – Gov. Jack Dalrymple today provided the following statement in response to the death of Robert Hanson, former state treasurer, tax commissioner, and commissioner of veterans affairs. Hanson passed away Wednesday February 4, 2015,  at the age of 67.
"Betsy and I are saddened by the news of Robert's passing. He served the state of North Dakota well as treasurer, tax commissioner and commissioner of veterans affairs and made important contributions on behalf of our people, especially our veterans. We are grateful for his many years of service to our state. Robert's family and many friends are in our thoughts and prayers."
Robert "Bob" Hanson, 67, Bismarck, ND, passed away February 4, 2015, surrounded by his family at Essentia Hospital in Fargo, ND. He passed away due to complications from service-related diabetes resulting from exposure to Agent Orange.
A Mass of Christian Burial will be held on Monday, February 9, at 10:30 AM at Church of Corpus Christi in Bismarck with Rev. Paul Becker officiating. He will be laid to rest at ND Veterans Cemetery at 1:00 PM.
Visitation will be held on Sunday, February 8, from 4:00 – 8:00 PM at Eastgate Funeral Service in Bismarck where a vigil service will begin at 7:00 PM. Visitation will continue on Monday one hour prior to the service at the church.
Bob was born August 26, 1947, in Jamestown, ND. He was a Sigma Nu graduate of NDSU and a die-hard Bison fan. He served his country in Vietnam before heading into the world of public service. He served several terms as ND State Treasurer and ND State Tax Commissioner. He served as ND Commissioner of Veterans Affairs for three years before retiring from public service. He never quit working for the people, and was his happiest when helping others. The Veterans held a special place in his heart and he never quit advocating for those who needed help.
Bob is survived by his wife, Dee Hanson; three children, Kristen Hanson, Jason Austad, and Jamie Austad; one granddaughter, Annabelle Austad; his father, Louis J Hanson; one sister, Diana (Glenn) Herner; one niece, Alissa Bagan; and two nephews, Mike and Joe Bagan.
He was preceded in death by his mother, Kathlene A Hanson; one brother, William Hanson; and his grandparents, George and Alma Wilmart and Peter and Mary Hanson.
Memorials may be given to Wounded Warrior Project in Bob's name. – See more at: http://www.eastgatefuneral.com/obituary/Robert-Bob-Hanson/Bismarck-ND/1478931#sthash.w0t6MVBs.dpuf