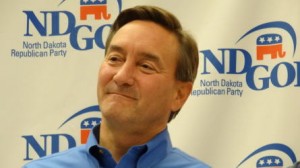 BISMARCK, N.D. (AP) – Democratic candidate Heidi Heitkamp has won the U.S. Senate race in North Dakota, defeating Republican Rep. Rick Berg.
 Heitkamp won the race by fewer than 3,000 votes, and Berg could have asked for a recount.    He conceded the race Wednesday with a qualifier: He was stepping aside barring  any unforeseen circumstances with the state canvasing board that certifies the race results.  ( Berg photo by Matt Sheppard – Nov 4, 2012 at Buffalo Mall, Jamestown.  Heitkamp photo by Matt Sheppard during taping for September City Matters at CSi studio.)    
 That canvasing process is to begin Friday. It will account for late-arriving absentee ballots that were postmarked in time to be counted in the election.     Berg had been expected to win the race, and Republicans had counted on his victory in their failed attempt to take control of the Senate.
  426 of 426 precincts – 100 percent
    
     Heidi Heitkamp, Dem 160,752 – 50 percent
     Rick Berg, GOP 157,758 – 50 percent
Below is a statement from Rick Berg:
"Tracy, Jack and I thank all of our hard working and dedicated grassroots supporters throughout North Dakota who committed their time, effort, and heart into this campaign. We are truly blessed for the opportunity to work alongside our fellow North Dakotans over these past several months, and are humbled by the trust they invested in our campaign and our vision for a better future.
"With the ballots left outstanding, we see no reason to believe that the result of this election will change over the course of the official certification process. With that, I concede this election and congratulate Heidi Heitkamp, her family, staff and supporters on a hard-fought campaign.
"Our problems aren't solved by conducting an election. Our challenges don't go away at the ballot box. Our country remains in need of real solutions to the problems we face, and I am hopeful and optimistic that the leaders we elected last night here in North Dakota and throughout our country will rise to meet them. I encourage those on both sides of the political debate to support our elected officials as they make the necessary tough decisions to put our country back on track and restore the promise of the American dream."