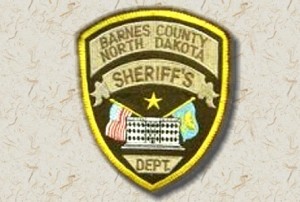 Valley City (CSi)  The North Dakota Highway Patrol reports, a semitrailer fire Saturday before 5-a.m.,  on I- 94, 13 miles west of Valley City  damaged some of the truck's cargo, and burn some land.
The report says 42 year old  David Manwiller, of  Bismarck, was driving the Magnum LTD truck from Fargo to Bismarck while pulling two enclosed cargo trailers.  He sensed the truck was not operating properly, then slowed and drove onto the shoulder of the road.  Smoke was observed at the rear axle area of the second trailer.  Manwiller attempted to extinguish the fire but was unable to contain it as it quickly consumed the trailer and freight.
Manwiller was able to disconnect the truck and lead trailer containing general freight and 4,500 pounds of batteries , saving them from damage.  The second trailer, all general freight cargo and approximately one acre of ditch and pasture along the north side of the interstate was consumed by fire.
Manwiller was not injured.  Westbound traffic on I-94 was diverted around the scene for 1 1/2 hours.
The Barnes County Sheriff's Department and Sanborn Fire Department also responded to the scene.