Jamestown (CSi) The Jamestown City Fire Department was called to a fire involving a Schwan's refrigerated truck, located on the west side of Cross Roads Truck Repair.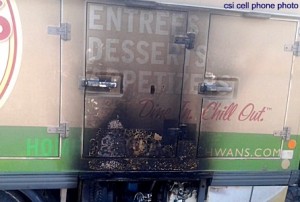 Glenn Christianson said the call came in at 3:51 p.m., on Friday.
No damage estimate was available, or cause of the fire, and no injuries reported.
Four city fire units and 30 fire fighters cleared the scene at 4:20 pm.
CSi cell phone photos.