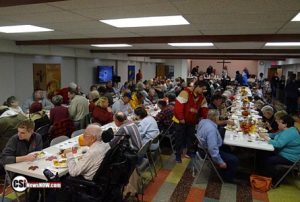 Jamestown  (CSi) At the  Annual Community Thanksgiving Dinner  at Concordia Lutheran Church, volunteers served 335 meals at the church  and had 340 delivered or carry-out meals. The dinner co-chair, Amy Neustel, says 13 drivers delivering meals around Jamestown.
Previously…
Jamestown, ND (CSi)– On Thanksgiving Day, the 26th Annual Community Thanksgiving Dinner is at Concordia Lutheran Church, at 502 First Avenue, North in Jamestown.
Dinner will be served from 11-a.m. to 1-p.m., in the church basement. (handicapped accessible.)
The meal was started several years ago by the late Fritz Buegle, when he owned the Pantry Cafe.
When he retired he asked Concordia Lutheran Church to take over the meal which they have.
Pastor Tom Eckstein says that first year about 30 meals were served, and last year at the church 600 meals were provided.
Drivers will be available to deliver meals or give rides to the church for services and the meal. Anyone wishing to volunteer as a driver may call the church at 252-2819.
The church service starts at 10-a.m.
Those wishing a ride or a delivered meal should call the church at 252-2819.
The meal is free to anyone.
On the menu is turkey, stuffing, mashed potatoes gravy, corn, and dessert.
This year, twenty  22 pound turkeys will be prepared, courtesy of the kitchen at the University of Jamestown.
Music will also be playing for those enjoying the meal.
Those wishing to help with cleanup, that will start at 1:30-p.m.