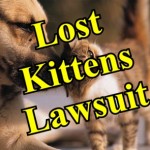 Jamestown, ND (KCSi-T.V. News Dec 6, 2012) – Southeast District Court Judge, John T. Paulson, has awarded a judgment of $528.68 to Aron Williams, the defendant in a small claims court lawsuit brought against the James River Humane Society.
Damages amount to $200 per kitten and the costs of the proceeding.
Judge Paulson also wrote that an additional $100 was awarded because the defendant, James River Humane Society, failed to appear at the initial hearing.
The remaining $28.68 was awarded to cover the costs of the filing documents and mailing fees.
Williams sued the James River Humane Society for $10,000 after two of his kittens were taken there in September.
One was adopted, after he was told the shelter did not have the cats.
The entire judgment amount was donated by a Humane Society supporter, who wishes to remain anonymous.
Williams will donate the money to a veterinary clinic.
____________________________________________________
Previously reported:
Feelings About Animal Shelter Lawsuit Spill to Social Media
Really? Suing the Humane Society? Really? was the name of a social media Facebook page created to support the James River Humane Society,  which has found itself the defendant in a lawsuit for $10,000 brought by a rural Jamestown, ND man whose had two kittens wander away from his farm Sept 8.
The case ended up in small claims court Tuesday Nov 27, 2012 before Southeast District Court Judge John T. Paulson and is currently under advisement.
From information at the website, it appears the kittens were found by a neighbor who notified local media, cared for the kittens for 3 days, and then contacted the shelter to see if they would take them as they had not been claimed.  She then took them to a local vet on the 11th of September for shots to prepare to be taken to the Humane Society.
One of the kittens has since been placed in another home, and it appears one remains at the shelter.  The website further says the man behind the lawsuit did not go to the shelter looking for the lost kittens,  and has not gone to the shelter to claim the remaining kitten.
When Judge Paulson issues his decision, it will be reported here at CSiNewsNOW
CSi LOST & FOUND will post "Lost Pet" notices at this website and on CSi Weather 2 if appropriate.   We ask for the following information:
1. Description of lost pet, breed, sex, age, etc.  – a recent picture is preferred
2. Your name and contact phone number.
3. Date pet went missing and last known location/area.
4. Pet name, if wearing collar, tags, or other form of ID
5. Reward if any
6. Other information, such as can pet be approached safely.
Once your pet has been located, we ask you let us know so the notice can be removed.
CSi LOST & FOUND is located at Historic Franklin School.  We can be reached Mon-Fri 8am – 5pm at 252-2400.  We handle LOST & FOUND for items, phones,  and keys, but do not accept pets.    We provide notices as a community service.