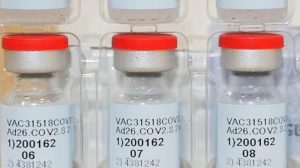 Central Valley Health District (CVHD) has an additional 200 first doses of COVID vaccine available for Thursday, March 4, 2021, for the current vaccination priority groups in Stutsman and Logan Counties.
The current priority groups include:
All persons 65 years and older
Ages 18 and older living with two or more high-risk* medical condition
Child care workers
School staff  (Teachers, nutritional services, aides, bus drivers, principals, administrative staff, custodians, etc)
To register for an appointment, please visit www.centralvalleyhealth.org and click the COVID-19 tab to view the available vaccination clinic.  Appointments are open to those in Stutsman and Logan counties, or surrounding counties.  Anyone from out of state will be turned away.  The clinic will be closed if the amount of appointments exceeds the number of available vaccine doses. 
CVHD anticipates more vaccine the week of March 8 and will post more information on their Facebook page and website when the information is available.
* High-risk medical conditions as defined by the Centers for Disease Control and Prevention (CDC) at https://bit.ly/3uzNsTA.